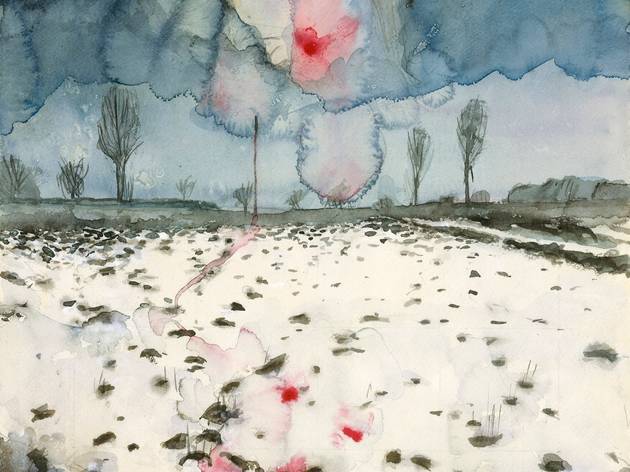 1/6
'Winter Landscape (Winterlandschaft)', 1970
Photo copyright 2014. Image copyright The Metropolitan Museum of Art/Art Resource/Scala, Florence. © Anselm Kiefer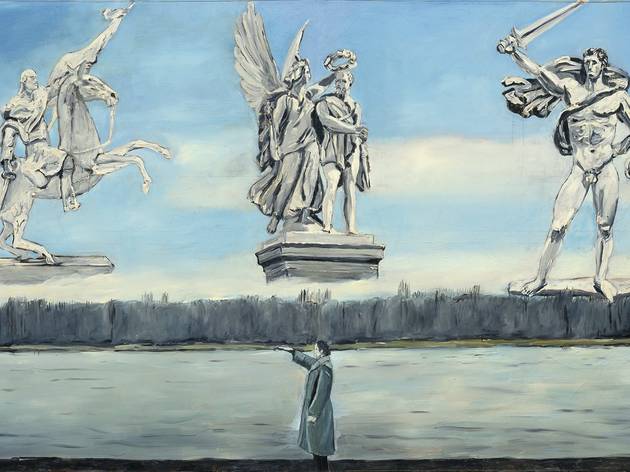 2/6
'Heroic Symbol V (Heroisches Sinnbild V)', 1970
© Anselm Kiefer. Photo Collection Wuerth
3/6
'Interior (Innenraum)', 1981
© Anselm Kiefer. Photo Collection Stedelijk Museum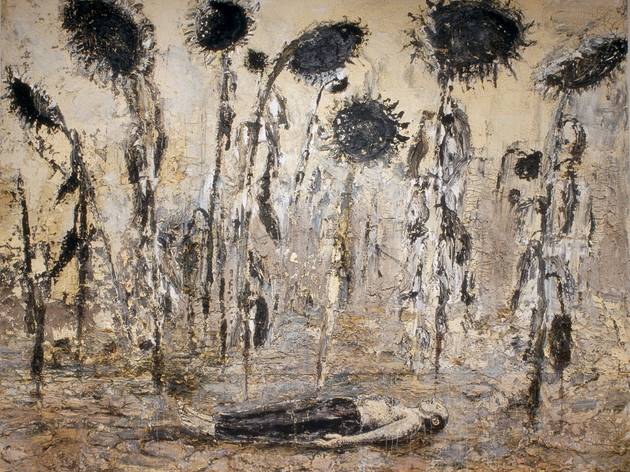 4/6
'The Orders of the Night (Die Orden der Nacht)', 1996
© Anselm Kiefer. Photo copyright Seattle Art Museum
5/6
'Black Flakes (Schwarze Flocken)', 2006
Private collection, c/o Museum Kueppersmuehle fuer Moderne Kunst. Photo Privatbesitz Famille Grothe. © Anselm Kiefer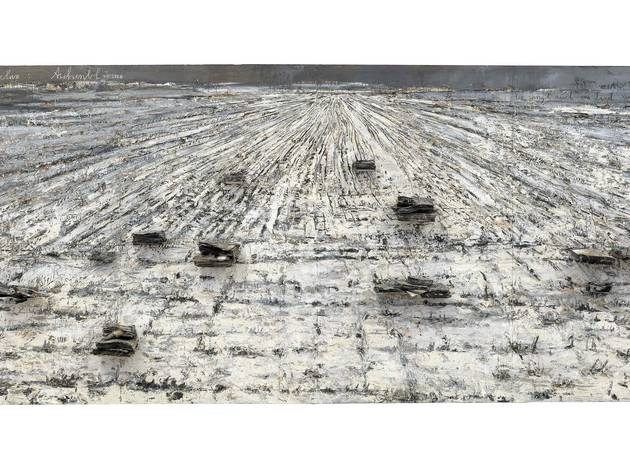 6/6
'For Paul Celan, Ash Flowers', 2006
© Anselm Kiefer. Private collection, Paris
It's hard to not feel overwhelmed in this retrospective of Anselm Kiefer, a dizzying show of post-war art that leaves you spinning. The German artist delves deep into history – towards Wagner, the Romans and ancient forest legends, always searching for meaning, something to make sense of what has come before. But the real meat of the matter is World War II itself. After the early self-portraits of the artist Sieg Heil-ing at war monuments, you encounter the first of his huge canvases. They're vast, cracked, blackened images of neoclassical buildings, the kind designed by Third Reich master architect Albert Speer. Architectural beauty stands in incomprehensible contrast to the pain of war and its atrocities. These are angry, imposing, ravishing works – thick with paint, and thick with pain.
The literal imagery slowly disappears, and in its place you encounter a series of repeated symbols. There are immense paintings of Mesopotamian pyramids (bridges between heaven and earth), barren snowy landscapes (a blanket of silence and sadness over post-Holocaust Europe), and giant looming sunflowers. His materials change too – an obsession with lead, sand and brick becomes apparent – and eventually all figurative elements are lost until we're left with simple, large sheets of lead, dotted with diamonds.
Kiefer's work may deal with an issue that isn't your particular cross to bear – but take a step back and his art covers universal themes of struggle, memory and burden. As you exit the show through a huge forest of woodcuts, you realise that he has dragged you along with him; he's made you complicit in his own heartache, and exposes yours at the same time. The show is long and, perhaps inevitably, begins to drag, but it is never less than powerful.

Eddy Frankel
Average User Rating
4.3 / 5
Rating Breakdown
5 star:

2

4 star:

0

3 star:

1

2 star:

0

1 star:

0
Wow. When you go up through the volcano in the natural history museum, and pass through every geological strata and process of metal and stone and air, it is not unlike navigating the archetypal operas of straw, metal, tar, earth, and sumptuous paint on room size canvases or wooden panels. It is alchemy, these narratives of heroic quest, terror, beauty, and the ruins of civilization, compounded of earth and diamond. It's Maximal! in an art scene of digital etc minimalism, mere scribblings on a gigantic past, like the pee Monkey sprinkled on the Buddha's finger to mark his furthest leap. This is Big.

I've seen Anselm Kiefer eg in Antwerp and I'm a great admirer of his work. very impressive and not to be missed. i'm bot from London, not even from Britain, but I'll be there.