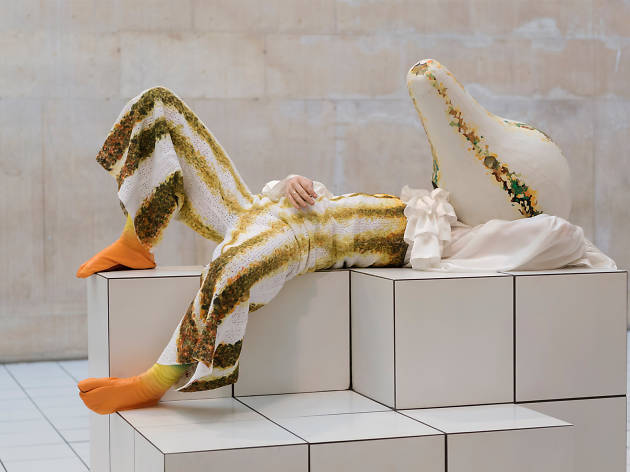 Imagine you're a squash – as in, a butternut squash. Now imagine what kind of art you would most like, based on your squashy-brained characteristics. For her 2018 Tate Britain Commission for the Duveen Galleries, Anthea Hamilton has created a squash-human hybrid, performed each day by an individual dressed in one of seven outfits inspired by various strains of curcubita (that's for you, 'Gardeners' World' fans).
She then picked a collection of nine sculptures from the Tate's existing collection, plus one from The Hepworth Wakefield, that might be of liking to the squash. The pumpkin-friendly artworks are bulbous, ballooning mounds of sculpture – the kind you want to sneakily squeeze. Because, the artist reasons, squashes can't see well so choose their art based on touch.
Bonkers, right? But ridiculous as the idea sounds, Hamilton's takeover is a brilliant and irreverent response to basically everything the Tate, as the grand old dame of establishment art, represents and displays.
The dark floor of the pretty, neoclassical gallery is covered with over 7,000 white squares, with the sculptures inside various tiled blocks. It looks like a high-end swimming pool, which is the last place you'd expect to find some hard-skinned vegetables (technically fruit, but shh!) doing whatever the hell they want. There are no rules: they can even take a nap.
Which is the attitude that makes the whole thing so much fun. The mishmash of sculptures shoves the modernist curves of Henry Moore against the mega-trad Frederic Leighton. They're chosen because they look like nice, squidgy things to grab, not because of art history or theory. Hamilton crashes through the stuffy barriers of art-with-a-capital-A. The squash costumes – made with Spanish brand Loewe – resemble psychedelic badgers. They're funny, and when's art ever funny?
It's like the best experiences of walking around big, free galleries. You pick and choose what you look at, not worrying who created it or why. Hamilton's creation is a shot of tequila in the white wine spritzer world of Tate: it's massively fun and makes you want to touch everything, love everything.
Rating Breakdown
5 star:

0

4 star:

0

3 star:

0

2 star:

1

1 star:

0
Bonkers yes, but what is wrong with bonkers? Have all the tiles been laid across the floor to match the installations? Why a butternut squash? Who cares? The reaction of an eleven year old girl when she looked up after the performance artist character sat on the floor next to her without the girl realising was worth the whole installation
It's just not that interesting. The tiled flooring and plinths are the most interesting aspects, juxtaposed with the rest of the gallery space. The performance aspect is pretty uninspired, just a gaggle of tourists taken pictures of some guy in a costume. One & Other it is not. Another lazy review with no real insight.