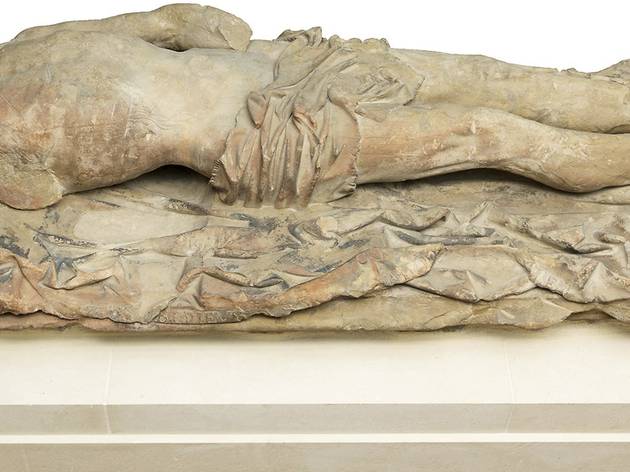 1/4
© The Mercers' Company
2/4
(hung upside down)
© Highland Council
3/4
'Chair', 1969
Tate © Allen Jones
4/4
'One Day You WIll No Longer Be Loved II (No 6)', 2008
© Jake and Dinos ChapmanPhoto: Todd-White Art PhotographyCourtesy White Cube
Beheaded, beaten up, broken to bits… Tate Britain's major autumn exhibition, Art under Attack, looks at the history of physical assaults on art in Britain from the Reformation to the present day. Divided into three sections, the show looks at the deliberate destruction of icons, symbols and monuments for religious, political and aesthetic reasons. Early works on show include statues of Christ decapitated during the Dissolution, smashed stained glass from Rievaulx Abbey, and a book of hours, defaced by state-sanctioned religious reformers. Moving through the centuries, the show also features a portrait of Oliver Cromwell, which was hung upside in the nineteenth century (and remains so to this day) by Prince Frederick Duleep Singh, works targeted by the Suffragettes, including Edward Burne-Jones 'Sibylla Delphica' (1898) and Allen Jones's woman-as-furniture 'Chair' (1969), which was damaged on International Women's Day during the 1980s, concluding with artists who have used destruction as a creative force – such as Gustav Metzger, John Latham and Yoko Ono.
See our top five damaged and defaced art works here.
Average User Rating
2.7 / 5
Rating Breakdown
5 star:

0

4 star:

0

3 star:

2

2 star:

1

1 star:

0
The idea for the show had so much potential, but sadly failed to live up to the hype. Such pieces as the Allen Jones's sculpture could have been brought to the front of the exhibition. The story should have been expanded on, for example showing more restoration photos, media clippings etc. Yet it was woefully underplayed. The show does have some great moments, but far too few and feels rather dull at times. As an artist myself I still gained great insight into the subject matter and some inspiration to create. Not to destroy thankfully. There is some effort to link the destruction of art to artists who practise this as part of their style.Then only to lose a great opportunity by not including some well known destroyers such as Bacon, Fontana and Miro. Why were they ignored? At the same time it was good to see a piece by the Boyle family, but just one! As a Tate member I was able to see this exhibtion for free, but I wouldn't pay to see it. Poor value for money.
This History of British Iconoclasm, as the subtitle has it, presents a journey of defacement and vandalism from the dissolution of the monasteries until the present day. This means a lot of statues with broken off heads, although there are a few outstanding pieces from the 17th Century. This being the Tate, the curation is wonderful, and so two stunning examples of stained glass are beautifully illuminated, offering a rare opportunity to see this delicate craftsmanship up close. The chronological presentation gives an insight into the history of Britain through the way it responds to art. The Suffragette movement is a particularly interesting case in point, with sensitive and balanced interpretation accompanying the images. More recent damage is caused simply as a response to the art itself, rather than for political or idealogical reasons. A prime example is Carl André's Equivalent VIII, a pile of grey bricks daubed with blue food colouring in protest at their acquisition cost, then painstakingly 'restored'. One can't help but wonder why you wouldn't just buy some new bricks, but that's the Tate: very strong principles. This is an interesting show, but the lack of content makes the hefty price tag poor value for money.
Art under attack- iconoclasm at Tate Britain. Spread out over nine sections, this exhibition on iconoclasm in the British Isles promises much, but fails to truly explore the subject in any depth. For the high price of over £13 a ticket you'd expect a bit more for your money than this; everything of interest here would fit easily into two rooms, but is spread out as much as possible. It is always good to see such marvels of the mediaeval sculptor as the dead Christ from the Mercers' chapel, the Majesty from Rievaulx Abbey and the heads from the great reredos screen at Winchester (and incidentally, why aren't these and the rest of the fragments at the cathedral on show in Winchester: why don't English cathedrals have a Musee de l'Opera like foreign ones do?) but they are nothing new; most of the objects on show have been in recent London exhibitions. We could have done with a bit of history of attacks on imagery before the reformation; there was no mention of Christian destruction of pagan religious sites, nor of the Cistercians vituperative hatred of figurative carvings in church and cloister. The exhibition is split into three main sections: religious iconoclasm of the reformation and puritan times, political iconoclasm by those unhappy under British rule (particularly the Americans and Irish, though ignoring other members of the Empire) and by Suffragettes, and finally a section on "aesthetic iconoclasm", a rather rag, tag and bobtail of artists scribbling on other artists' works. The motives of each group have little in common, and the entire exhibition lacks backbone of meaning; starting strongly enough with the attempted eradication of all Catholic imagery for reasons of state, politics, personal greed and religious fundamentalism but weakening with its second section which was little more than a collection of heads from statues pulled down in the wake of ebbing British control. A couple of paintings that had once been damaged by Suffragettes did little to explore their precise reasons for doing so, especially since they lost so much support by these attacks. The final section starts with the Allen Jones chair, which was attacked by presumed feminists: I'd always seen this as an obvious comment on the objectification of women, but apparently many people see it instead as sado-masochistic wish-fulfillment, and don't believe the artist when he says that he was attempting to portray contemporary attitudes to women. Since the acid throwing iconoclasts have never been caught, thir motives remain hidden; at least this piece makes people think about female subjegation, so I'd say that the attackers got this one wrong, except that by attacking it they of course gained publicity for the work, so who knows. In any case this was little to do with the remainder of objects; pianos and sofas destroyed by artists having nothing to do with iconoclasm. The final paintings were old portraits, overpainted quite well by Jake Chapman to look as if rotting heads, but this has only a tenous link with the iconoclasm of the first or second sections, and I kept thinking that he'd have done better to leave the paintings as they were, and do ones of his own. This applied to all of the artists here who scribbled on copies of paintings by artists far superior to themselves, or who showed other people's films with the screen mostly blacked out. Such cheap shots against other artists' creativity just show up the poverty of imagination of these latter day geniuses. So all in all, whilst I'm always a sucker for any exhibition of mediaeval bits and pieces, and spent an hour or so here, I did feel that much more could have been made of the subject, that not only more exhibits but more intellectual rigour would have helped, and that the exhibition rather fizzled out about half way through. Go if you are insane about beaten up gothic art, but don't expect to learn m uch about iconoclasm and its causes.