Arthur Jafa: Love Is The Message, The Message Is Death review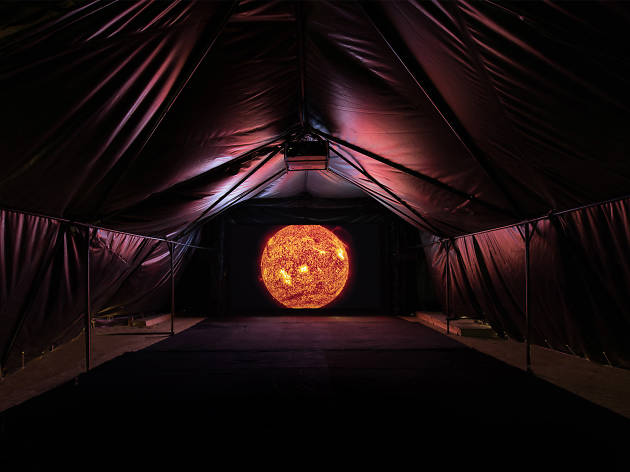 Time Out says
Arthur Jafa took me to church, and he left me a shaken convert. On the roof of an immense office block in the middle of London, the one-time Spike Lee cinematographer and Beyoncé collaborator has pitched a tent to screen his film. The tent is meant to evoke the Baptist churches of the American South, but the gospel being preached has nothing to do with God. Jafa wants to use his art to create a black visual aesthetic with 'the power, beauty and alienation of black music'. In 'Love Is the Message, the Message Is Death', he knots together clips and archival footage of civil rights marches, police violence, rappers, dancers and sports stars, all set to Kanye's 'Ultralight Beam'. It sounds simple, but if you only ever listen to me once, make it this time: this film is one of the most important works of art of the past decade.
It's perfectly edited, with endless simple little cuts slicing into the music, tearing apart at the imagery: a genuine masterclass in whipping the viewer into a fragile emotional state before knocking them to the ground. He sends you teetering through humour, horror, disgust, joy, pride and anger. You're left reeling when a policeman brutally punches a young black girl; amazed when LeBron James slam dunks; staggered by John Coltrane shredding the sax; shocked at the sight of a young kid begging his spaced-out mother to wake up. Then there are clips of teens dancing in nightclubs, a woman riding in her car: simple, everyday things.
Jafa weaves these strands together into a euphoric war cry, a chest-thumping, tear-stained scream of intent. This is the power of black America, these are its weaknesses, here's how it's exploited, here's how it stands the fuck up for itself.
The thing is, for most of the artsy, liberal Londoners who will come and see this, none of it is a surprise. We know about police brutality, we know about the civil rights movement, we know about the brilliance of Nina Simone and Michael Jordan, but we consume all of that knowledge and culture in microdoses: 30 seconds of shameful violence shared on social media in between clusters of lols and 'just married' bullshit. Jafa blasts it all together into a whole that you know and recognise, but never truly understood before.
'Love Is the Message, the Message Is Death' is a hymn, a paean and a eulogy to black America. It's full of pride and wracked with heartbreak, it's open and approachable, but defiant and independent. It genuinely had me in tears, and I truly believe that this is what art should be: powerful, emotional and absolutely vital. If this is what going to church is like, then call me a believer.
@eddyfrankel
Details
Average User Rating
2.9 / 5
Rating Breakdown
5 star:

3

4 star:

0

3 star:

0

2 star:

3

1 star:

2
One of the most important pieces of art of the decade? "Made me cry?" I suppose I kind of expect this response from a white, middle-class Time Out intern who is more concerned with being right on than appreciating and understanding black art, but it really didn't say anything new or interesting to me and didn't delve too deeply at all. Just showing juxtaposed images of triumph and brutality with some evocative music is the kind of thing we did at school - these kinds of videos are becoming cliched and predictable, although this one is well done if nothing else. Some of the works at the Infinite Mix were more interesting, original and insightful when looking into the black experience. Jafa's Serpentine exhibition was also superior.
Note to Time Out - can you please get somebody different to do your art reviews? There's never anything useful or worth reading from Mr. Frankel, it's just always the same old "this is good because it's about black people", "this is good because it's about women", "this is good because it's about Donald Trump" etc. It's so boring and it would be a lot better to get someone in who knows something about art and can give insightful commentary and reviews.
It's basically a pretty damn good Kanye West music video - to call it one of the greatest works of art of the decade is stupid. I don't really trust this reviewer, his "analysis" is always shallow, trite and obtuse (see the Bodega Run review here) and this just seems like bandwagon jumping. I don't expect a free rag like Time Out to shell out on top quality critics, but I'm sure any art student could do reviews without coming across as desperate and try hard.
Check it out for sure but lower your expectations.
Just commenting to echo the sentiments of basically everybody else except for Eddy Frankel. I'll go a little further and say the film was dire. It's lots of lo-res YouTube clips bodged together incoherently, with watermarks from the TV channels/websites not edited out. Amusingly, they've edited out the 'AMAZING PLANET' watermark from the press shot of the sun above, but not in the actual film. Plenty of the clips we've all seen before on YouTube, and trust me when I say it doesn't make them more emotive when they're interspersed with clips of Coltrane performing and Obama talking.
This isn't really the film of an artist, it's more like a Kanye fan video. It is objectively junk, so I am presuming Eddy F is joking around or satirizing art critics or something.
If the tent it is being screened in is supposed to look anything like a church, then the artist catastrophically failed at that, too. I'd imagine the actual reason it's in a tent is because it's on a rooftop and has to be in one.
I love all the highbrow people who come here to cringe and complain about the level of journalism and critique of TimeOut and yet get their art reviews from TimeOut.
Look it's likely not 'the best piece of art of the decade' - but it is powerful, insightful and poignant. It has a massive impact and leaves you feeling a complex set of emotions about how much a culture and an entire race is so revered yet so maligned at the same time. It's a phenomenal piece of work that has been edited carefully and thoughtfully. Any armchair critic who claims they 'used to do this kind of work in school' or 'we've seen this kind of stuff on YouTube loads before' should go ahead and exhibit their work and stop robbing the world of their self-proclaimed genius.
Lighten up and enjoy it for what it is.

This isn't the even the best video installation at the 180 Strand venue (that would be Jeremy Shaw's Liminals), let alone the best work there (try Breath by Shirazeh Houshiary or Susan Hiller's installation), let alone one of the best works of the decade. It's some fairly well-known clips from YouTube with a Kanye West song in the background.
I think this reviewer is just intoxicated by the current political climate and culture and tends to get himself in a frenzy about any "issues" art, not unlike Time Out's theatre reviewer. Hell, these days you're luck if you get a restaurant review that doesn't mention Donald Trump. Weird times.
Fun drinking game: While flicking through Time Out take a sip every time you see the words "Brexit", "misogynistic", "problematic", "gentrification", "sexism", or references to Donald Trump. By page 10 it will almost seem like serious journalism and critique.
It's pretty amazing! I watched two times. I'm from Brazil and even after I came back I'm still moved by that work. Maybe it's not one of the best works of the past decade, but its definetely a impressive masterpiece!