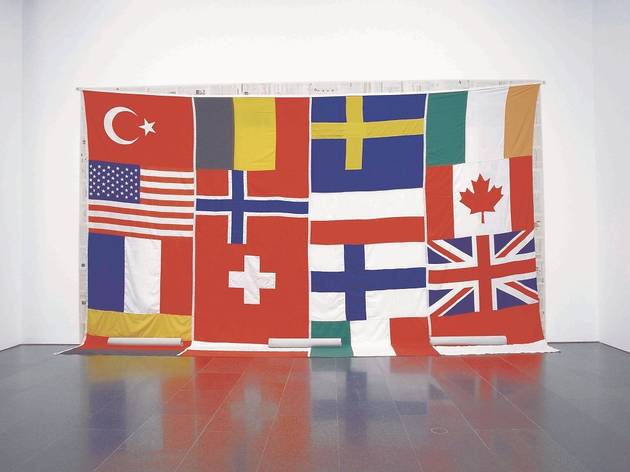 As if haunted by teeming masses of people, this exhibition is populated with podiums, stages, and monuments, turning attentions to the missing crowds that these structures are usually used to address. Thoughts of the multitude rest at the heart of this complex display of sculpture, photography and installation by Spanish, Basque-born artist Asier Mendizabal.
Mendizabal has gained international acclaim for his explorations into the iconography of insurgence, and this selection of work from the past five years is framed by a long essayistic text by the artist. It revisits a historic argument about the connections between artistic abstraction and political representation. This is not new territory for Mendizabal; however, this re-framing in some way forecloses the dissension apparent among many of the works – slightly flattening their allusions, and in part distracting from the artist's remarkable sculptural sensibility.
Providing a slightly angled surface, large iron and concrete sculpture La Ruota Dentata ('The Cogwheel'), looks like a theatrical set. A potent symbol of collective working and action, the cog wheel has historically been used in the service of various political parties, often in support of opposing agendas. Referencing a less unified image of populace, Mendizabal's collage series presents scenes of loose, seemingly undirected crowds, overlaid with templates from early modern photomontages. In opposition to these inchoate masses, perhaps the most stringent image of collectivity is the artist's straight presentation of a series of flags, symbolising the tight grip of nationality.
People are present throughout this exhibition, as imagined publics, as collectives, and as representing differing forms of coercion. And looking beyond Mendizabal's interest in the making visible of ideology, there is something here of the civic desire to feel political together.
Rating Breakdown
5 star:

0

4 star:

0

3 star:

1

2 star:

0

1 star:

0