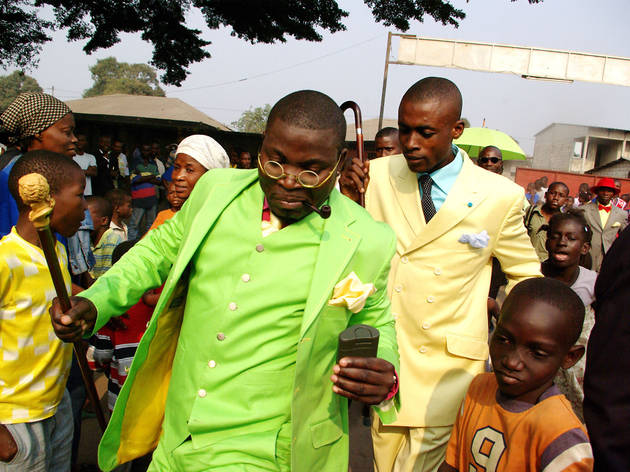 Whoever first offered a tally of the words a picture is worth should be stabbed with a pen. There is no equivalence: it's like trying to tot up the value of a ballerina in frogs. Yet small galleries displaying lovely images take it seriously: at Gasworks, there is a lot of white space, a clutch of good photographs and no explanation whatsoever save a few words in the brochure. And they're certainly not worth a thousandth of a picture – they don't even make explicit which of the two Congos Baudouin Mouanda calls home (he's from the Republic of the Congo).
if you don't come from a country plagued by power cuts, you are unlikely to recognise what looks like a series of computer mouses as battery rechargers, available for hire from cheery looking street salesmen. You might admire the slightly murky shots of streets scattered with bookish Baudelaires but you'll have to deduce for yourself that they are reading beneath the city's most reliable light source, and the series' charming title, 'Sur le Trottoir du Savoir' (Down Knowledge Street) will be unavailable to you, especially in English (translation: mine).
There's a set of hip hop artists, their hooded heads in stark monochrome often unsettlingly angled, their proximity to the camera more menacing than their surly expressions. Is this attitude? The genuine recalcitrance of poverty? Both? No idea. They're stuck on the wall like a student's postcards, as are the shots of plump girls on the lash, from Mouanda's Scottish residency. Only the marvellous, exuberant images of the Sapeurs – members of SAPE, the Society of Tastemakers and Elegant People – have been blown up big and printed and framed with care, and they are wonderful: pastel-suited dandies surrounded by admiring crowds, their ivory-headed canes and miniature pipes a far better vertical challenge than any middle finger to the tired stereotypes of Africa. Mouanda's pictures blaze with their majestic insouciance: the outfits and attitudes tell us a lot. A written explanation would have told us a little more, and really, would that have been such a crime?