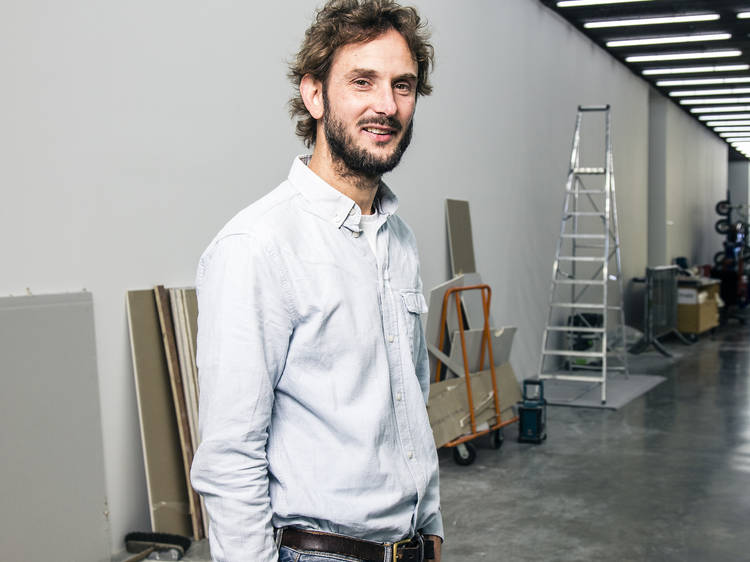 Andy Parsons
The fabricator: Scott Martin
Senior technical coordinator at White Cube
What does your job involve each day?
'Sometimes it's very simple: there'll be works we just bring in and place. But sometimes it involves an installation and it's much more complicated. Right now, we are in the midst of a complex installation. The artwork, "Palimpsest" by Colombian artist Doris Salcedo, is an installation of over 130 slabs, each just shy of a ton. The work will cover the entire main gallery floor with water flowing through these slabs via a hydraulic system; it writes names in water of refugees who died trying to reach Europe across the sea. For the installation team it's been a giant game of Tetris, firstly with delivery of this volume and then moving and plumbing the slabs.'
What is the most interesting piece you've worked on?
'For Christian Marclay's 2015 show we had to assemble a vinyl press in the gallery. I'd never pressed a record in my life. But the best projects are where I have no idea how I'm going to do it, then somehow find out.'
Do you ever feel like you deserve recognition for your part in creating the art?
'In the film world you can see from the credits all the people working on a project. But I do think you get recognition in the art world. Your name's not on a board above the show, but that's not a bad thing.'
Have you ever broken a piece of art?
'Not intentionally! Some works have arrived broken and we've had to reassemble them.'
If you ever put a piece of art together wrong, but the critics loved it, would you admit the mistake?
'I think if that happened it would be down to the artist to say. But… I probably wouldn't, no!'
What would be your dream art to work on?
'I like a space that's not a gallery. Perhaps something that would take me down by the sea?'