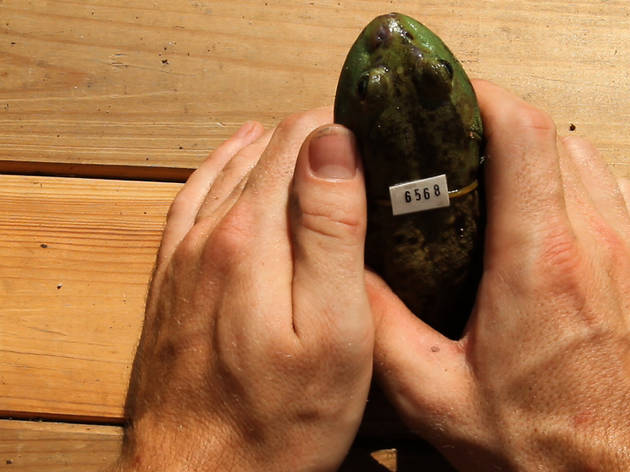 Like other filmmakers working with groups of 'non-actors', young French artist Bertille Bak makes pieces that examine local issues specific to small communities. Unlike many, however, her films are artistically accomplished – beguiling to watch, and laced with narrative hooks – while appearing to document the genuinely positive experiences of those taking part.
Mixing truths with charming fictive embellishments, Bak's films take a disarmingly innocent tone. Her newest work, 'Urban Chronicle 3' (2011), follows a man on a journey through New York. We follow him as he takes part in a frog-racing competition and deciphers strange clues that lead him across the city, as if on a treasure hunt. He ends up at a water tower, the tank of which is filled with hanging bottles. In each is a tiny raft, and these sculptural props adorns the gallery's walls.
Throughout the film people are seen in various kinds of national Polish dress. There are women dancing topless in full skirts, children in bonnets, and marching parades clothed in red and black, bearing banners that read: 'Welcome to the Polish immigrants, well done, you did it!' Everyone is happy, but their joy is not sickly, as if the result of some cloying artistic do-gooderism. Rather, Bak's tone represents a complex reimagining of the social genre in which she works.
The screening of two earlier films offers an introduction to Bak's inclusive style. Communing with the elderly of a French mining village destined to be demolished, and using them as actors, the films fabricate surreal methods of resistance for the people of the town. In these theatrical works, the artist goes to great lengths to reveal the techniques of in their making, placing a peculiar insistence on the film's status as art. Ultimately, Bak succeeds in manouvering herself, the film, and its material (the struggles of a pressured community) into something approaching real harmony.