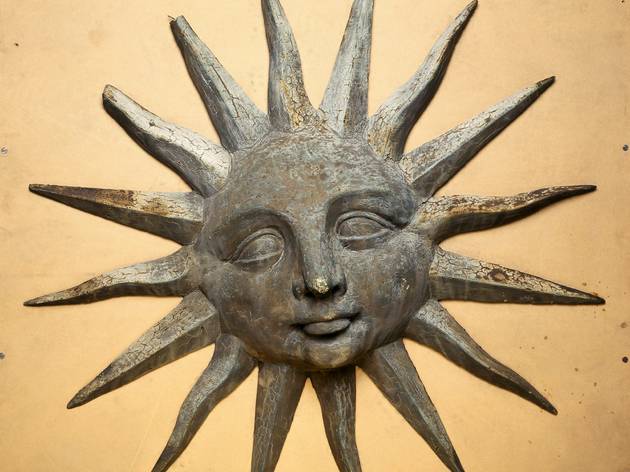 1/8
c1720, anonymous
2/8
anonymous
3/8
undated, anonymous
4/8
1800s, Mary Linwood
5/8
1961, Jesse Maycock
6/8
1842-1852, James Williams
7/8
undated, anonymous
8/8
c1934, Alfred Wallis
   
My wife once painted a sign for a local pick-your-own strawberry farm, and it got stolen within a week. It got stolen because it was good. This is by way of illustrating the very basic transaction at work in this Tate Britain show. It is full of brilliantly executed, unselfconscious works of sublime creativity. These were mainly done by men and women deprived of access to much education, history, aesthetic discrimination or 'taste'. As a result, when they sat down to paint/knit/weave/carve/mould/drill or bottle the thing they were making, they did so in a way that appealed to prevailing fashions, or how they'd been taught to, or how the bloke next to them was doing it, only better, or based on whatever the hell was going through their mind that morning.
You'll notice I haven't used the word 'art' yet, even through it's in the blinking title of a show that costs you the better part of 15 quid to get into. That's because I don't want you getting all hung up on some irrelevant debate about whether a cockerel made from scavenged bones by a French prisoner of war constitutes a 'work of art'. Or whether the titanic figurehead of the good ship Calcutta is a work of art. Or whether a striking monochrome 'drunken path' quilt which must have taken hundreds of candlelit hours to create is a work of art.
The people who made these things didn't think like that, because they couldn't afford to. No one was going to 'discover' them, or stick them on the cover of Modern Painters or sit them in a chair and have Alan Yentob ask them about selfies. This is hand-to-mouth stuff. The reason these artists are largely anonymous is that they were paid for their work, not their thoughts. Occasionally one might become a local celeb. Most famous here are George Smart of Kent, who made repetitive collages out of scraps of cloth and paper, which he sold to tourists; and Alfred Wallis, he of the vertically ascending Cornish schooner, and pet plaything of the St Ives school of bed-hopping British modernists. As is often the fate of ethnographic subjects, both get righteously patronised for their pains. The curators query whether Smart might have been a bit knowing about his supposedly naive efforts, and whether Wallis was 'encouraged' in his primitivism. Oo! The phoneys! The answers are yes, and yes, respectively, for the same reason that Jack Vettriano didn't throw his paint brushes away the second he saw that Martin Creed video of a lady taking a dump: what they did was popular, and it was all they knew how to do.
The giant boots, flags, embroidery and carvings in this show are amazing. Amazing in their vision, and amazing in their humbleness. My favourite? A photograph of a fairground galloper off a carousel, in the form of a centaur, with the body and legs of a horse and the torso, arms, head, pith helmet and binoculars of a Boer War soldier. As a comment on war, entertainment, creation and futility, it would grace any gallery in the world.
Chris Waywell
Rating Breakdown
5 star:

0

4 star:

2

3 star:

0

2 star:

0

1 star:

0
Don't be put off this by memories of school trips to county museums, this really isn't about rural nick-nacks. Both moving and interesting: quilts stitched by traumatised Crimean War soldiers, sculptures made from chicken bones by Napoleonic PoWs, sailor's "woolworks" woven during endless hours in cabins... And visually beautiful curation, but take the time to read the blurb/ get the audio-guide, it all means so much more in context: http://wp.me/p3lxGr-6e
This exploration of British Folk Art is something only the Tate could do, and something they do very well. It might not sound terribly appealing, and at most other galleries it wouldn't prove very popular. But, because it's the Tate, sometimes just because it's included in the membership, many more people will see this excellent exhibition than might do otherwise.
The curators seem at pains to explain what is and isn't included in the scope for this show, and I suspect they never did agree on a definition. It's what might elsewhere be called 'naive', or 'outsider', art. Here, even these categories feel a little too rigid. Suffice to say, many of the artists have little formal training, although many of the techniques used are complicated and must have taken years to master.
The exhibition opens with an impactful display of the first of its main thematic groupings: shop signs. In the days before mass literacy (and so street names and building numbers), shopkeepers used intricately carved signs, often in three dimensions, to advertise their services. Some were straightforward (boots for cobblers, keys for locksmiths) and others less so (bears for barbers, and balls for pawnbrokers).
These signs very much set the scene for the rest of the show. Some of the pieces are beautiful, but most you wouldn't want on your wall. The exhibition's real value is its history, notably of British arts and crafts that existed away from (and long before) the establishment. Much of this is linked to our maritime history, with many sailors' embroideries, paintings of ships and a whole room devoted to spectacular ships' mastheads.
The curators' use of a bold colour palette (in some rooms, all four walls are different colours) together with clever lighting and other curatorial wizardry bring the various objects to life. With so much history underpinning the exhibits, the audio guide is a great way to get the most from the exhibition. While there is very little here you'd want to take home, there's plenty to take away.
For more art in plain English, check out http://curatedlondon.co.uk