Damien Hirst: The Complete Spot Paintings 1986-2011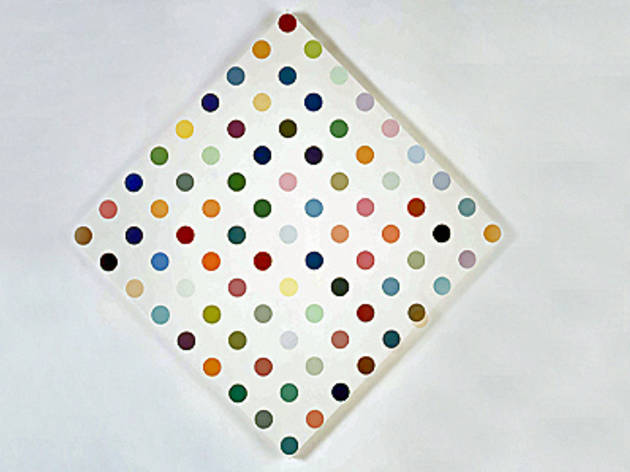 Time Out says
I've got a game on my phone which consists of a grid of randomly coloured spots. It looks a bit like one of Damien Hirst's many spot paintings. But at least with the game on my phone, if you get a row of the same colour, the spots go away. You can't make Hirst's spot paintings go away, not at Gagosian, at any rate, which has come up with the brilliant idea of showing every single spot painting Hirst has made over the last 25 years, in every branch of the gallery empire across the world, simultaneously. (Actually they would need more than 11 galleries for the total output, but you get the idea.)
Hirst spot paintings have always been the prêt-a-porter range within his prolific output; compared to bisected cows and pickled sharks they've never generated much controversy, but that was always the point. They look good in a museum or in a collector's living room, they look a bit like modern art and they look a bit like interior decoration too. And what they offer, aesthetically and intellectually, is a playful sense of indifference; that nothing should matter too much other than the pursuit of a light, intoxicated sense of sensual pleasure in the experience of colour. That's why most of the paintings are titled after various drugs – analgesics, opiates, antihistamines – that point to mildly altered states of consciousness. They're paintings that demand distraction, not attention.
You might find echoes of older, more heroic, modernist abstract art here – a diamond shaped one mimes Mondrian, another grid might recall Vasarely – but those were from an age when artists cared and thought intensely about what colour could do, as if the future of art depended on it. Hirst knows that it doesn't, and that's fine.
Quoted in the gallery handout, Hirst declares: 'I was always a colourist, I've always had a phenomenal love of colour…' It's one of those double-bluff assertions Hirst is great for – he loves colour (who doesn't?) so it automatically makes him a 'colourist'. He's having a laugh, of course. Apart from generating a slight optical migraine headache when you look at the big ones, Hirst's prescriptions for colour are far too homeopathic to ever risk an overdose.
Details