Dayanita Singh: Go Away Closer
1/10
Exhibition view
© the artist 2013. Photo: Stephen White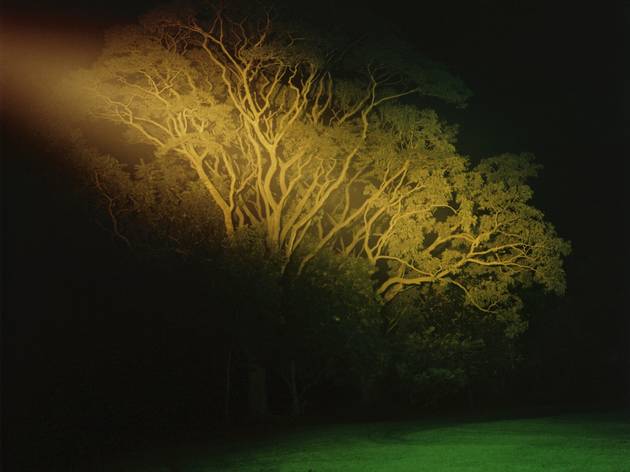 2/10
'Dream Villa 20, 2007', 2008
© the artist 2013. Courtesy the artist and Frith Street Gallery, London
3/10
'Dream Villa 40, 2007', 2008
© the artist 2013. Courtesy the artist and Frith Street Gallery, London
4/10
From the series 'Go Away Closer', 2007
© the artist
5/10
'Dream Villa 7, 2007', 2008
© the artist. Courtesy the artist and Frith Street Gallery, London
6/10
From the series 'Dream Villa', 2010
© the artist
7/10
From the series 'Go Away Closer', 2007
© the artist
8/10
From the series 'Blue Book', 2009
© the artist
9/10
From the series 'Museum of Chance', 2013
© the artist
10/10
'Dream Villa 11, 2007', 2008
© the artist. Courtesy the artist and Frith Street Gallery, London
At the Hayward Gallery, an Indian photographer is taking photography into the third dimension. Dayanita Singh is a visual artist predominantly interested in conversation, so as well as making books she amasses images on wooden screens, loosely clustered by theme (very loosely: one theme is 'chance'). Sometimes you'll spot more images on a screen's reverse, or laid flat, or stacked where you can't quite see them. You don't know where to look – or how. It's an education.
Her subjects are deliberately mundane – little girls, embraces, furniture. Interaction is the point. In the 'File Room', pictures of piles of paper, stacked and teetering, form a monument to Indian bureaucracy, and to memory. It's uneasy viewing, this big flat collection of big flat collections.
Not every experiment works: a concertina-ed collection of tiny images is overwhelmed by wonderful large-format photos of Ashram girls displayed beside it. A 'moving still' of the eunuch Mona singing needs the images and story next door to give it context (which means that, oddly, the exhibition's most obviously three-dimensional image is the least well-rounded).
Most photographs are monochrome, a few aglow with saturated, unlikely colour: orange-tinged boat or lurid yellow tree. They're lovely, but Singh evidently views them as a writer views words: as tools in a grander project. You could say she always has an eye on the bigger picture.
Nina Caplan