Delacroix and the Rise of Modern Art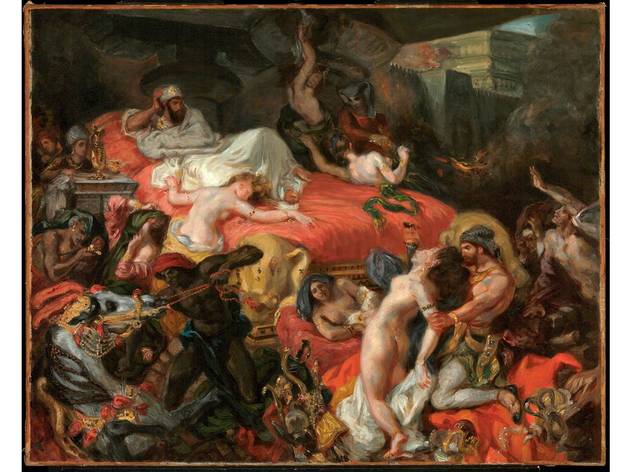 1/11
Eugène Delacroix: 'The Death of Sardanapalus (reduced replica)', 1846. © Philadelphia Museum of Art, Pennsylvania
2/11
Eugène Delacroix: 'Women of Algiers in their Apartment', 1847-9. © Musee Fabre, Montpellier Agglomeration
3/11
Eugène Delacroix: 'Convulsionists of Tangier', 1837-8. © The Minneapolis Institute of Art
4/11
Vincent van Gogh: 'Pietà (after Delacroix)', 1889. © Van Gogh Museum
5/11
Paul Cézanne: 'The Battle of Love', about 1880. © National Gallery of Art, Washington, DC
6/11
Eugène Delacroix: 'Bathers', 1854. © Wadsworth Atheneum Museum of Art, Hartford, Connecticut
7/11
Eugène Delacroix: 'Lion Hunt', 1861. © The Art Institute of Chicago, Illinois
8/11
Paul Gauguin: 'I Raro Te Oviri (Under the Pandanus)', 1891. © The Minneapolis Institute of Art
9/11
Eugène Delacroix: 'Christ on the Sea of Galilee', 1853. © The Metropolitan Museum of Art, New York
10/11
Odilon Redon: 'The Red Barque', about 1895. Musée d'Orsay, Paris
11/11
Eugène Delacroix: 'Self Portrait', about 1837. © RMN-Grand Palais (musée du Louvre)
The audacious, under-appreciated Romantic painter steps into the spotlight in this blockbuster show
Sex, love, death, war… Lions. More death. Eugène Delacroix (1798-1863) isn't for delicate blooms (those of a fragile disposition should head instead to the Royal Academy's 'Painting the Modern Garden'). But if massacres and revolutions are your thing, then fill your boots at the National Gallery, where the French Romantic painter serves up scenes of sword-plunging, foe-slaying, flesh-conquering fantasy unrivalled in nineteenth century art.
Born during the dying days of the Revolution, Delacroix straddles eras – whether he's the last of the Old Masters or the first of the moderns taxes scholars to this day. Certainly, he looked back to the classical tradition of taking subjects from mythology, literature and the Bible. But, as this bold and at times wayward show reveals, he was also miles ahead of his time, influencing the likes of Renoir, Van Gogh and Matisse with his sexy brushwork, exuberant colour and dizzying compositions.
Delacroix's style of painting was as controversial as his subject matter. When his early masterpiece 'The Death of Sardanapalus' (1827), inspired by a play by Lord Byron, was first shown, the art establishment condemned the work for its lack of compositional focus. You'll be more shocked by the intensely relaxed attitude to depravity of a scene in which the rotten old king, on learning of his imminent defeat, has his worldly possessions – concubines included – disposed of while leaning nonchalantly back on a pillow like he's catching up on the latest box set.
Hanging in the Louvre, the original painting is five metres wide. Which is another thing about Delacroix. He painted big. Hop over to Paris and you'll find his over-the-top imagery writ large across vast canvases, as well as the walls and ceilings of museums and other municipal buildings. But those works don't travel: if they're not attached to the architecture, they're either too precious to French national identity (Delacroix's 'The 28th July: Liberty Leading the People' (1830) is a defining image of the republic) or in such a poor state that they're under house arrest. So, the 'Sardanapalus' you'll see at the National Gallery is a reduced replica, painted a couple of decades after the original. In fact, about the largest thing by Delacroix here is 'A Basket of Fruit in a Flower Garden' (1848) – sultry, but a still life, nonetheless.
Does it matter? Yes and no. The National wants us to think of Delacroix as a giant. But that's hard to do when the work on display, marvellously moody as it is, is on such a small scale. It takes a while to get your eye in, even if you're already a fan. But it's worth perservering, because those whirling tangles of legs, swords and manes have an awesome intensity. And, like sparks from a Catherine wheel, Delacroix's influence showers across the art of the next half century.
What Delacroix does is give his successors permission to indulge their fantasies – as dark or daft as they might be. That long-haul post-impressionist Paul Gauguin should find inspiration in Delacroix's travels through the 'living antiquity' of North Africa isn't surprising. But even straitlaced Cézanne, that diligent measurer of trees and mountains, unloosened his cravat thanks to Delacroix, painting not only the bizarre 'The Apotheosis of Delacroix (1890-94) in which his hero is borne aloft, naked on a cloud, but also 'The Eternal Feminine', a deeply disturbing 'homage' to woman that shrieks 'psychosexual problems'. So, Delacroix – he's the cool uncle of nineteenth-century art, encouraging his charges to behave badly and madly. If that isn't quite the show's message, it's a whole lot of fun to behold.
Average User Rating
4.3 / 5
Rating Breakdown
5 star:

4

4 star:

6

3 star:

1

2 star:

0

1 star:

0
A master I have never discovered before. Really vivid brush stroke. And it's really shocked to so such many Morden mastered influenced by him. Van Gogh's olive tree is breathtaking, and I prefer Kandinsky's dream like painting in this show than any other abstract shape and colour painting.
I went with a fear of failure. I had heard of Delacroix but beyond pronouncing his name languidly I had a hard job recalling any of his work. I took along with me an arty friend who I knew would at least explain the subjects to me even if I still felt unsure about them. I had read one or two critical reviews which mentioned there were not all that many actual Delacroix paintings in this exhibition, but if anything that made me even more curious.
So, on arrival in the basement of the Sainsbury Wing of the National Gallery I began to face my fears and allow my curiosity to take over. I went looking for the "Death of Sardanapalus" which had been heavily featured in reviews and the publicity. Even this small replica of the original large-scale work took my breath away. It is complex, mysterious and hard to watch. Where is the subject? What is its purpose? My arty friend showed me the use of colour trails through the painting- the touches of white, blue and red that brought the painting to life. Once I started to appreciate Delacroix's techniques with broad brush and contrasting colours I began to understand his influence on much more well known artists such as Manet, Cezanne and Van Gogh. I then truly began to appreciate why this exhibition entitled "Delacroix and the rise of modern art" contains only a third of paintings by Delacroix and the rest painted by several French impressionist household names. His use of colour in the painting of fabrics and his use of brushstrokes in creating movement in water made Delacroix both a creator and an inspiration within his lifetime and for at least the next fifty years after his death.
Go and visit- take plenty of time to really examine all the paintings you enjoy and ask yourself why they appeal? I now feel confident to go back again.
Like many i am not an art expert or someone who talks art although i do work in the arts world. I studied A level art and learnt about Picasso and cubism as well as Pointilism, Fauvism and Impressionist styles. So i wondered how on earth i had never heard of Delacroix before. After wandering the 6 rooms of this exhibition i felt even more at a loss as to how i had missed him. It's clear from the way this exhibition has been put together that Delacroix had an enormous influence on some of our most famous names within the art world. The paintings are put together in 6 different rooms and cover different aspects of his works from portraits to landscapes to North Africa etc. Paintings from other greats are placed alongside his works and clearly show the influences and developments whether using colour or subjects. There is a wide range of styles and subjects some of which you will pass by unmoved but others that will stop you in your tracks. There is humour here too and one that made me chuckle in room 4 was called Pieta by Van Gogh. Here he shows the Virgin Mary cradling the dead Christ and since Van Gogh never saw Delacroix's original he improvised and has clearly painted his own face onto that of Christ! Cheeky! Another painting that i could have looked at for many moons was in Room 5 by Monet. Called La Pointe de la Heve, Sainte-Adresse, it's a beach landscape that on quick glance could be a photograph. Brilliantly captured and heavily influenced by Delacroix as the text will explain. Should you fail to follow the developments and praise from other artists along the way in room 6 you'll find a short documentary that i feel really explains why this man was such an icon and influence for others to come. Here, the modern movement really takes off.
I left with a quote from Delacroix ringing in my ears: 'Oh Young Artist you want a subject? Everything is a subject. The subject is yourself'. Art should be open to everyone and i believe it is in ourselves and everywhere. Many of us have yet to discover the power and beauty within our lives. Delacroix filled his works with himself and his passions.
Go see for yourself!
As someone not very familiar with Delacroix's work -apart from the very famous pieces- the exhibition was a great opportunity to learn a lot, whilst understanding how important his influence was for the generations of artists to follow. A journey through some of his works in juxtaposition with artists like Van Gaugh, Degas, Renoir and others gives a new perspective to what was seen before. The vast theme choice of the paintings, the use of strong colours and especially the magnetising light of Delacroix are just captivating - finally understood why he's so appreciated. Do keep in mind that it takes some time to dive into his world, but as it happens gradually you don't really realise when you got there. All in all, a perfect weeknight out!