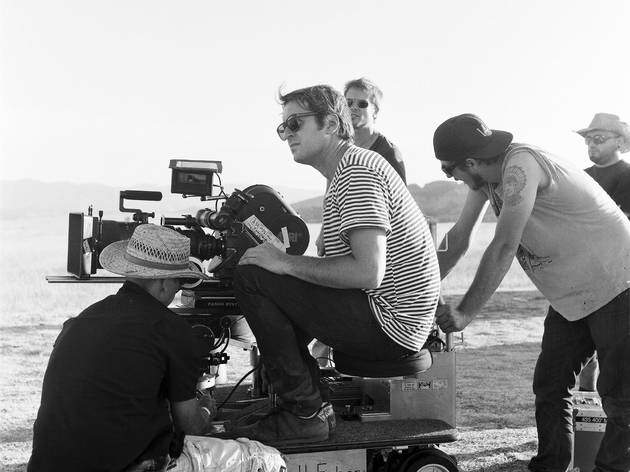 1/9
Artist Doug Aitken. © Alayna Van Dervort courtesy of LUMA Foundation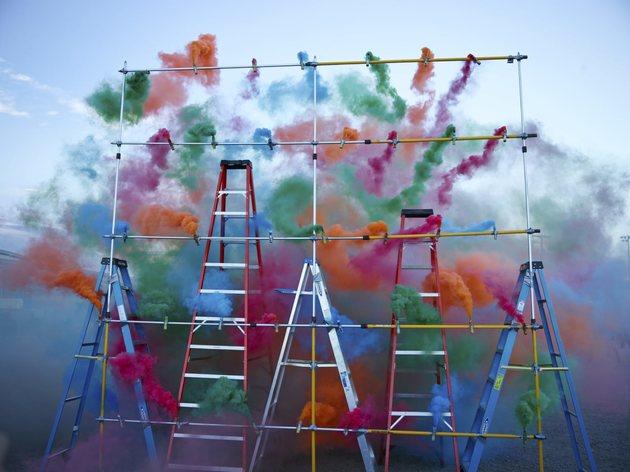 2/9
Olaf Breuning's smoke installation Doug Aitken, Station to Station, 2013. Photo © Brian Doyle courtesy of 303 Gallery, New York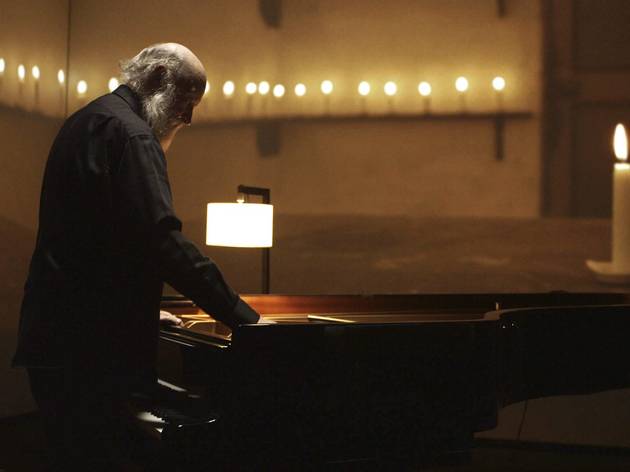 3/9
Terry Riley performs as part of Doug Aitken's 'Altered Earth', 2012. © Doug Aitken Workshop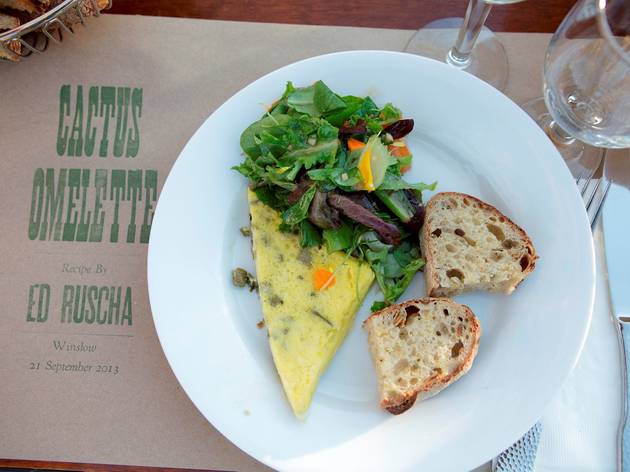 4/9
Ed Ruscha's cactus omelette dinner at the Winslow Happening. Doug Aitken, Station to Station, 2013. Photo © Ye Rin Mok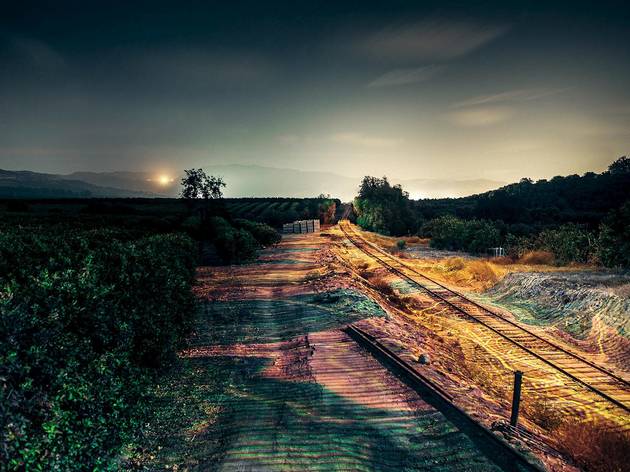 5/9
Aaron Koblin & Ben Tricklebank: Light Echoes. Photo:Ben Tricklebank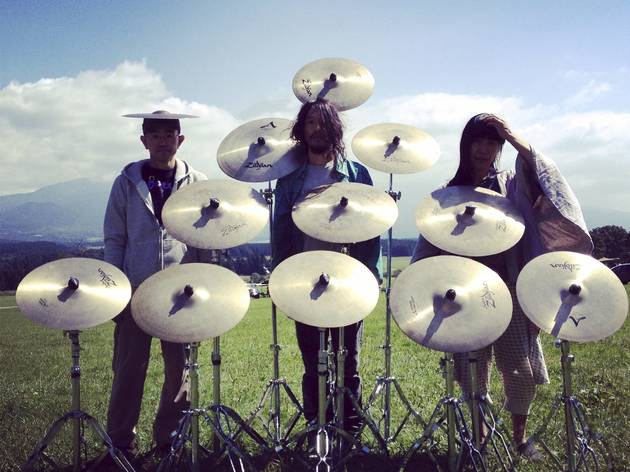 6/9
Boredoms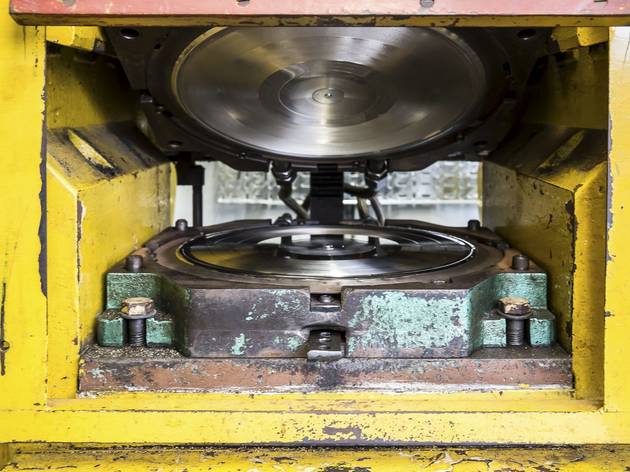 7/9
The Vinyl Factory Press. Photo: Arianna Power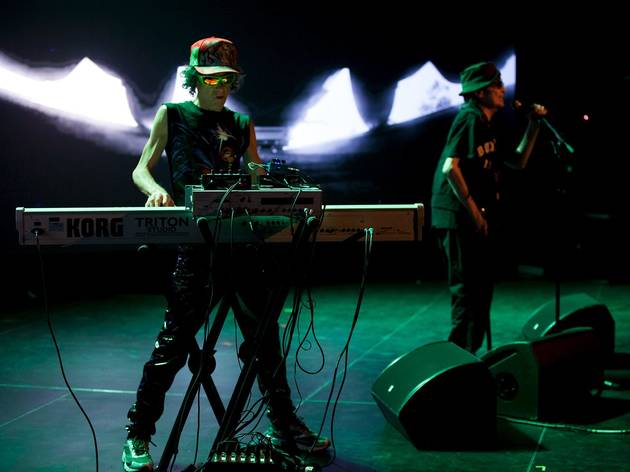 8/9
Suicide perform at the New York Happening Doug Aitken, Station to Station, 2013. Photo © Alayna Van Dervort courtesy of LUMA Foundation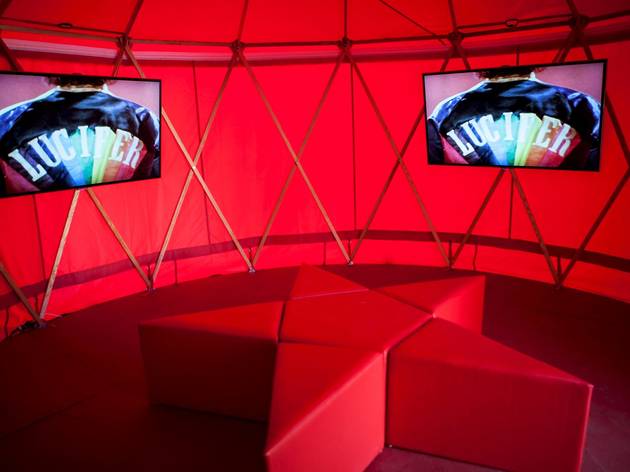 9/9
The interior of Kenneth Anger's yurt. Doug Aitken, Station to Station, 2013. Photo © Mara McKevitt
Doug Aitken interview
The American multimedia artist tells us about bringing his cross-disciplinary collaborative exhibition 'Station to Station' to London
'The idea of a "happening" is that there is little distance between the viewer and it, whatever "it" is,' says Doug Aitken. 'It's not a convenient, digestible thing.' The American artist is explaining the Californian-style craziness of 'Station to Station', over a Californian-style lunch of cold-pressed juice. Back in 2013, Aitken invited artists, musicians, choreographers and filmmakers on a 40,000-mile train Odyssey around the States to create spontaneous and experimental projects in major cities and off-the-grid locations.
Now it's coming to London in 30 days of multidisciplinary 'happenings' that will take over the Barbican's indoor and outdoor spaces. 'We're not interested in shipping an artwork from an artist's studio 1,000 miles away and hanging it on the wall,' says Aitken. '"Station to Station" is an ideology. It's about creating a new platform that ignores the separation between mediums.' In practice, this means you can watch Mike Figgis as he films and edits a new work in the art gallery, or wear a Lawrence Weiner bracelet as you take part in Mexican artist Pedro Reyes's 'Spiritual Speed Dating' in the music studio.
You first conceived of 'Station to Station' as a series of spontaneous projects on board a train that travelled 4,000 miles from the east coast to the west coast of America...
'I always saw "Station to Station" as an ideology. It wasn't about what country it happens in or what means we use, whether its a train or a place. I saw it as about looking at culture now and seeing whether we really can create a new platform that's outside the capitalist system that is about experimentation, ignoring the separation between mediums and really coming up with new languages. Within the project there's a huge cross pollination from filmmakers like Mike Figgis or John Hog and musicians of all generations from Sucide to the Savages and artists like Ed Ruscha and Tacita Dean. It feels that we want to live in a world where our culture is so electric and stimulating, that it reflects where we are and where we are going as oppose to something which is slowed down and conservative.'
Why did you want to bring 'Station to Station' to London?
'There is something so beautiful about it happening in London, because it's such a turbine of cultures, it's changing all the time and it feels nomadic even though it's a place. It just seemed absolutely right to create "Station to Station" here.'
How will it adapt for its 30 days at the Barbican?
'Barbican's architecture has been fascinating because it's a space that everyone gets lost in, it's this giant concrete labyrinth which is so beautiful so we wanted to embrace that idea of getting lost so that you can go down a corridor and come across an enormous tent with a Kenneth Anger installation inside. And the art gallery has been completely deconstructed so there are layers of scaffolding, platforms and stages, where there used to be air. There will be recording rooms and spaces and places in there, where people are going to live or do residencies or make time-based works.'
So there will be this real sense of encounter?
'Yes there's active discovery as each day will be completely different. The viewer is integral to the works and these moments. The idea of a "happening" is that there is little distance between the viewer and it, whatever 'it' is. It's an experience that's on-going and evolving.'
Doug's 'Station to Station' highlights
'I'm interested in the entire zeitgeist of the project. I love that the Mexican artist Pedro Reyes is doing this piece "Spiritual Speed Dating". Over two days on the hour and every half hour a different guru or religious person will discuss their beliefs with one another. It'll be like this blitz of high-speed spiritual proposals and then it's over.'
'Another durational project from another generation and in another genre is Terry Riley. Terry's a dear friend of mine and when he heard about the project he said, "This is what I've been waiting for Doug. I've been waiting for this so badly, I can play in a concert hall and I can work with the symphony but I love this idea that I'm actually doing something with the people and I'm doing something new and creating something impromptu on the spot. So Terry wants to live in the space and improv music every day for five days and then create an entire composition in the music hall with a children's choir. I mean how magical is that.'
'
Olaf Breuning
's outdoor installation really sums up what we're after because duration and time is a huge aspect of "Station to Station" and "Smoke Bomb" is only 30 seconds, so we will have to keep bombing throughout the run.'
'
Lawrence Weiner
who's creating text pieces, wants to make words that you can wear, so bracelets will be given out on a first-come, first-served basis each day.'
'
Liz Glynn
is this amazing west coast performance and conceptual artist who is going to explain the universe during her 30 day residency inside her specially designed yurt.'
'We're doing this incredible
Stephen Shore
projection piece of 300 photographs Stephen shot in Winslow, Arizona on the outside of the building on Thursday, Friday and Saturday evenings from 9.30pm.'
'
The Boredoms
will only be doing one performance of this specially composed piece with about 88 percussionists (Sat Jun 27). It's a complete anomaly. They are not the kind of group that have songs and go on tour that's just not The Boredoms. They create soundscapes that escalates and build and build and builds It's a physical force field.'
'Station to Station' film
'I'm really pleased to share the '
Station to Station
'
film. It has a very unorthodox structure; it's made up of separate one-minute films. So you watch this piece that is like time moving. Everything is democratised, whether it's a minute of Patti Smith or a single landscape with a drone, it's this amazing modern kaleidoscope. I never intended to make a film, the film just made its self and 14 months later we have this thing that is feature length. But I never wanted to make a documentary, someone walking you through and explaining everything; I felt that was a complete disservice and disrespect to all the projects. So we came up with this idea of making individual pieces. It's likes when you look at the galaxy and there are million stars but it's one view that you have, so a film can be like that. All these particles and a particle accelerator that goes so fast it becomes this pure immersive experience.'
Support Time Out
We see you're using an ad-blocker. Ad revenue is Time Out's main source of income. The content you're reading is made by independent, expert local journalists.
Support Time Out directly today and help us champion the people and places which make the city tick. Cheers!
Donate now