Dürer's Journeys: Travels of a Renaissance Artist review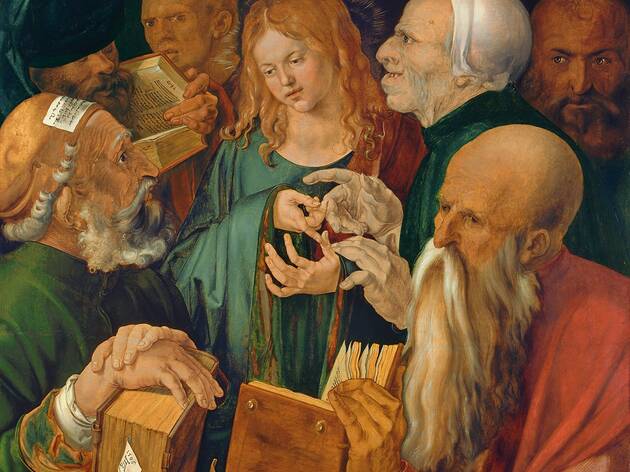 Time Out says
Most people spend their gap years getting either alcohol poisoning or gonorrhea, but not Albrecht Dürer. Like any promising young artist of his era, the great German renaissance master went travelling, sure, but he spent his journeys learning, absorbing, spreading ideas and growing as an artist.
He headed out from Nuremberg down to Basel and Strasbourg, through to Venice, and then back up to the Lowlands, studying with master artists along the way, and leaving prints behind too. It was a process of being influenced and of influencing.
The show starts out by showing Dürer alongside other artists of his time. You see the influence of engraver Martin Schongauer on Dürer's printmaking; the older artist's works are intricate and dramatic, a monochrome blueprint for the youngster. But Dürer immediately leaps off on his own path. His apocalyptic woodcut is swirling with fire and wild beasts, his St Jerome in the wilderness is stark and deeply shadowed.
The prints are the key here, because Dürer's engravings and woodcuts travelled. His paintings took ages (and one is also incredibly antisemitic), but the prints were quick to make, cheap to print, easy to share, and they went literally everywhere. Jan Gossaert copied one for his Adam and Eve, and nicked Dürer's greyhound for his 'Adoration of the Kings', all shown side by side.
But then the show loses its way a bit. They're so desperate to show you portraits of big jawed European royalty by various painters that you sort of lose sight of why they're showing it to you. If you try to make sense of the narrative threads the curators weave through the show you're going to tie yourself in knots. At points, it just feels like an art history essay that's been turned into an exhibition.
Luckily, Dürer is good enough to save the show on his own. His portraits of incredibly serious men in hats are gorgeous, his drawing of a woman's head looks like it's made of stone, his prints of knights and saints and the feeling of melancholy are staggering, his final St Jerome painting is withered and harsh. It's brilliant stuff.
This isn't just about one man's travels, it's about how his ideas travelled, how they spread like a super virulent form of cultural covid, and helped change the shape of art to come.
Details
Dates And Times