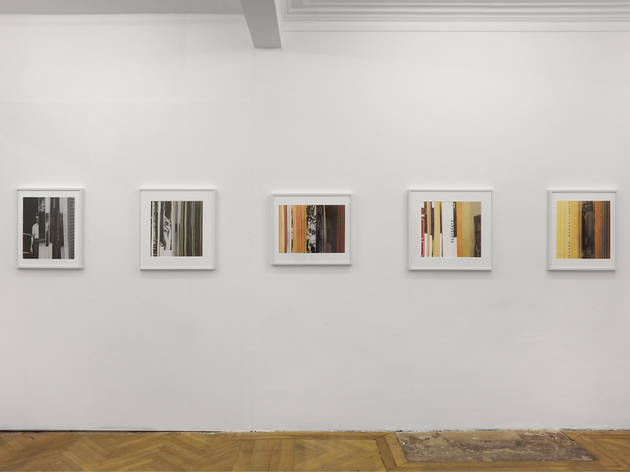 It's pretty easy to see why someone thought bringing Erica Baum and Sara MacKillop together was a good idea. The former photographs files and archives; the latter makes pseudo-minimalist sculptures and reliefs out of files and folders. This is wry, hyper-knowing work, never more so than in Baum's images of index files, wherein chance conjunctions of categories throw up accidental meanings. In a tranquil monochrome shot of tightly packed files with category markers sticking up out of them, 'Secretaries' sits alphabetically next to 'Self (Philosophy)', suggesting depths in a stenographer's daydreams.
Elsewhere there's light comedy, as 'Fat' abuts 'Fasts and Feasts', and another series – where Baum photographs books side-on and half opened – makes hay with conjunctions of half-seen imagery, black-and-white figures peeking from rumpled pages.
It's slightly dry postgrad stuff, but MacKillop ups the aridity factor with ease. I get where she's going, I think, with the alloying of high and humble, bathos and delicacy in a work like 'File' (2011), a vertical line of conjoined bottle-green files rising up the wall, as if Donald Judd had hired Rymans as his fabricator. But MacKillop seems trapped in her longstanding aesthetic. 'Faded Paper' (2012), sun-bleached sugar paper, presumably fading further in the gallery, innovates a bit but is somewhat precious and also appears dangerously convinced that less is necessarily more. Not always, apparently.