Eyewitness: Hungarian Photography in the 20th Century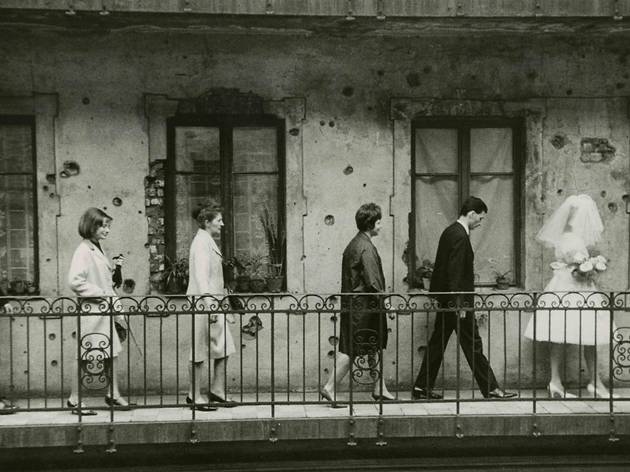 In the last century, Hungary has been a hotbed of political upheaval, virulent anti-Semitism, and photography. The first two are hardly unusual for twentieth-century Europe, although this little country turned out to be keenly associated with both (exhibition curator Colin Ford quotes the photographer Martin Munkácsi, suggesting that Hungarians, 'if they thought about it at all, would have defined an anti-Semite as a man who hated Jews more than necessary').
But what about the third? This exhibition gives above-the-title billing to five world-famous Hungarians: Brassaï; Capa; Kertész; Moholy-Nagy, and Munkácsi. This quintet of Jews was chased out by the vicious Horthy regime, but the exhibition also includes many non-Jews who were able to stay but endured dictatorship, Nazism and ultimately Soviet rule, and whose consequent obscurity has everything to do with geography and no relation whatsoever to talent.
Rudolf Balogh, whose fur-shrouded shepherd is the first image you'll see, is a spectacular exponent of the Hungarian style – soft-focus, beautifully composed images of Hungarian rural life – and as he should be, since he invented it. Neither Ernö Vadas nor Károly Escher or even Jószef Pécsi suffer from comparison with their ex-compatriots. Not every photographer here is a master (or mistress – there are several women, although I wish there were more than one image each by Kati Horna and Éva Besnyö) but most are. For a war-torn patch of ground that lost its autonomy and its land (over 70 per cent of it, after World War I), Hungary has considerable artistic weight.
We can ask why, or we can stop talking for a minute and just look at world-famous images: Robert Capa's blurred record of D-Day; the soft radiance of Brassaï's lamplit Paris; Munkácsi's shot of Lucile Brokaw, one of the first fashion models to look natural instead of stuffed, running along a beach. Look at vintage magazines and books, at the pictures of other greats – Picasso, Chagall, Matisse – who were hanging around in 1930s Paris. With the exception of Brassaï, our Hungarians all ended up in America eventually, and László Moholy-Nagy even set up the short-lived Chicago-based New Bauhaus to replace the legendary German design school the Nazis had closed.
There is a particular soft sepia that seems quintessentially Hungarian. These people suffered from a specific nostalgia, as well as a desperation to communicate: Hungarian is a linguistic anomaly, dissimilar to surrounding tongues. Brassaï only started taking photographs in Paris on the advice of his friend, André Kertész, because he couldn't make a living as a journalist in a foreign tongue. If he'd been French, we might never have known that this was an artist who could make Bayonne's trees look as exciting as the bullfight happening beneath them. To be a great photographer, said Robert Capa, born Endre Ernö Friedmann, 'it's not enough to have talent, you also have to be Hungarian.' Is it coincidence that he would have said this in English so broken that his American friends referred to it as 'Capanese'?
This multifarious, thrilling exhibition tails off a little at the end, which seems appropriate: although Kertész kept going into the 1970s, the other big names had either died or given up 20 years before that, and after the 1956 revolution, the heavy foot of Soviet repression had squashed the home talent pretty much flat. This is a useful contrast to the earlier flowering, just as the obscure names make interesting comparisons to their more familiar brethren. But really, if this exhibition had limited itself to the five big boys, it would still express more – about Hungary and exile, war and beauty, light and shadow and hoary homesickness – than the most accessible language ever could.