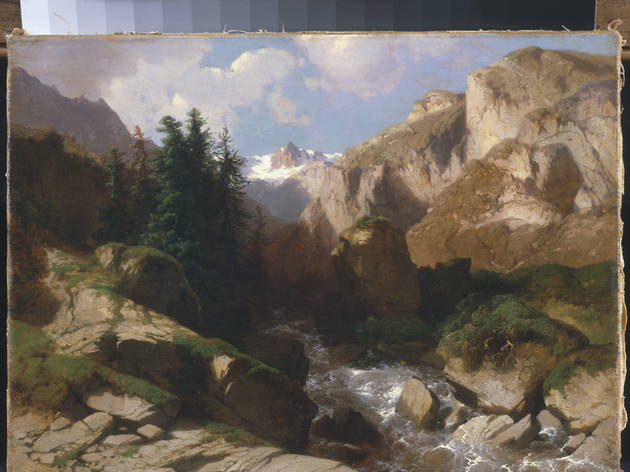 There are forests, rocks and torrents, certainly – not to mention towering glaciers, sweeping mountain vistas and the occasional epic scene from the mythological past. The 51 paintings in this exhibition represent the Romantic apogee of the landscape genre in Europe, when images of nature at its most idyllically pastoral or sublime were used to shape new conceptions of national identity.
Specifically, the artists here are all either Norwegian or Swiss – two countries whose landscapes, as the accompanying catalogue attests, 'resemble nothing so much as either other', even while their political situations were completely different (Norway an impoverished colony, Switzerland prosperous and independent). Yet there are also inevitably some paintings of the Italian countryside, where any self-respecting Romantic went to immerse himself in dramatic lighting effects and a sense of cultural antiquity.
The predominant style, then, is one of meticulous, pristine, sometimes almost hallucinatory detail. Whether or not this sort of relentless realism appeals is pretty much a personal thing (and, indeed, all the works are actually drawn from one individual's collection, that of Asbjørn Lunde). While there are certainly some astonishingly accomplished, exquisite moments – the crystalline clarity of Alexandre Calame's majestic Alpine scenes, say, or Peder Balke's looser, almost impressionistic oil sketch of a storm-wracked fjord – you won't find anything with the epoch-altering impact of a Turner or Constable here.
Rather, the exhibition's strengths lie in the way it traces various artistic lineages and relationships – such as those between the phenomenally successful Johan Christian Dahl, close friend of über-Romantic Caspar David Friedrich, and several other names exhibited here whom he influenced or taught. More than any individual genius, it's this sense of a shared vision that best articulates the period's burgeoning nationalism, and the heartfelt desire to ground such feelings within the very land itself.