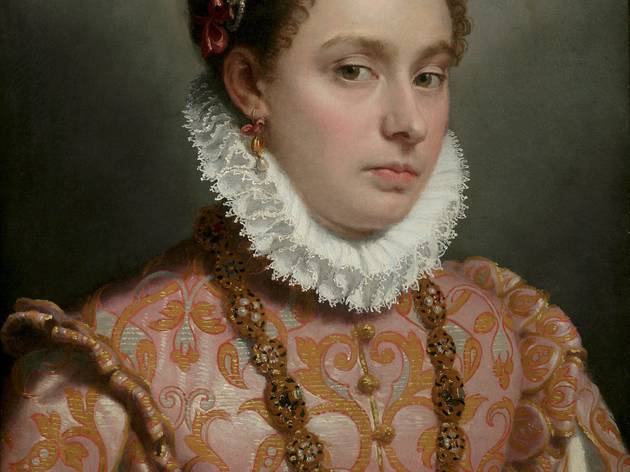 1/6
'Young Lady', c.1560-65
Photo: Private collection
2/6
'A Gentleman in Adoration before the Baptism of Christ', c.1555-60
Photo: Gerolamo and Roberta Etro
3/6
'Gian Gerolamo Grumelli', c.1560
Fondazione Museo di Palazzo Moroni, Bergamo - Lucretia Moroni Collection
4/6
'Isotta Brembati', c.1555
Photo: Fondazione Museo di Palazzo Moroni - Lucretia Moroni Collection, Bergamo.
5/6
'The Tailor', 1565-70
Photo © The National Gallery, London
6/6
'Gian Girolamo Albani', c.1570
Photo: Private collection
Because Giovanni Battista Moroni (1520-1579) didn't travel far outside his native region of Lombardy, he wasn't included in Vasari's epochal primer on the Italian Renaissance, 'Lives of the Artists'. And because of that, he was overlooked until the nineteenth century. And because of that, he doesn't yet qualify for a one-name moniker like Raphael, Michelangelo and Titian, and is still relatively unknown. And because of that, this show in the RA's compact Sackler Wing is a glorious revelation, as well as being a manageable size and not crippled by a catalogue the envy of Argos.
Moroni's best paintings are portraits, particularly those of the middle classes in his hometown of Albino. He reveals the tastes, fashions and aspirations of the well-to-do. A widower sits with his two young daughters; a tailor poses with his heavy shears; a fierce old man glares at us, interrupted in his reading. While Moroni's full-length portraits of aristocrats are characterful and lushly accomplished, it is the psychological distillation in his more modest three-quarter or head-and-shoulders works that is the more compelling. Halfway through this exhibition is a room that does an odd thing for a show of Renaissance art: it unsettles.
It unsettles in a way that anticipates Velázquez, in offering universal compassion while preserving individual identity. A series of portrait heads sit against chilly silvery-grey backgrounds. A man with a red beard seems amused. A young woman appears archly unimpressed. Greatest of all is the portrait of Lucia Vertova Agosti. Unlike many of Moroni's subjects, she does not look at the viewer, but her remoteness is not that of the bored sitter. Instead, she gives the impression of overwhelming sorrow, of fixed and limitless despair. It is a harrowing piece of painting which must have made for an awkward piece of domestic decoration.
In his day, Moroni's naturalism divided opinion. I suspect it was probably the apparent vulnerability of his subjects that made his critics uncomfortable and led to his neglect. That's good news for us, because here he makes his reappearance with a flourish, before he gives us both barrels, right between the eyes.
Chris Waywell
Rating Breakdown
5 star:

1

4 star:

0

3 star:

0

2 star:

0

1 star:

0
"Halfway through this exhibition is a room that does an odd thing for a show of Renaissance art: it unsettles." I'm not sure you can really get away with this statement... but back to the point: this is a gem of a show, and so many of the paintings are in quite extraordinarily good condition. During an autumn of big name shows (Constable, Rembrandt, Turner), Moroni - who, let's face it, most of us had hardly heard of - is getting his moment. Highly recommended and, I dare say, less of a scrum inside than exhibitions down the road at the National Gallery or Tate: http://wp.me/p3lxGr-bR