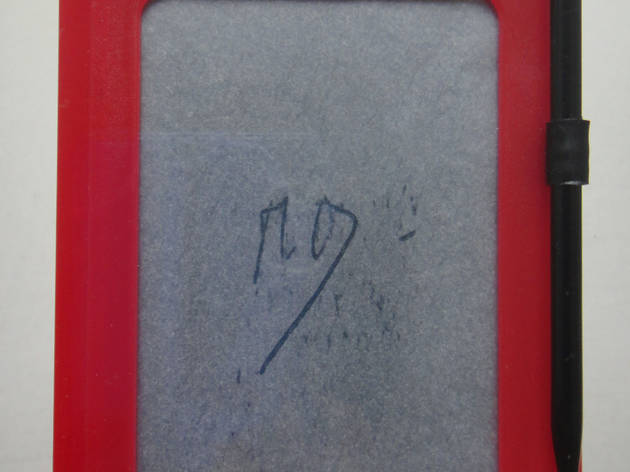 Time Out says
Though it addresses one of the oldest mediums (drawing, of course), 'Graphology' feels pretty modern. For drawing, here, generally means 'automated drawing' (or writing) and reflects the interface between humanity and technology – whether it be Marcel Broodthaers's wryly fragile 1972 scribble on a Magic Slate, an early Etch-a-Sketch (one upward tug and it's gone), Thomas Zummer's tenebrous, faithful pencil rendering of an electrostatic image of a lightbulb, or Fiona Banner's Tourette's-afflicted typewriter, modified so it's easy to type F-bombs and little else.
Still, directly linking man and machine only goes so far, and soon the curator starts veering. The handout talks of the automatist hand as a seismograph of the inner self: see Pierre Bismuth's wavering white line appearing over an archive film of Sigmund Freud, tracing his hand movements, and Paul Sharits's stack of agitated, horizontal ink lines on plexiglass.
Elsewhere, mimicry of expressivity is apparently drawing-like enough, as in Juliana Borinski's 12 photographs that magnify a film sprocket hole's frayed corner 50,000 times lifesize, arriving at a richly wavelike abstraction. Forget coherence, then, and prospect instead for gems: from Man Ray's abstract films glowingly interred on lightboxes to Wim Janssen's striking geometric topography, intricately assembled from glued lengths of automatic-pencil graphite, jutting from a corner of the room: map, drawing, sculpture, marvel.
Details
Users say