I decided not to save the world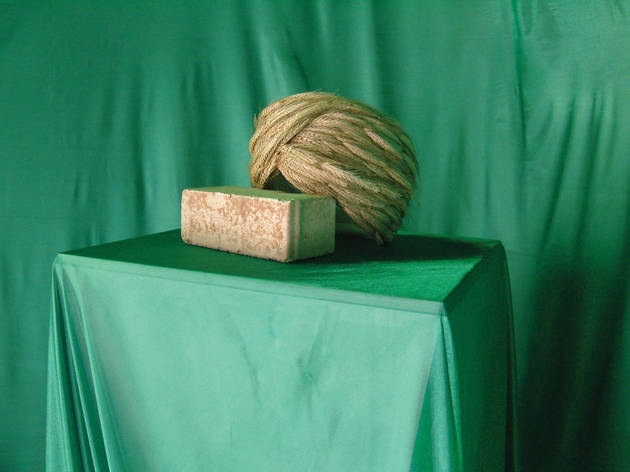 Time Out says
From the Arab Spring to the Eurozone debacle to the antics of the Occupy movement, it seems as if the world is everywhere aflame with moments of political upheaval. There's a keen self-conscious humour, then, to a show of politically-inflected art that declares that artists aren't going to 'save the world', especially when so much art of the last decade has been all about addressing social and political issues, as if art had a responsibility to make a difference.
This little show, organised by Tate in collaboration with Istanbul's SALT art centre, brings together four artists from art scenes beyond the periphery of Europe, with work which toys with the problems of an artist's influence or impotence when addressing their social or political context.
Morocco-based Yto Barrada's work is full of a quizzical melancholy about the effects of modernisation and Western influence in Morocco – a fairground-style illuminated palm tree sign, rusty and with bulbs missing, suggests that the exotic fantasy of the Arabian world is a myth that never really existed, while a video documents the artist's quixotic efforts to rescue a lone palm tree from the rapid urban development of Tangier. These are little, knowingly futile gestures, like Romanian Mircea Cantor's one-second video clip of a child cutting the stream of water from a tap with a pair of scissors.
Elsewhere, feeling responsible and guilty for not acknowledging the politics of your country drives Lebanese artist Mounira Al Solh's funny and thoughtful video, in which she deliberates in her studio about making art that too-easily fits the international curator's stereotype of what 'Lebanese art' should be like. 'Eurasian' collective Slavs and Tatars presents a turban fashioned from stalks of wheat, resting against a brick – evasively symbolic, it conjures political or religious meanings but runs away laughing, leaving you thinking that artists are better at making thoughtful mischief in the world, rather than thinking they can ever change, or save it.
Details