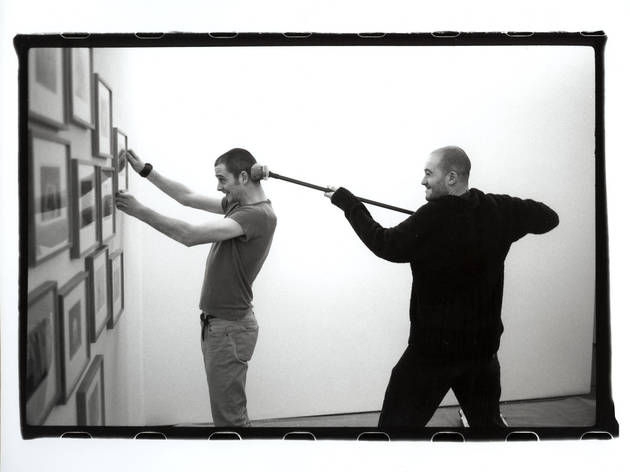 Time Out says
Friendly warning! We're working hard to be accurate. But these are unusual times, so please check that events are still happening.
Invariably referred to collectively, as the Chapman Brothers or simply the Chapmans, this tongue-in-cheek sibling separation doesn't so much signify an Oasis-style rift as a natural parting of ways. Jake (aka frontman Liam) has long been focused on his writing – his novels include 'Meatphysics' and 'Introspastic' – while Dinos (the quieter, Noel type) has lately kept his own painting studio to noodle away in. While the title of this twin-venue show suggests you choose your favourite, in the final reckoning it's still just more of the same from the dastardly duo.
For starters, dozens of molten-faced 'Temple of Doom' Nazi figures point, titter and bugger each other at Mason's Yard (the Jake show). These are super-sized reminders of the countless toy soldiers populating their 1999 diorama 'Hell', also blackened and burnt in a 2004 fire, just as the enlarged steel dinosaurs here come back to terrorize teeny cardboard versions of their former selves.
These monsters share the space with us and so reflect the gaze of the vapid viewer or the covetous collector – indeed the mannequins share the same rictus grin of many an unfortunate rhinoplastied art buyer. Yet no self-respecting collector would want these art Nazis leering at them in their living room, nor would any councilman have these dumpy dinosaurs parked in their civic squares.
Of course, the Chapmans make these works primarily for the amusement of one another, not for the market – a commendable stance in such commercial environs – but while they're good in-jokes, there isn't enough to sustain an outsider's interest for very long. Only a grimy painting – dated 1607-2010 as originally by a 'follower of Pieter Brueghel the Younger' and now overpainted with skeletal, googly-eyed Pac Man heads and Pinocchio noses – sucks you in with its delicious Boschian detail. Shame then, that sightlines are blocked by another sinister watchman figure, this time in tie-dye Ku Klux Klan garb, sporting an obstructive boner.
The Chapmans, like us, might now finally be tiring of their Goya obliterations, the latest series having been covered with only crude handprints or all-over ink washes. Tellingly, though, they let one go with no intervention: Goya's most torturous etching, 'Por qué?', as if to admit that they can't do any worse.
Perhaps their own greatest hits (or travesties) are already behind them and it's now impossible to out-gross the earlier shock of, say, the child sex-dummies – although a hoodied group of them, this time with animal faces, makes a welcome reappearance at Hoxton Square. The eastern outpost (the Dinos show) is, however, far less regurgitative, with thoughtfully defaced colouring-book paintings and religious icons that shift the mood from self-righteous anger to creeping horror.
They've clearly been busy, given the scale of these two exhibitions, but have been doing other things too, such as developing a feature film entitled 'Organ Grinder's Monkey' featuring Rhys Ifans, Kevin Spacey and other arty luvvies. Their extra-curricula dabbling has perhaps damaged the partnership, if only in terms of quality control across this sprawling, double album (their fifth at White Cube). Oh, and if I had to choose? Noel. I mean, Dinos.
Details