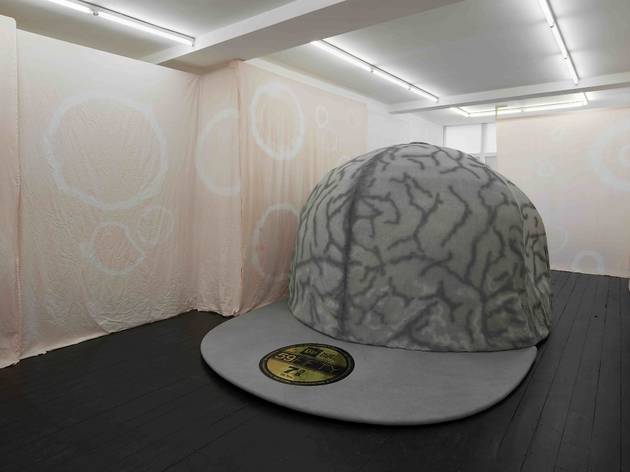 You don't remove the visor sticker from your New Era 59FIFTY cap. Something about fakes and legits or the freshness of your foil prohibits it, and in the circles that be, it just isn't done. London artist Jess Flood-Paddock super-sizes stuff for her sculptural installations, and for 'Fantastic Voyage', it's this brand of hat – once synonymous with the hip hop sub-strata, now turned mainstream with a flagship store off Regent Street – that she's magnified.
In line with the 1966 sci-fi flick that shares the exhibition's title and which saw Raquel Welch board a nuclear submarine, be subsequently miniaturized and then injected into the body of a comatose scientist, the artist has fashioned the fabric of the hat's dome to look like a brain. With the walls couched in hokey drapes of flesh-pink tie-dyed fabric and the show bearing only this hybrid prop, this looks like a budget walk-in exhibit at a science museum.
The hat's glossy stamp, an ironic token of 'originality' when seen on this lummox of an imitation, is the centrepiece. Looking beyond its faddish significance, it is possible to detect Flood-Paddock's lasting interest in ideas surrounding consumption. The self-perpetuating search for newness that this vogue entails, the precarious tag both signifying cash and necessitating the need for it, is exemplary of the consumerist condition. And its witty incarnation here – part-brain, part-cap – mimics the circuitous motion of such a drive, and levels a blatant punch. Although Flood-Paddock's presentation may appear at first simplistic, this is an unusual and unforgiving conceptualism that cleverly pulls together a jocular array of cultural references.