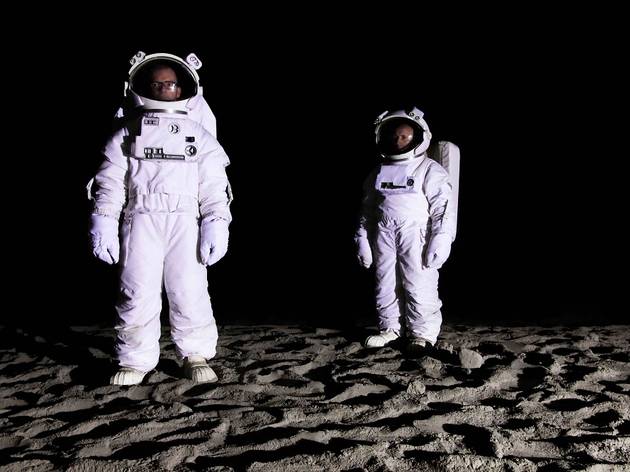 If the suspension of disbelief – to use that rather well-worn Romantic formulation – is essential for fiction to function, then this survey of works by John Wood and Paul Harrison can be seen as attempting a demystification of fiction. Their films, especially, actively encourage disbelief, emphasising notions of the ersatz and artificial: a burning seaside pier, for instance, that's clearly nothing more than simply a scale model; or the artists themselves, acting the roles of bored mountaineers or astronauts, shuffling around stage-sets that resemble something out of a hokey, '60s TV show. The sense is one of lighthearted listlessness; a sort of disaffected, de-romanticising make-believe.
All of this is hardly new territory for contemporary art, of course. Still, it's an extremely good-looking show (the first in this new gallery), the various projection rooms and flat-screen monitors lending a feeling of mock-seriousness and institutional gravitas – which the artists, of course, then proceed to puncture. Several films evoke the kind of games played by office workers to stave off tedium – such as balancing a single sheet of paper upright between two opposing desk fans – while numerous drawings and text pieces wittily appropriate the sort of ideograms, logos, and language more usually found in corporate environments.
These two strands – the fictional and the bureaucratic – combine in their most entertaining and complex work, the film-projection, '10 x 10': an apparently endless, cyclical scrolling though the floors of an office building, the repeated rooms offering up unsettling mini-narratives of progressive, white-collar psychosis – from the constant reconfiguration of plastic conference chairs, to the worker who dresses up in the costumes of differing authority figures. Like a vision of some awful, interminable purgatory, its portrayal of the nightmarish ennui of office life is, paradoxically, all too believable.