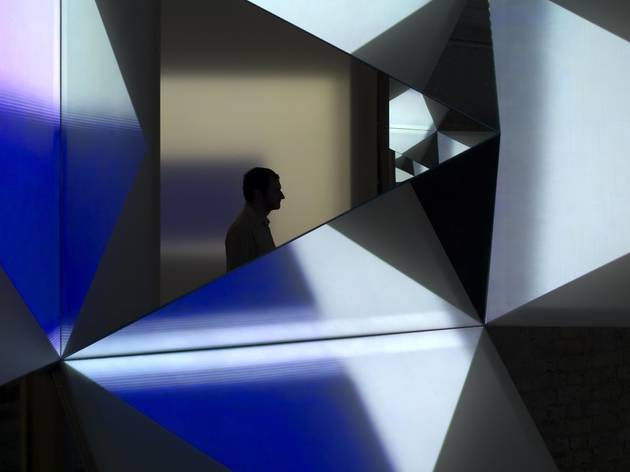 American Josiah McElheny is an erudite sort of artist, interested in cosmology and science one moment and modernism's history the next, while the form his work takes is always superbly produced – designed with extreme good taste and elegantly manufactured, somewhere between sculpture and high-end interior design. Tasked with coming up with a work for the Whitechapel's year-long Bloomberg commission, which occupies a large, rather sombre bare-brick space on the ground floor of the gallery, McElheny has deployed an installation of screen-and-mirror structures, onto which a programme of other artists' films is projected.
The films, selected by Kenneth Goldsmith, the founder of the avant-garde media archive Ubuweb, are all essentially abstract, dating from the 1930s, '60s and 2000s. They're all good enough to see in themselves, especially if you've never really bothered with the more obscure reaches of experimental film-making. But they're projected onto McElheny's variously angled combinations of mirror and screen, and the effect is a lot like staring into the shifting patterns of a kaleidoscope, except that here you're inside the kaleidoscope; your reflection sliding in and out of view, intercut with slices of the buzzing, shifting abstractions which make the room glow and shimmer.
McElheny's light-show plays delicately with the winding history of modernist, avant-garde and experimental film-making, stitching quite differing moments together with the same non-figurative thread. Unhooked from their single-screen status, the selection of videos are transfigured and unfolded into McElheny's chic, contemporary baroque, which strips them from their historical context and telescopes them into the ongoing present of the installation.
If there's a problem, it's that McElheny's concept of history seems empty of an understanding of either development or difference – avant-gardes are here only as fragments to be played with, idly, in our end-of-history moment. But this scepticism is written into the show: why else would McElheny have titled it 'The Past was a Mirage I had Left Far Behind?'