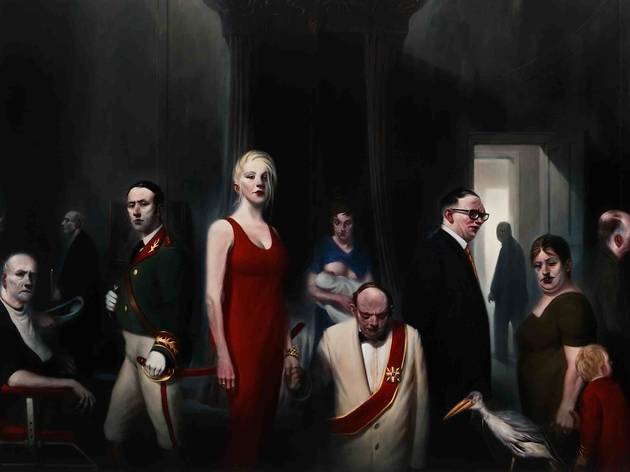 A slight case of Ken Currie trying to have his cake and eat it, perhaps, with the Scottish painter's latest works. On one hand, the series is billed as a deconstruction of the tradition of portraiture, a puncturing of its ideology of power and status. On the other hand, the actual paintings Currie serves up would hang pretty happily on the walls of even the more traditionally minded collector, perpetuating as they do the genre's basic values – the belief in figuration, the idea of truthful depiction. It's just that the truths as envisaged by Currie are somewhat darker than normal, his grotesque cast of characters symbolising themes of vanity and decrepitude.
The men – and it's almost always men in these parodies of power – are portrayed as ugly, wasted, impotent creatures, their features sunken and sallow, their gazes bitter and haunted. Bodies, in various degrees of nakedness, slump wretchedly in thrones or wheelchairs, or step piteously into luxurious baths. Sometimes, the degradations are more visceral: a man poses in military regalia, his face battered to a pulp; two suited businessmen are depicted shaking hands, as if commemorating a financial deal, except that one had blood seeping from his nose. Currie's style is dark, smoggy, slightly blurry, yet the trickling blood here is bright and sharp – a sort of ironic signifier of vitality.
Other, more typical memento mori also crop up – death masks, snuffed-out candles – along with various art-historical references, such as a Velázquez-style, pop-ish throne. Finally, the individual sitters all come together for one epic, culminating painting – a macabre, theatre of the absurd-type mixture of different, demented personalities. Still, it's hard to tell if Currie is damning the hypocrisies of portraiture, or redeeming it for a contemporary audience, refashioning it into something dark and edgy.
Rating Breakdown
5 star:

2

4 star:

0

3 star:

0

2 star:

0

1 star:

0
A must see exhibition at Flowers. The scale of Ken Currie's paintings combined with the macabre characters have an astounding impact when walking amongst them. Almost over baring.
A brilliant show of this Scottish artist's work. All the ugliness of power and greed laid bare. Worth a look.