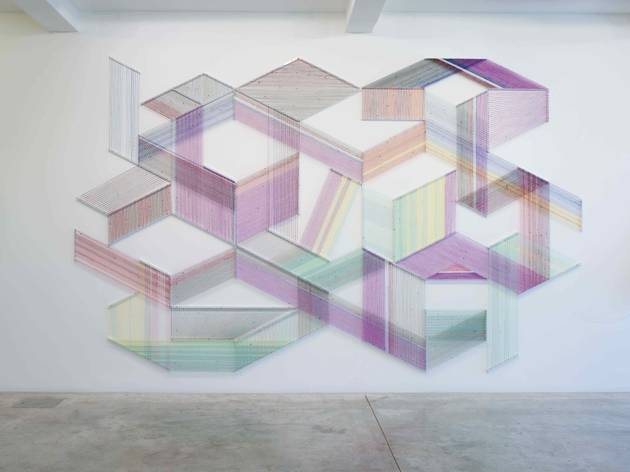 The use of 'lines' in art is a very broad theme for a group show format. Perhaps too broad. This miscellany, representing 15 artists with artworks reaching from the 1960s to the present day, doesn't really offer a persuasive course of enquiry.
Grounded by historical works from a group of minimalists, the exhibition leaves the promise of unearthing sympathies between these and the newer pieces unfulfilled. Sol LeWitt's instructional wall drawing of 'not straight lines' sets a strong precedent however, delivering both formal and conceptual clout. Similarly defined by its transience is Fred Sandback's 1968/1983 untitled sculptural installation. Yellow rods form two faces of a cube, the gallery partition and floor articulating the others. Whilst comparisons can be drawn between the beautifully light 1970s abstract paintings by James Bishop and the more recent idiosyncratic oils of Belgian artist Raoul de Keyser, the sculptural lineage of Sandback remains unrepresented.
The natural or walked lines of land artist Richard Long are evoked by the inclusion of 1987 work 'Red Slate Circle' and two works of white clay handprints on black card. Whilst Long's seminal explorations of trace and mark-making are relevant, these seem to be the wrong choices of work for this show. The dense candle installation by Indian artist Hemali Bhuta is also at odds with the fineness of non-representational works by artists such as Richard Tuttle, Anne Truitt and Nasreen Mohamedi.
A more successful choice is Turkish artists Ozlem Günyol and Mustafa Kunt's wall drawing 'Ceaseless Doodles' (2009). Using black marker, the pair superimposed scaled-down outlines of all the geographical borders on earth, creating an overlapping orb of contours that muddies state lines in a fuzz of pattern. Similarly addressing issues of nations and boundaries, Adrian Esparza's strong site-specific work 'So Fast and Slow' (2012) emulates the colourful stripes of a Mexican serape, weaving a bright geometric pattern directly onto the wall.
Each work is interesting in its own right, but the drawback to this show is that with a focus on non-representational works, it neither truly embodies the endless, kaleidoscopic potential for the line in art, nor does it begin to trace any considered strands of lineage or association.