Heads up! We're working hard to be accurate – but these are unusual times, so please always check before heading out.
'Magnificent Obsessions': artist interviews
We talk to the likes of Martin Parr and Dr Lakra about their weird and wonderful collections
As 'Magnificent Obsessions', a showcase of the personal collections of some of the best-known names in the art world, opens at the Barbican this spring (Thu Feb 12 – Mon May 25), we speak to some of the artist who've offered up their favourite hoards for the exhibition.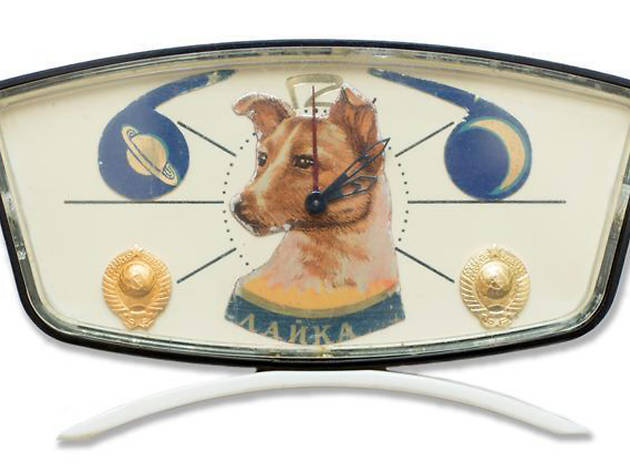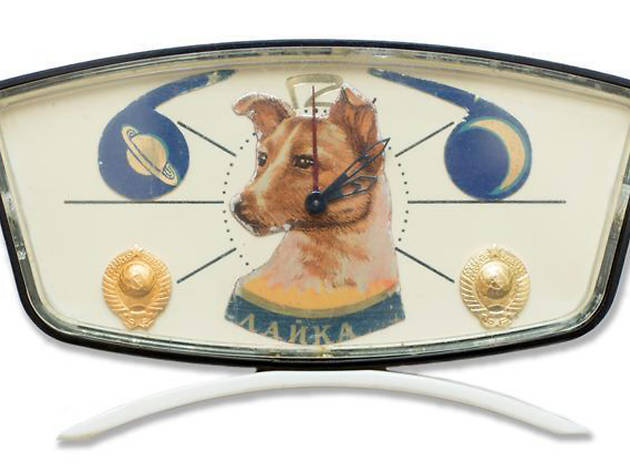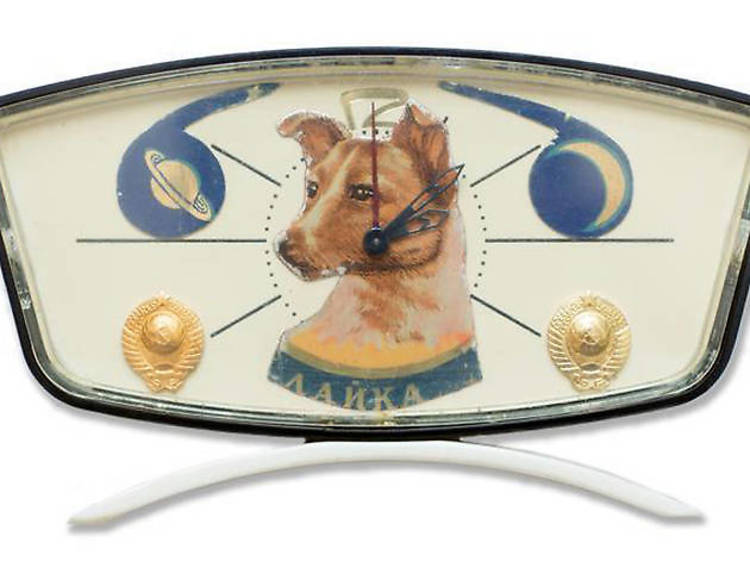 The British photographer collects Soviet space dog memorabilia (above).

When did you start collecting?
'Probably about 20 years ago. I was fascinated by the whole cosmonaut thing and as I started collecting it, focused in on the dogs.'

Why did you become obsessed with the dogs in particular?
'It's such a surreal thing, the fact that these stray dogs were trained and sent to space. Because it was a triumph for the Soviets during the Cold War there was an amazing amount of ephemera produced.'

Where do you source them?
'I do go to flea markets in Russia occasionally, but the range and quality is better on eBay.'

Do you get a buzz out of collecting?
'Yes of course, it's a slight addiction.'

What do you think your collection says about you?
'That I'm a collector: I'm not too intellectual about these things.'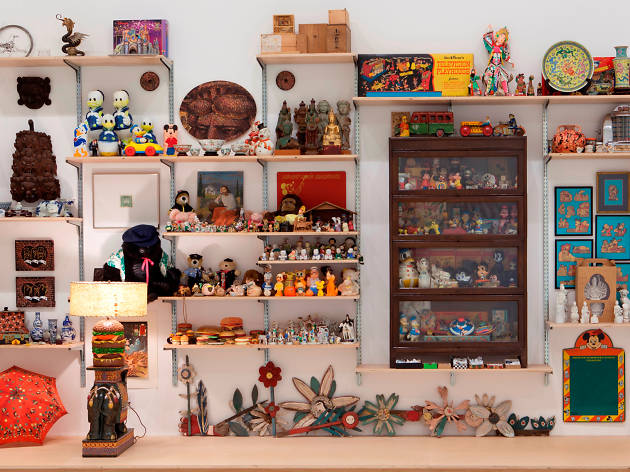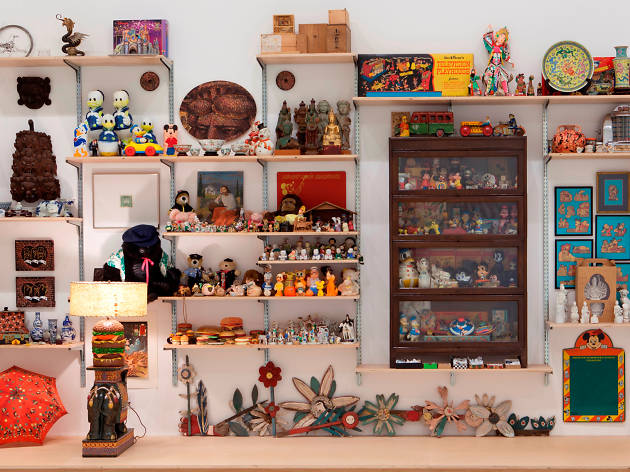 The Danish/Vietnamese artist acquired the late Martin Wong's personal collection (above), turning it into an artwork in 2012, which the Walker Art Centre then purchased.

How did you come across Martin Wong's collection?
'I was introduced to Martin Wong's work through Julie Ault. Then in 2009 or 2010 we went to buy a work of a circular red and yellowish thing, with the letters FDNY –Fire Department New York on it. It turned out to be a fireman's trampoline to save you when you jump out of a window. It was one of his late works, and it's just an amazing painting. Some months later, this letter arrived and inside there was a photo of this little lady standing underneath a trampoline, and I had a suspicion it must be the mother. Then I decided to go and meet her. Who wouldn't? When I went to San Francisco where she was living, still (at the time) in the childhood house of Martin, I saw this incredible stuffed house with things related to Martin Wong and I just fell in love with it.'

Why did you want the collection to be owned by a museum?
'The fact is that Martin Wong is one of the greatest artists of our time. Martin's mother in San Francisco who basically had dedicated her life to maintaining her son's oeuvre after his death in 1999. Her entire house was stuffed with things they collected together. I thought this collection should be protected because it gave an insight into Martin's work. I started to take different museum people to the house in hope that they would acquire it for their collection.'

What do you think Martin and his mother's impetus was to collect all these items?
'Florence has this amazing memory. Her husband died about a year after Martin, so she basically went from having a family to having nothing. I think she dedicated her life to maintaining memories of Martin, so she has archived everything. Not only paper works but also objects and things related to Martin's work.'

And why did you want to make it into an artwork?
'I got in touch with some museum people because Florence was actually talking about having garage sales as she didn't know what to do with all this stuff. She's 90 plus, so I was very concerned about it. One should archive these kinds of things, because they provide us with some knowledge of Martin Wong's work. It was actually not even my idea, it was Doryun Chong, who worked at MOMA at the time. He thought it would be more possible to have it acquisitioned if it became an artwork. So that was what we did.'

Do you have a system of categorising the objects?
'That I really learned in the process of installing it in previous exhibitions. I really thought, what do you do with thousands of objects? There are just some beautiful combinations that Florence arranged in the house, but I don't know, maybe Martin arranged some things. I try to maintain those sorts of things.'

What one thing would you save if the storage unit burned down?
'The hamburger lamp, or the shiva figure that Martin gave his mother with the drawing on the package for Mother's Day ("To a little lady who always has her hands full") or the pig cookie jar he wanted for his ashes when he died…'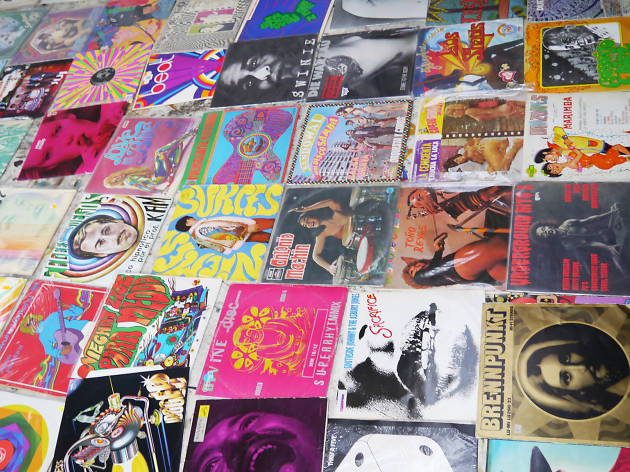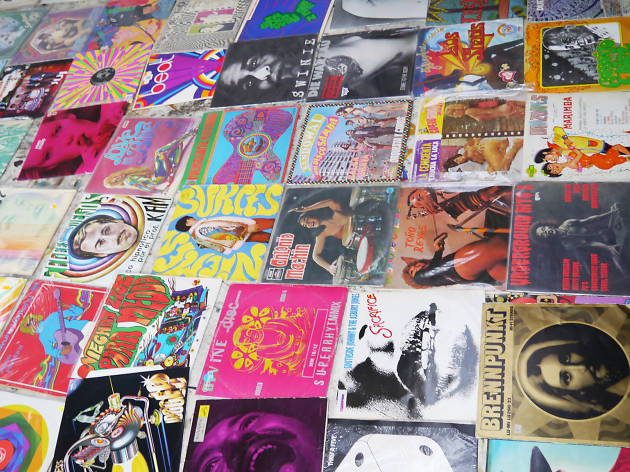 The Mexican tattoo artist collects LP covers and scrap books (above).

When did you start collecting LPs?

'When I was a kid in the 1970s.' Do you collect them for the bands or the imagery? 
'For both. Sometimes I see a great cover and 
I don't care what kind of music it is.'


Where do you keep them?
'I keep them close to where I work but the LPs can bend in the sun and here in Oaxaca it's very hot, 
so I don't display them.'


Which is the most precious to you?
'I found an LP of Los Ovnis, a 1960s psychedelic go-go cover band from Mexico. It was dedicated to Laura 
– I just changed the "U" into a "K".'


What do you think the collection says about you?
'That I'm obsessed with graphic language.'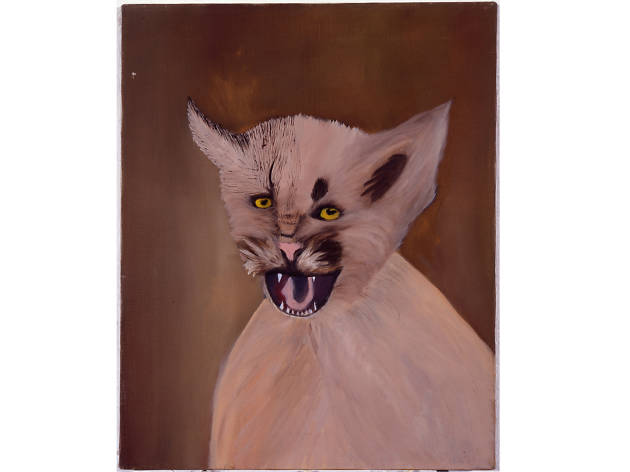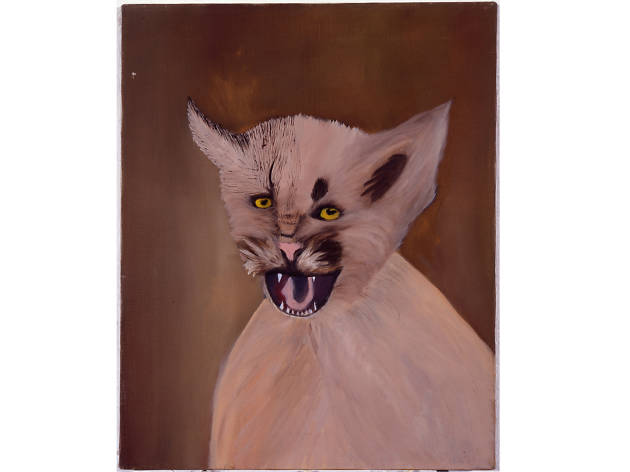 The American artist collects 
art found in thrift stores (above).

When did you start collecting?
'In the 1970s I used to trawl thrift stores and garage sales for the detritus of America: paperbacks, clothes of past decades, LPs etc.'

Have the paintings all been sourced in America?
'I've found pieces in Nice and Geneva, though it's rather hard to fit most canvases into luggage.'

What's the strangest painting?
'A set of naked First Ladies with exquisitely rendered pubic hair, with a nature scene on the flipside ready for quick hiding.'

Do you ever want to know who's painted them?
'I think part of the pleasure of looking at them is in making up an analysis or storyline.'

What do you think your collection says about you?
'That I love all expressions of the basic creative urge, or that I'm 
anal-retentive.'
Support Time Out
We see you're using an ad-blocker. Ad revenue is Time Out's main source of income. The content you're reading is made by independent, expert local journalists.
Support Time Out directly today and help us champion the people and places which make the city tick. Cheers!
Donate now