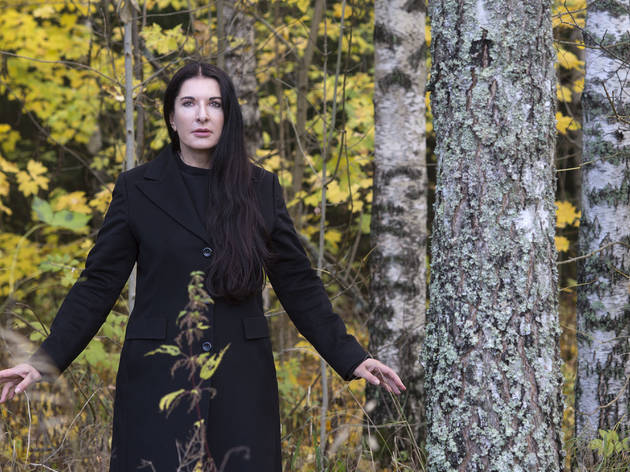 1/4
Marina in Black coat in the forest
© Knut Bry and Ekebergeparken Oslo, 2013
2/4
3/4
Marina conducting rehearsal for "Bolero"
© Rahi Rezvani, Paris 2013.
4/4
© Sofia Sanchez and Mauro Mongiello
For six days a week, eight hours a day, the doyenne of performance art, Marina Abramovic will be at the Serpentine Gallery. Although there will be nothing in the gallery, the Belgrade-born artist will be interacting directly with gallery visitors for a total of 512 hours. As an expert of durational performance, she's sat on a chair for 736 hours and 30 minutes staring at gallery visitors for her retrospective at New York's MoMA, so expect the most extraoridnary encounter you'll ever experience in a gallery.
Be warned there will no doubt be queues as there is a limited capacity of 160 visitors. You'll have to leave mobile phones, bags and coats in the lockers provided, as Abramovic doesn't want any distractions. And under 12s will not be permitted.
READ OUR INTERVIEW WITH MARINA ABRAMOVIC HERE.
Average User Rating
3.3 / 5
Rating Breakdown
5 star:

1

4 star:

1

3 star:

0

2 star:

0

1 star:

1
On entering the white room, littered with confused lingering people, I felt a little bit out of my depth. I knew that this was more an installation rather than viewing, but I wasn't prepared for a room packed with people as palpably anxious and vulnerable as I was. I was a child on my first day of nursery, not the self-assured adult I had felt just moments before weaving my way through the tubes and buses of London to find the Serpentine Gallery; the setting for my experience.
My tension was eased as one of the installation's stewards dressed in black took my palm so tentatively and looked into my eyes so genuinely that I almost believed I was excited by the prospect of being led to face a white wall from half a foots distance for half an hour. So she stood with me, holding my hand, staring at the wall ahead of us unfalteringly, encouraging me to emulate her. After a while she stood behind me, squeezed my shoulders, held my head and whispered that I needed to relax; to feel every muscle in my body de-stress. It was at this point, as I was being handled so carefully, that I felt the peace I was intended to feel. The close white wall allowed me to focus my thoughts, let those that were negative dissipate and the positive prevail. I was meditating. I hadn't intended to, but I was. I felt the stress caused by a lunatic bus driver's charging through London fall away, and it fell quite elegantly, freely.
It was hard to focus on what was the intention of this installation; I was so peaceful and found it difficult to find logic in something that felt quite natural and uncalculated. My overwhelming feeling was acceptance. A stranger had taken my hand and cared for me; she didn't want to know what school I had been to, what A levels I obtained or the reason why I had left my competitive place at University. She didn't ask me what I would do with my life, or advise me on what I should do. She was delicate and conscious of my every move, offering me comfort without an explanation. It isn't often in this day and age that you find utter acceptance from another person without explanation, even at a bar we are quizzed on not only our current job but our prospects. We aren't allowed a childhood to make mistakes because social media so well documents our every move, inviting, no, imploring judgment from our friends and family. Social media is so important but it is destructive when used as a mode to gain acceptance equivalent to that of familial or romantic love.
The focus on this human interaction, this absolute trust between two strangers was so pertinent. We are so busy in London, running from broiling hot tube station to overcrowded Tesco's to a sunken sofa with a glass of wine, then bed. In the middle of central Hyde Park, we meditated on what it meant to be part of a human interaction, without gain or loss, but simple mutual respect.
Of course there were young boys looking at their mothers with a mixture of anger and fear; "why aren't I making bunk beds out of shoe boxes for my Sylvanian families?" and " maybe I should tell Dad; mum's been staring at the wall and breathing heavily for forty-five minutes now", but they still must have felt something. The nervous atmosphere we had started with, translated into an aura of calm, with only a few shuffling shoes and the occasional withheld sneeze or cough.
We were strangers, united. Young and old. Political or unpolitcal. We let go of judgement and just… were. We must just breathe and be; perhaps that's the missing link in today's fast-paced society. I had the most comforting hour and a half I've had in a long time, and I strongly recommend not seeing, but feeling this installation.
Gee Be Free
http://geegeesfreelondon.wordpress.com/2014/06/17/marina-abramovic-the-wall-whisperer/
@GeorgiaBea_EDGE

It's only June, but we may have a contender for 'Worst Exhibition of 2014'. In this desperately self-indulgent 'durational performance', gallery-goers are invited to watch Abramović doing bugger-all atop her slightly raised platform. She occupies the space from 10:00 until 18:00 every day of the exhibition, totalling 512 hours.
There is something of a competition among visitors to see who can take it most seriously. The deluded cognoscenti stand on the dais with the artist, keeping a very straight face. For emperor's-new-clothes bonus points, try shutting your eyes, holding hands with a partner or even laying-on hands with a new friend.
The Serpentine takes all this nonsense just as seriously as those attending. You have to get past not one but two greeters, who explain the rules, as well as reading a disclaimer and agreeing to be filmed. You then have to store your bags and mobiles in the free lockers provided, and agree that you won't keep walking in and out - presumably so as not to spoil the ambience for the dullards inside.
For more art in plain English, check out http://curatedlondon.co.uk