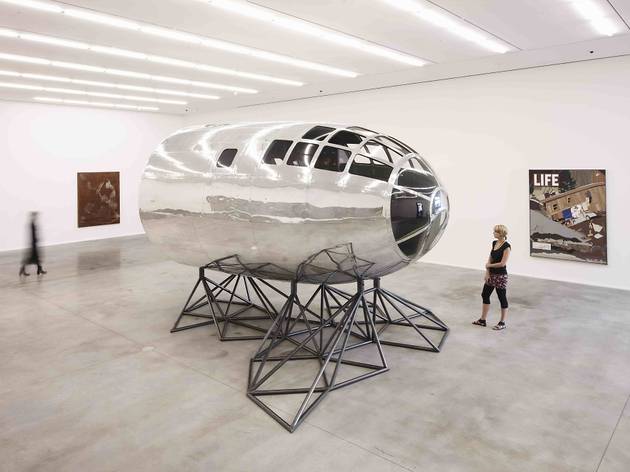 Time Out says
Friendly warning! We're working hard to be accurate. But these are unusual times, so please check that events are still happening.
What is it about Matthew Day Jackson's play-dead photographs that irks while you smirk? Perhaps it's the self-mythologising and too-neat conceit of having oneself photographed annually as if a corpse; admittedly, 2011's version in which the American artist's feet protrude from a funeral pyre (on show here) is a pretty striking image. Or maybe it's the fact that the 'Me Dead at…' series is just a theatrical elaboration of what photography – the frozen moment, a testament to what Susan Sontag referred to as 'time's relentless melt' – stands for anyway.
Jackson seems to specialise in making expensive-looking art that formalises what, in the end, all good art is about – a quest for meaning, a means of locating and defining ourselves in the universe. This show's title, 'Everything Leads to Another', hints at the plurality of his interests and, laced with references to imperialism, science, science-fiction, paranormal activity, what we know and what we don't, the work seeks to examine art's place in the space between life and death, creation and destruction.
As with Damien Hirst's sculpture, often there's an almost comical literalism on display. For 'Axis Mundi', Jackson has sourced the cockpit of a B29 bomber – the type that dropped the atomic bomb on Hiroshima and Nagasaki – and converted it into a kind of gentleman's study containing archaeological and anthropological specimens. It's a punchy centrepiece but as a container of complex meaning it's less impressive than 'Reflections of the Sky', in which Jackson re-imagines one of Monet's wraparound reflections paintings as a chillingly beautiful minimalist moonscape – a super-charged evocation of Cold War sublime.
That this epic work doesn't quite hit the spot either has something to do with H&W's cavernous gallery, which diminishes even the grandest of statements. However, in the end it's the same restlessness that makes Jackson a name to watch that appears to prevent him from coming up with a truly engaging installation. Being interested in interesting things doesn't necessarily lead to interesting art.
Details