Migrations: Journeys into British Art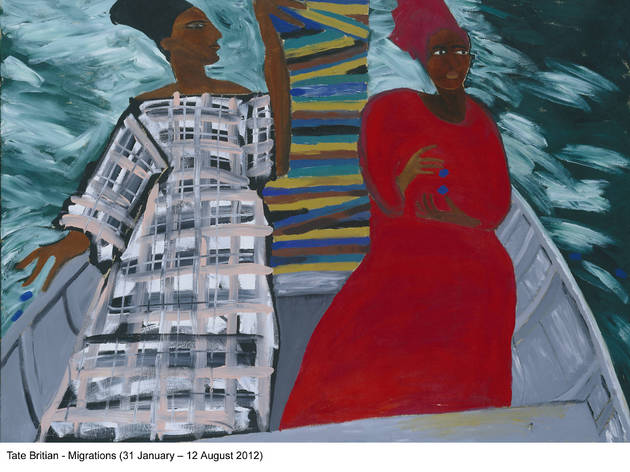 This selection of Tate's British holdings, along with a few judicious loans, is billed as exploring 'not only the movements of artists, but the circulation of art and ideas' – which is just about as broad a brief as it's possible to imagine. The result, appropriately, is a rambling, roving exhibition, full of fascinating episodes from the history of British art; yet also an exhibition that, fatally, is never able to satisfactorily settle down and decide what it's really about.
For most of the show, the focus is on foreign artists who came to Britain – starting with an absorbing section charting the influx primarily from the Low Countries during the sixteenth and seventeenth centuries. Van Dyck is the biggest name here, the shadowy sophistication of his style going on to shape the entire course of British portraiture. But there are numerous other artists, relative journeymen, who also determined the development of painterly genres. Marine painting, animal painting, the tradition of decorated ceilings, conversation pieces – even that seeming quintessence of Britishness, landscape painting – all were originally, it emerges, continental imports.
Other exciting periods of foreign influence follow: the peripatetic neoclassical artists of the eighteenth century – best exemplified by Canaletto's stunning, spacious depiction of St James's Park; or the challenge posed to British stiff upper lips by French and American émigrés just over a century later – Whistler's melancholy visual effects, say, or the shockingly flirtatious scenes of James Tissot. And inevitably, the artistic exodus from Nazi Europe produced all sorts of captivating tangents – from László Moholy-Nagy designing posters for London Transport, to Naum Gabo experimenting with British-invented plastics.
As the show progresses, however, the goalposts seem to shift, in ways that feel unresolved and problematic. There's a strong section on black artists from the 1980s – except that the majority of them are actually British-born, as opposed to immigrants themselves. And while their pieces typically address notions of identity and representation – such as the Black Audio Film Collective's engrossing documentary, 'Handsworth Songs', about that area's riots and media portrayals – the same can't be said for the section on pre-war Jewish art. Here, paintings of Jewish themes by avowedly British artists – both traditionalists like William Rothenstein, and modernists like David Bomberg – are displayed alongside sculptures by Jacob Epstein that have nothing whatsoever to do with Jewish subject matter. Simply lumping all these different sorts of works together in one section, within an exhibition that's predominantly about foreign artists, feels oddly archaic and exoticising. Meanwhile, wall texts that make reference to 'an archetypal Jewish family', for instance, seem to emphasise precisely the sorts of essentialist conceptions of identity that the exhibition's very aim, presumably, was to disentangle.
The exhibition's best moments, then, occur when an artwork specifically addresses notions of migration and foreignness. In 1700 Jakob Bogdani painted native bird species being confronted by colourful, exotic imports, while Zineb Sedira's recent, multi-screen video installation uses epic images of a ship graveyard in Mauritania as an allegory for the failed sea crossings of illegal West African immigrants. Such powerful, cogent statements are, unfortunately, few and far between.
Ultimately, despite lots of interesting works, 'Migrations' feels too much like a series of missed chances. Too many major names have been missed out, for a start – from Holbein, through the likes of Lucian Freud and Frank Auerbach, to any number of contemporary artists who were born abroad (Turner Prize winners such as Wolfgang Tillmans spring to mind). More profoundly and disappointingly, especially after the excellent opening sections, it's a missed opportunity to really unpick the assumptions that lie behind popular conceptions of foreignness, and thereby of Britishness too.