Painting Norway: Nikolai Astrup (1880-1928)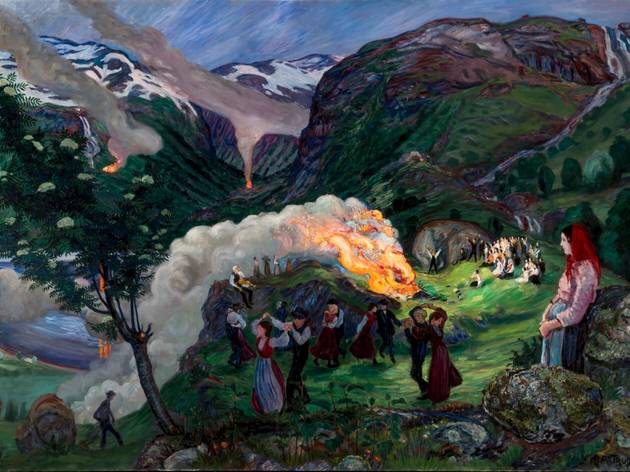 1/9
Nikolai Astrup: 'Midsummer Eve Bonfire', before 1915. The Savings Bank Foundation DNB/The Astrup Collection/KODE, Bergen Art Museum, Norway
2/9
Nikolai Astrup: 'Funeral Day in Jølster', before 1908. The Savings Bank Foundation DNB/The Astrup Collection/KODE, Bergen Art Museum, Norway
3/9
Nikolai Astrup: 'A Clear Night in June', 1905-1907. The Savings Bank Foundation DNB/The Astrup Collection/KODE
4/9
Nikolai Astrup: 'The Parsonage'. The Savings Bank Foundation DNB/The Astrup Collection/KODE, Bergen Art Museum, Norway
5/9
Nikolai Astrup: 'March Atmosphere at Jølstravatnet', before 1908. Private collection, Oslo. Photo © Anders Bergersen
6/9
7/9
Nikolai Astrup: 'Spring Night and Willow'. The Savings Bank Foundation DNB/The Astrup Collection/KODE, Bergen Art Museum, Norway
8/9
Nikolai Astrup: 'Foxgloves', 1925. The National Museum of Art, Architecture and Design, Oslo. Photo © Dag A. Ivarsøy
9/9
Nikolai Astrup: 'Marsh Marigold Night', c1915. The Savings Bank Foundation DNB/The Astrup Collection/KODE, Bergen Art Museum, Norway
First major UK show of one of Norway's most popular and important artists
You have to hand it to Dulwich Picture Gallery. Its intrepid curators will gamely sheath themselves in Gore-Tex, miss ferries and twist ankles if it means bringing us the work of an extraordinary artist who deserves greater recognition. In the case of Nikolai Astrup (1880-1928), they've spent the past couple of years hauling themselves to the middle of the Norwegian nowhere where, clinging to the side of a mountain above a lake, lies Astruptunet, the collection of buildings – huts, really – that Nikolai Astrup called home for the last 14 years of his life.
Why the effort? You've no reason to have heard of Astrup; a contemporary of Edvard Munch, he's overshadowed by the more melancholy – and more stereotypically Nordic – painter of 'The Scream', even back home. But when you see Astrup's enchanting pictures of fjords, mountains, meadows of marsh marigolds and midsummer-night bonfires you'll immediately fall for their subtle blend of mysticism, sex, longing and anguish.
His is an art of wide-ranging and hugely relatable emotion but also one of distinct economy. Astrup dedicated himself to just a handful of motifs: huts, flowers, mountains, fjords… painting them at different times of the day and year. And they were all in his backyard. As with many of the artists featured in the Royal Academy's 'Painting the Modern Garden' Astrup created his own world to paint. But he went further than most to stage manage the natural world, clearing and planting trees, and building paths, to turn his vertigo-inducing patch of land not only into a source of constant inspiration but into a kind of artwork in its own right.
Photographs reveal Astruptunet today to be a bit of a climb, but it's nothing like it was when Astrup first moved there in the winter of 1914, with a wife and child (the first of eight) in tow. They scrambled up on their hands and knees in the snow. Astrup remained there until his death, though he only got round to building his dream studio overlooking the lake a couple of years before he succumbed to pneumonia in 1947. He never made much money.
Looking at his paintings you might assume he's some kind of naive artist, an outsider bent on off-grid living. But, travelling to Paris in 1902, he was exposed to all the radical developments taking place at the turn of the twentieth century – notably the Japanese prints by Hokusai and Hiroshige that also influenced Monet and Degas. Astonishingly, what he chose to do with all this innovation was to return home to try to establish a national visual language, a kind of visual equivalent to the music of Edvard Grieg.
He did so by hunkering down and by revisiting his own childhood. If there's a hallucinatory quality that runs through Astrup's art it's informed by his early years. He looked upon the world around him as would any child enchanted by tales of trolls and pagan rites. But, a sickly boy as well as the son of a dour Lutheran priest, Astrup was forced to view it cooped up at home as a convalescent or through the prism of his father's disapproval. No wonder he savoured the delicious freedoms of short-lived summers.
'Midsummer Eve Bonfire' shows revellers drinking, dancing and making merry while the plumes of smoke from distant fires rise sinuously into the midnight sun. It's a ravishing evocation of a place transformed, albeit briefly, into a place of fun and fertility. It feels strange and remote and as intoxicating as it must have done to Astrup when he painted it a century ago. Fortunately, to go there, all you have to do is haul yourself to Dulwich.
Rating Breakdown
5 star:

1

4 star:

1

3 star:

1

2 star:

0

1 star:

0
Did I like this as much as I did because I've been to Norway? Certainly Astrup's work put me in mind of places I've visited there. But I also admired his total commitment to his 'patch' and the representation of its different moods and seasons. I felt as if I came to know his bit of Norway through his eyes, and it's not simply literally what he saw but also how that was overlain with his knowledge of traditions, tales and legends. He painted an augmented reality.
Knowing nothing of Astrup before I visited, I found this exhibition to be engrossing and deeply educational. The notes are well worth reading in full, and the superbly-well curated exhibition is as much a learning experience as it is an aesthetic one. On the same day, I visited 'Painting the Modern Garden: from Monet to Matisse' at the RA - every inch the modern blockbuster, but for me the Astrup was the more rewarding of the two.

Very inspiring. Especially his ways of treating wood block prints as collage and painting each print in to tilt differ way!