Painting the Modern Garden: Monet to Matisse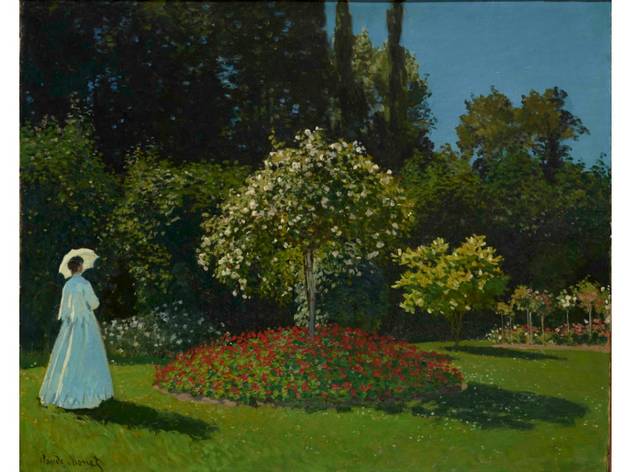 1/7
Claude Monet, 'Lady in the Garden', 1867. Photo © The State Hermitage Museum. Photography: Vladimir Terebenin  
2/7
Joaquin Sorolla, 'Louis Comfort Tiffany', 1911. Photo © Courtesy of The Hispanic Society of America, New York
3/7
Pierre Bonnard, 'Resting in the Garden (Sieste au jardin)', 1914. Photo © Nasjonalmuseet for kunst, arkitektur og design/The National Museum of Art, Architecture and Design / © ADAGP, Paris and DACS, London 2015 
4/7
Claude Monet, 'Nympheas (Waterlilies)', 1914-15. Photo © Portland Art Museum, Portland, Oregon
5/7
Wassily Kandinsky, 'Murnau The Garden II', 1910. Photo © Merzbacher Kunststiftung
6/7
Auguste Renoir, 'Monet Painting in His Garden at Argenteuil', 1873. Photo © Wadsworth Atheneum Museum of Art, Hartford, CT
7/7
Henri Matisse, 'The Rose Marble Table, Issy-les-Moulineaux, spring-summer', 1917. Photo © 2015. Digital image, The Museum of Modern Art, New York/Scala, Florence / © Succession H. Matisse/ DACS 2015 
For a show that was always going to be a surefire hit, 'Painting the Modern Garden' more than delivers in the ways you'd expect. Floral masterpieces by Claude Monet, Auguste Renoir and Henri Matisse are abundant; there are also endless discoveries to be made, from Henri Le Sidaner's 'The Rose Pavilion' (1936), pink and powdery like your nan's cheek, to the fiery sunset strangeness of little-known Spaniard Santiago Rusiñol's 'Glorieta VII, Aranjuez' (1919). The Royal Academy has embraced the theme with gusto. Walls are painted the sludgy greens and subdued blues of posh garden sheds. There are park benches to sit on. You half expect a holographic Titchmarsh to appear, offering advice about your hanging baskets.
So, it's sumptuous and a little silly in parts (and surely the perfect Mother's Day treat). But, you don't need to dig too far to find rich seams of history. Because, while this is a blockbuster full of the most beautiful paintings you'll see all year, it's also a show about the ways in which the newly-prosperous middle classes were able to cultivate patches of land for themselves, and how, unexpectedly, the rise of modern art was helped by the advent of the mail-order seed catalogue. And by botanical science, which led to new hybrids becoming available – notably the dahlia, which went from being a Mexican sort-of daisy to the spiky Ascot hat adored by the impressionists. The garden is shaped, in life as in art, as a place of solace, escape and innovation. Yet, regardless of their vision, everyone painted flowers. Hardly anyone did veg.
Because all this took place at the very beginning of the modern era, you get to see photographs of the artists in question: there's Wassily Kandinsky in shorts and shirtsleeves digging in the dirt; Edouard Vuillard is folded awkwardly into a cane chair. These glimpses of character are surprisingly enlightening. There's even a film snippet of Monet glancing across at his pond then frantically jabbing his brush at a canvas, a cigarette dangling extravagantly from his mouth.
The ultimate synthesis of art and nature, Monet's garden at Giverny, near Paris, is rightly the main focus of the show. The artist shifted tons of earth and planted swathes of flowers in pursuit of his vision. It's here he mourned his wife's death, expressing sorrow in a series of 'Weeping Willows'. And it's here, literally within earshot of WWI battlefields, he commenced his epic 'Water Lilies' – including the three panels of 'Water Lilies (Agapanthus)' (1915-26) reunited for this show. Enveloped by this vast work, by plant life and water breaking down into elemental shards of light and colour, you feel as overwhelmed as Monet surely did. Here is an artist painting what he could control but with his mind and heart trained on what clearly he couldn't. It's as soaringly beautiful as it is exquisitely sad.
Average User Rating
4.4 / 5
Rating Breakdown
5 star:

4

4 star:

5

3 star:

0

2 star:

0

1 star:

0
A beautiful subject matter, filled with beautiful pictures, in a beautiful building.
I bought tickets for my mum for a Mother's Day, booking far ahead, booking the earliest slot in the day to avoid the crowds. However, I couldn't have got it more wrong. The exhibition was PACKED with people. As we were the first group of the day, sadly it meant everyone "bottle necked" at the entrance to the exhibit, causing everyone to bash and bump. Not quite the gentle serene experience you might hope for. I'd highly recommend picking up an audio guide if you can, as reading the blurb is often tricky due to the volume of people.
Having said that, you can't help but have your breath taken away by Monet's water lily's and the hundreds of other works on show.
Recommended, but be prepared for crowds.
One of the best exhibitions I have ever seen!