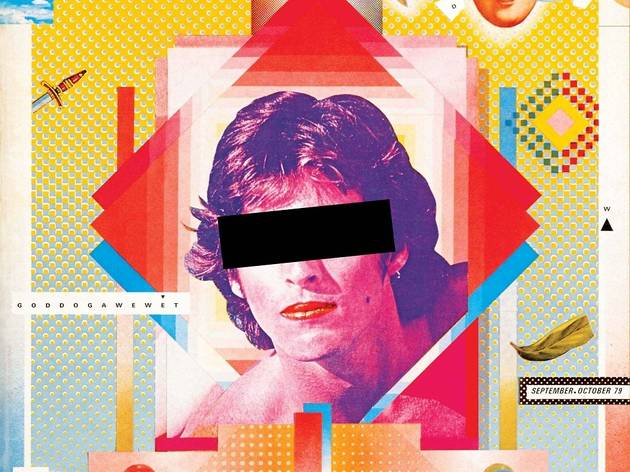 1/2
April Greiman in collaboration with Jayme Odgers, cover for WET magazine (detail) 1979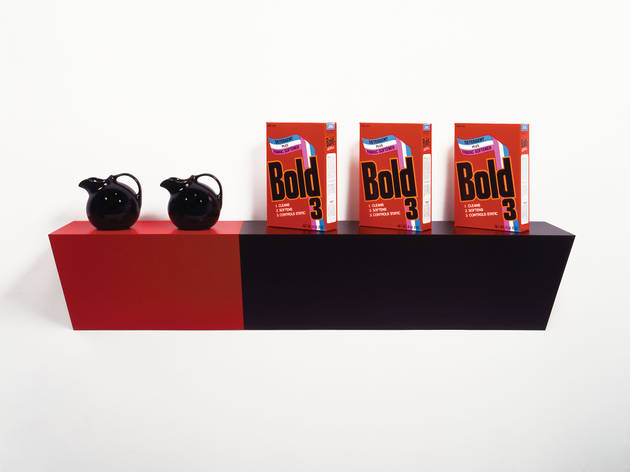 2/2
'Supremely Black', 1985, by Haim Steinbach
It's unusual for an exhibition to be so full of disappointing works, and forthe engaging ones to be so unsympathetically displayed, yet for it still to create a degree of intellectual satisfaction. If nothing else, the V&A's show suggests that postmodernism only really worked as an idea, and that ideas don't necessarily have to be good to be interesting.
The material products of this phenomenon dominate here; which figures, since materiality in both the sense of what things are made of, and how an idea of their worth changes the way things look, lay at the very heart of postmodernism. It does mean, though, that there are a lot of architectural models and drawings, and a lot of hideous coffee pots to get through. The most interesting of the former, from Robert Venturi and Denise Scott Brown, BEST projects and Ricardo Bofill (whose Espaces d'Abraxas housing project looks like the 'Mansions of the Gods' from Asterix), show a breaking apart of modernist certainties and an embracing of Vegas and Vietnam, vernacular Am-glam and kitschy classicism. The latter, by and large, suggest a kind of aggressive macho whimsy, typified by the Italian Memphis group, who really nailed the primary-coloured, impractically shaped domestic object.
Simply put, the convergence of these two strands ultimately defeated postmodernism. Two rooms and 20 years on, and Venturi and Scott Brown are also designing crockery. Meanwhile, a photo from the mid-'80s shows '60s enfant terrible and Memphis big wheel Ettore Sottsass, greyly moustached and pullovered, posing self-consciously on a boxing-ring bed with a lot of much younger people.
A downside of dealing with the manifestations rather than the theory is that there is a lot of stuff in this show whose inclusion seems iffy. With its acquisitive bent, postmodernism lends itself to the 'things-that-look-a bit-like-other-things' school of curatorial taxonomy. Ron Arad's 'Concrete Stereo' (1983) and Bill Woodrow's 'Twin-tub with Guitar' (1981) seem to owe more to Arte Povera and the grubby '60s assemblages of Ed Kienholz or Robert Rauschenberg than being part of a paradigm shift in aesthetic values.
Elsewhere, a pair of Technics decks used by Grandmaster Flash in the late '70s have an undeniable totemic presence – their casings chipped and scored, the on-off knob of one stuck down with gaffer tape – but their cultural significance is so tangible that it comprehensively destroys the already shaky argument being made here for hip-hop being postmodernism's natural soundtrack. If it had one it was opera: stagey, artificial, expensive, remote and anti-populist.
Although there is some intriguing and hilarious footage of German operatic pasticheur and club crossover artist Klaus Nomi, the reciprocal influence of postmodern theory and big-buck, corporately endorsed 'high art' – opera, theatre, ballet – isn't properly explored by this show, which is a real shortcoming. TV, club culture, gay culture and advertising also receive scant attention, suggesting that postmodernism's profit-motivated burning of its bridges was instrumental in its fall from grace.
Perhaps this show should have been called 'Postmodernism: A Warning from History': an object lesson in what happens when you remove rules then try and re-impose them, something its practitioners seemed appropriately to have picked up from financial markets. But to have created even a semi-coherent show out of its self-doubting vagaries is something of an achievement
Rating Breakdown
5 star:

0

4 star:

3

3 star:

0

2 star:

0

1 star:

0
Really worth seeing and definitely value for money as there is so much to see. Yes it is a mish-mash and yes some of the inclusions are questionable, but the whole point is that Postmodernism is unclear as an idea. The part I found most interesting was that so many of the works from the period (Warhol, Newton, Grace Jones) are still being referenced (sometimes copied) today. Check out my full review here> http://www.ohdearism.com/2012/01/06/arts-culture-va-postmodernism/
I loved the visuals - really clever use of neon, lights and music in the way the show was presented. Though there was less of a sense of fun in the way all the info was written. Postmodernity is pretty ridiculous but the exhibition over intellectualised it slightly. I liked the Vegas section, but the best moments definitely came when it got down to the 80s and pop music.
Better than I expected a bit of a mis-mache of all sorts of things, especially liked the costumes from the film blade runner and the massive suit 'David Byrne' wore in the video for 'Stop making sense'. A lot stuff from pop culture of the 80's including record sleaves from Factory Records. Was less impressed with first part which centered on Las Vegas signage and architecture.