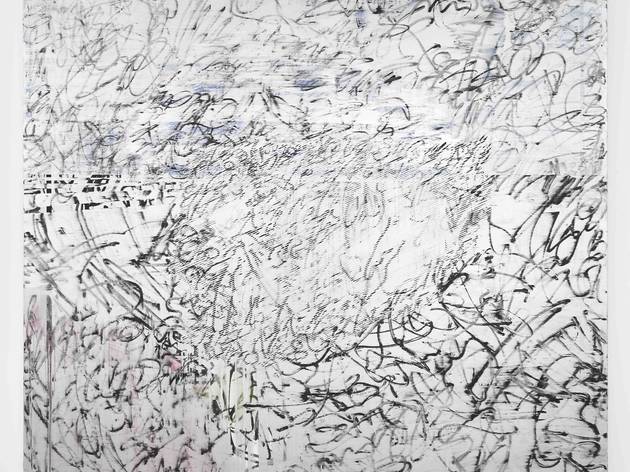 'Provisional Painting' is as good a name as any for an exhibition that resolutely resists an elevator synopsis. If there's a connecting thread, it's that the artists, selected by New York writer and critic Raphael Rubinstein, dodge categorisation, embrace puzzlement. Edges become important – the way that Albert Oehlen's stuck-down advertisement runs round the side of the stretcher seems more intentional than his half-arsed brushwork lolloping centre-stage. Raoul de Keyser's 'Up/Down (1)' has two dates – 1998 and 2009 – and looks as though it has been re-stretched. Its central motif is certainly less interesting than the slivers of blue, perhaps traces of a previous incarnation, that sit bewitchingly at the painting's corners.
Slightness asserts itself in Richard Aldrich's untitled canvas, which looks like a fairly straightforward deconstruction of painting's tropes – or at least a diagram of various relationships between figure and ground – but adds up to more or, rather, concertedly less, than the retro postmodernism to which it initially seems to aspire. Jacqueline Humphries's 'Vide Essence', on the other hand, is so overwrought that its repeatedly masked lines and spray-painted calligraphy start to break down, like visual static.
Such a sustained focus on the awkward, fragile, unfinished or apparently abandoned is perhaps novel in a commercial gallery exhibition. Yet the qualities championed in this show are not without their own orthodoxy and, as Rubinstein's choice of big names reminds us, do not necessarily bar market success. What's illustrated is that interesting painting often arises out of doubt, scepticism, cussedness or even exhaustion. Without necessarily 'getting' the work, we can all recognise and respond to those states of mind.