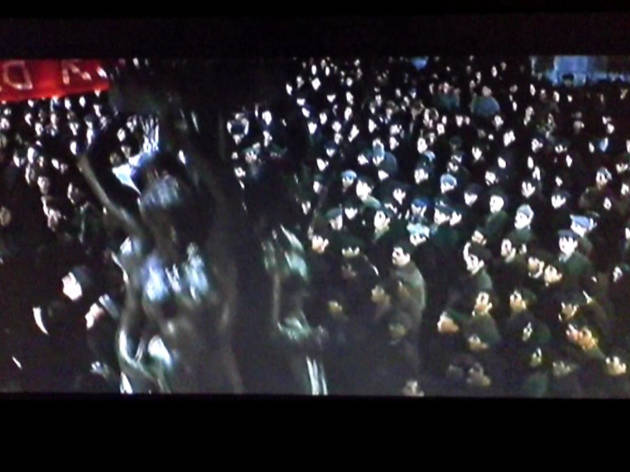 Contrary to the exhibition's resolute title 'The Struggle', new film 'The Straggle' (sic) is not particularly compelling. Shown in the gallery's formidable archway space, this 20-minute video is the first in a series of films exploring the personal impacts of politicised familial interactions. This work-in-progress that will develop during the artist's Beaconsfield residency, will continue with films on the effects of growing up in military and religious, environments. Covering state, army and church, the spurious nature of this research project's thesis is comical almost to the point of farce.
Grainily shot to suit its degraded archive footage, 'The Straggle' splices together interviews with people who grew up in left-wing families, with clips from movies and some rather pedestrian cabaret by 'socialist magician' Ian Saville. Although the performer's inclusion is promising – he proposes 'a dialectically opposite way of performing' the usual tricks – his role within the film is never resolved. What's more, the sound quality is poor, making it difficult to follow the narrative.
More successful is Garfield's 2009 collaborative work with filmmaker Stephen Dwoskin, discussing the role of the artist. With unfortunate prescience, here Garfield notes her fatigue with making art that no one wants to look at. Melding anecdote with historical account can be a successful, artistic approach. But lacking both factual clout and artistic craft, these works seem diminutive in a landscape dominated by consummate documentary practices.
Rating Breakdown
5 star:

0

4 star:

2

3 star:

0

2 star:

0

1 star:

0
t's clear that Rosie Doubal did not like the piece the straggle by Rachel Garfield. What is less clear and frankly puzzling is the source of the seemingly personal dislike for Rachel and her work. She criticizes the acoustics at the Beaconsfield and it's true that the acoustics could use some improvement but how is that a criticism of the work itself? She refers to the' spurious' nature of the work but gives the opinion no context. To whom is the work spurious? Certainly not to me one of the film's subjects. Is Doubal saying that children are not affected by being brought up by parents with a world view not endorsed by the mainstream? Or is she simply saying she isn't interested in it? Unfortunately the nastiness of the piece gets in the way of her meaning - in fact one suspects that Doubal simply likes stringing words together caring little about their import or impact. She refers to the 'degraded' archive footage. She refers to the' grainy' film – the film was shot at close range with the minimum of equipment giving it, in my view at least, both an intimacy and an immediacy which is very arresting. She even manages to have a dig at the comedian and perhaps it is here that her real lack of understanding and sympathy for the subject matter shows itself. Savil was included because he is funny. Hey guess what politicos have a sense of humour! True you may need some understanding of left politics to appreciate his humour and perhaps that is what Doubal lacks. If she had just been able to admit that perhaps she would not have felt the need to snipe under the inadequate cover of criticism. I am no artist but have no difficulty understanding when someone is being unpleasant for the sake of it. An opportunity missed.
Perhaps in a world of high production values – digital TV, Hollywood and "a landscape dominated by consummate documentary practices" – it is easy not to appreciate the counter aesthetics and traditions of experimental film with its crash edits and jump cuts. In describing this project of art as one of 'research' the reviewer seems to have missed the point a little, whilst having a strong idea of what she thinks the work should be about – rather than reading the work on its own terms.