Renzo Piano: The Art of Making Buildings review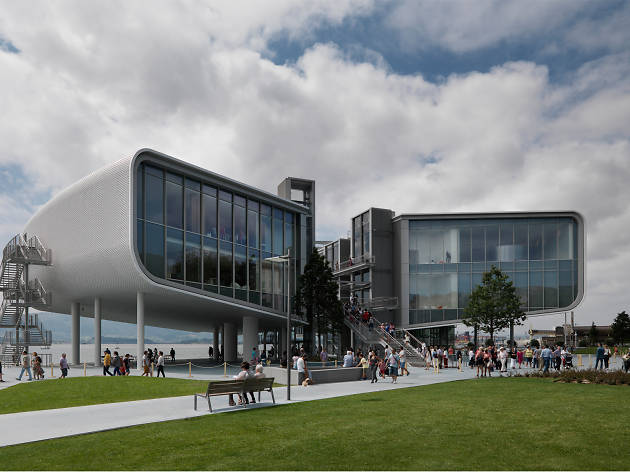 Time Out says
What you see is what you get with Renzo Piano. Literally. His buildings are all about guts-on-the-outside, glass-for-days clarity. And the Italian architect is a behemoth of his art form. From the eviscerated shock and awe of the Centre Pompidou to the shimmering, looming blade of The Shard, Piano's buildings have a habit of defining a city.
The bulk of this exhibition is set up as a series of desks covered in models, sketches and documentation, each dedicated to a different building or project. Huge swooping wooden structures dangle from the ceiling, hand-annotated blueprints line the walls. It's an intimate glimpse into the mind of the architect. And that makes sense, when you think about Piano's obsession with transparency. His gleaming glass edifices expose their own inner workings: the pipes and lifts are visible, the separate floors easily discernible.
The middle gallery features every modern architecture hater's worst nightmare: a model of a whole Renzo Piano city. But for fans of his work like me, it's a neat almost-utopian vision.
The final gallery though is yet more desks and models. Which is a shame, because it gets dry, slow and it doesn't draw you in. The fact is, this would just work better as a book.
The thing that elevates architecture, the thing that makes it somehow holy, is that it isn't a drawing, or an equation, or a concept. Architecture is art to be lived in, engineering you can touch, theory you can experience. Architecture at its best makes me jealous on art's behalf.
And that's the problem: this exhibition doesn't bring you close enough to the feeling of being inside one of Piano's buildings, and it just doesn't give you enough as an experience to make you forget that. If you just look up, you can see the Shard from almost everywhere in London. The strength of Piano's work is out there, graspable, not in here
Details