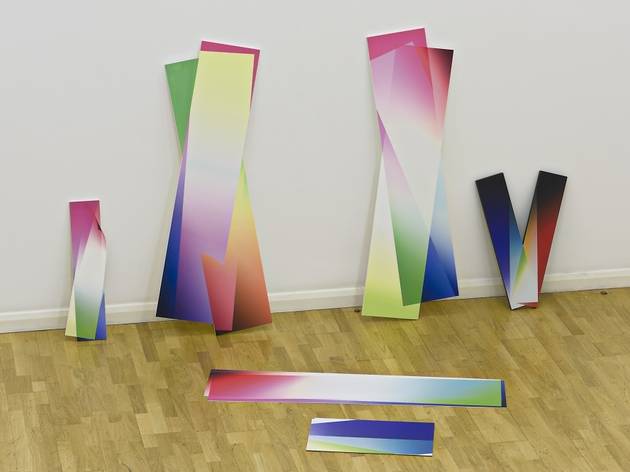 Full of gifs and computer-generated abstractions, 'Responsive Eyes' sets itself up as a modest eight-artist update of MOMA's 1965 showcase for op and minimal art, 'The Responsive Eye'. That show anatomised an art that was purely perceptual, bypassing the conceptual. Here, selecting work from the last two years that's frequently digital and non-figurative, curator Francesca Gavin suggests that the onscreen experience – images and patterns pulsing by, sidestepping active thought – parallels the earlier art's emphases.
So a flickering HTML page like Sara Ludy's 'Redvie' (2012), with its austere tiling of brown, blue and white gifs (one resembles snowfall, another a cliff-face) takes what is usually a flashy onscreen bauble and infuses it with quietude. Artie Vierkant's prints on shaped foamboard, meanwhile, have passed under a UV printer six times and picked up a deposit of synthetic colour on each sweep: abstraction mechanised.
Content feels fragile, too, in Thomas Lock's video collage 'Memory Theatre' (2012). Snippets of 80s cartoons, pop, and computer graphics are mashed together in a sort of cold reflex nostalgia, or critique of it: by the end, a dislocated mouth is hovering inside a disco ball singing a DJ Screw-style slowdown of 'Got My Mind Set on You'. Elsewhere, abstract lenticulars shimmer in Lucite and Magic Eye-style prints turn the retro wheel to the early 90s: if the works frequently leave you feeling a bit dead inside, maybe that means they're working perfectly.