Revealed: Turner Contemporary Opens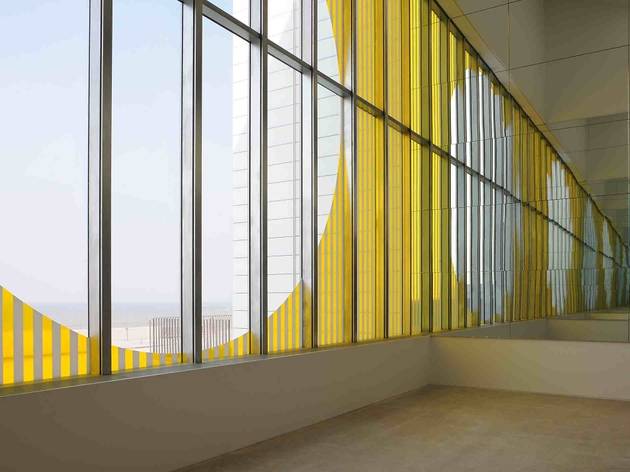 You glimpse it as you leave the station, a ghost shed on Margate's quayside, its surface opalescent in the (if you're lucky) sunlight. The new Turner Contemporary gallery draws you onwards, past a shiver-inducing brutalist tower block and brutal-looking former arcades, as well as the pleasant beach and fine architecture that betray a once grand seaside town. Yet it is a funny kind of beacon. Without quite turning its back on the town, the gallery, even at close quarters, looks introverted, rather serious.
Certainly, the building is hard to square with the hype. For here is a gallery freighted with impossible-sounding ambitions about regeneration in one of Kent's most down-at-heel former resorts. Forget for a moment the crash and slash of the last few years. Forget too that regeneration of the organic, artists-taking-advantage-of-the-cheap-rent kind, has more chance of gaining a foothold than regeneration of the top-down, bread-and-circuses kind. 'Bilbao' is the word on everyone's lips, the effect of Frank Gehry's Guggenheim on altering the fortunes of a depressed Spanish port being an admirable, if distant, aspiration.
But David Chipperfield, the redoubtable architect of Turner Contemporary, isn't an audacious Gehry type. He has delivered a building – two storeys, light-filled, reassuringly detailed – that wins you over, but won't on its own prompt many day trips. And, alas, amid all the hope and the hoopla, someone seems to have overlooked the key ingredient of Margate's keenly-awaited gallery. The art.
Perplexing curatorship abounds in 'Revealed…' a show that shuns the obvious (wot, no Tracey Emin? Surely there's room for Margate's most famous daughter?) only to embrace the tepid and the obtuse.
The gallery is built on the site of a boarding house frequented by Turner, who proclaimed the skies over Thanet to be the 'loveliest in all Europe' and made numerous works inspired by the East Kent coast. Examples by him will feature in every show. First up, though, is an oddity: 'The Eruption of the Soufriere Mountains...' (1815), a canvas that has nothing to do with Margate, or even the sea.
Turner's awestruck evocation of an exploding St Vincent volcano at least packs a punch – no mean feat since the artist didn't witness the event but based his painting on a sketch made at the scene by Hugh P Keane. If only the same could be said for the contemporary works. Staring down into Teresita Fernández's micro-beaded floor piece that, if you squint, resembles the mouth of a volcano, is to experience a stifling disconnection with nature – which may well be the work's point.
The theatre of Ellen Harvey's 'Arcadia' – a shed-like structure whose darkened interior is lined with etchings of Margate scenes on backlit Plexiglas – isn't strong enough to distract us from her pedestrian drawing. Russell Crotty's super-enlarged books and globes covered with hand-drawn, text-filled landscapes promise more than his observations about cliff-top walks and hearty breakfasts, which come across like entries in a hotel guest book, are able to deliver.
Only Daniel Buren's trademark stripes, here rendered in vinyl attached to a vast, central window to frame a view and create a circular void that reads as the sun, seem up to the job of heralding the gallery's arrival. Reflected in mirrored walls, the piece fuses art with architecture with landscape in such a simple, convincing way that you wish this veteran French artist had been invited to fill the entire building with his conceptual deckchair stripes.
Inaugural exhibitions are notoriously difficult to pull off. Expectations are high; the show had to be pulled together before the building existed; those in charge haven't had time to get used to the scale and flow of the spaces. Curiosity will ensure that visitor numbers are high. But, for all its claims of being a world-class venue, Turner Contemporary can't boast that its first exhibition is first rate. I doubt even if it's the best show in Kent.
'Revealed: Turner Contemporary Opens' is on until September 4 2011.