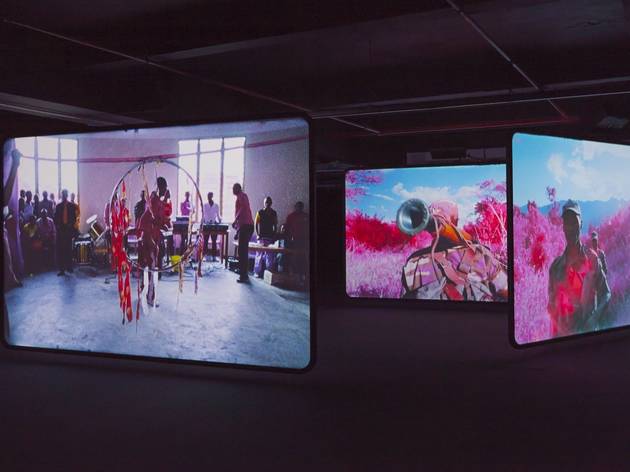 1/10
Installation view of 'The Enclave', 2014
© the artist, courtesy Edel Assanti
2/10
Installation view of 'The Enclave', 2014
© the artist, courtesy Edel Assanti
3/10
'Higher Ground', 2012
© the artist, courtesy Edel Assanti
4/10
Installation view of 'The Enclave', 2014
© the artist, courtesy Edel Assanti
5/10
'Lost Fun Zone', 2012
© the artist, Courtesy Edel Assanti
6/10
Installation view of 'The Enclave', 2014
© the artist, courtesy Edel Assanti
7/10
'Thousands are Sailing 1', 2012
© the artist, courtesy Edel Assanti
8/10
'A Thousand Plateaus', 2012
© the artist, courtesy Edel Assanti
9/10
Installation view of 'The Enclave', 2014
© the artist, courtesy Edel Assanti
10/10
Installation view of 'The Enclave', 2014
© the artist, courtesy Edel Assanti
At the back of the NCP car park in Soho there's an unexpected art experience waiting for you. There's no room for cars here, only contemplation as you take in the beguiling photographs and immersive film installation by Irish artist Richard Mosse.
Large format photographs of blisteringly beautiful vistas greet you at the bottom of the ramp. Unimaginable shades of reds draw you into picturesque landscapes of rolling hills and idyllic lakes. Then you're struck by what these enthralling photographs are actually detailing as the images turn to more daunting scenarios.
A human skull is nestled in dense ruby-hued vegetation. A man perches on top of a tree stump surrounded by vibrant magenta reeds, holding a machine gun, a look of tired absence glazed across his eyes. This is the wartorn eastern Congo; ravaged by constant conflict between militia, rebel forces, the Congolese national army and Rwandan refugees.
Between 2010 and 2011 Mosse made several trips to the Democratic Republic of Congo, particularly the region of Kivu, capturing these hidden pockets of turmoil with discontinued infrared surveillance film originally used by the military to detect camouflaged soliders from the air. This is what gives the images their troubling, rose-tinted allure.
With a gut-wrenching soundtrack of radio static, Mosse's eight doubled-sided screen projection is the masterpiece here. Electrifying crimson landscapes populated by weapon wielding figures skip over the screens, weaving you through the mystifying Congo. A seer performs a blessing in a pink-tinged clearing, dousing rusty stalks in water before the scene intensifies with the rebels enacting a battle sequence. Their proud actions are eerily awakening. This isn't play-acting. This is their reality.
Originally commissioned for the Irish Pavilion at the 2013 Venice Biennale, this extraordinary body of work is the reason the 34-year-old has been nominated for this year's Deutsche Börse Photography Prize, currently on show at The Photographers' Gallery. It's also the reason why Mosse is one of the most astute artists working today. Seizing the invisible activities of insurgent groups on film, he makes you wake up and smell the coffee. Or should that be roses?
Freire Barnes
Rating Breakdown
5 star:

0

4 star:

1

3 star:

0

2 star:

0

1 star:

0
I went to this exhibition yesterday and thought it was very interesting for many reasons. First of all, the venue was quite difficult to find, in the basement of a car park, a little scary but still interesting. We went in and it was literally a converted carpark into a basic exhibition with large photos hanging up. They were very beautiful and surreal, mainly because all the plant life had been changed to fluorescent pink which gave the photos an almost dream-like aura which was really cool and a little creepy at the same time. The main event was the movie displayed on multiple screens. Down a hallway and then going in, all these massive screens everywhere with speakers blaring various noises to help you really connect with the scene and empathise with the photographer and the people and what they felt and saw.
The footage was strange, exciting and different, I liked how everything was on different screens and changed at different times, sometimes only one screen would be showing footage, another time, all of the screens. I liked how the footage also complimented but also contrasted each other, some screens would show death while another, life, it was very meaningful and cleverly presented.
I'd definitely recommend seeing this exhibition, don't be put off of the difficult location and the fact that it's in a basement in the back of soho, it sounds dodgy, but once you're there, you are transported to a world that you thought had changed, a place that doesn't get coverage anymore even though there are still so many issues in the Congo.