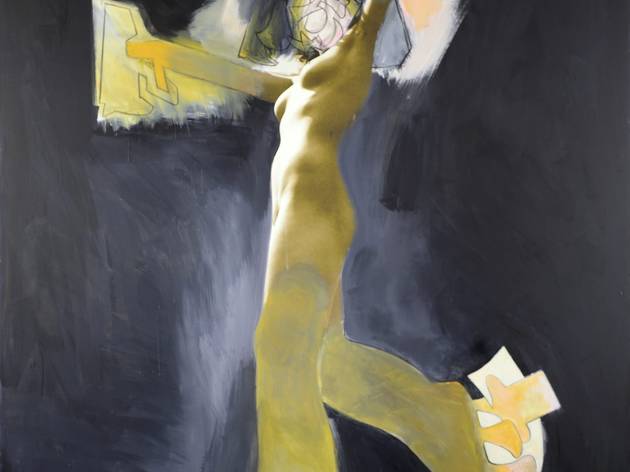 Richard Prince's latest paintings are little more than a one-man version of Exquisite Corpse, the surrealist parlour game in which torsos, heads and limbs by different artists were combined into one bizarre figure. In the case of these 13 canvases, the torsos are ink-jet images of bare-breasted women, lifted from nineteenth-century erotica, while their faces have been painted over with squiggly, abstract expressionist masks. As for their painted limbs, they're the weirdest of all, flattening and flaring out to form heavy, clumpy, grotesquely exaggerated shapes – sometimes with a vaguely mechanoid, cubo-futurist twist, to evoke industrial tools or hideous satires of fashion footwear.

As a pioneer of American 'appropriation art', Prince has made a career out of sending up the codes of gender construction – here, though, the references are less low-cultural, trawling instead through various high-art depictions of modern femininity, from Picasso's 'Demoiselles d'Avignon' to Willem de Kooning's 'Women'. And though this sense of art by citation feels a little pat, the end results just about add up to more than the sum of their parts. The women's poses, in particular, are oddly disturbing: an unsettling combination of the coquettish and monstruous – with their gigantic, concrete slab-like limbs somehow holding their bodies in place, presenting their anonymous nakedness for our delectation.

Nudes also feature in the series of monochrome prints downstairs – this time sourced from more explicit, '70s/'80s pornography. Superimposed across their bodies, and hiding their private parts – and, again, their faces – are those long, strip-like, packaging stickers you get on the edges of CDs, containing product titles and barcodes. My Bloody Valentine; The Smiths' 'Meat Is Murder'; Bad Brains – the labels are appropriately corporeal. The overall message, however, about the commodification of women, unfortunately feels rather too obvious and one-dimensional.