Robert Rauschenberg: 'Spreads 1975-83' review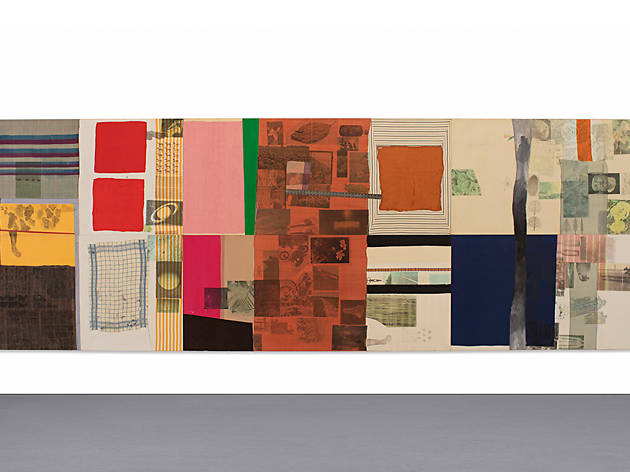 Time Out says
Friendly warning! We're working hard to be accurate. But these are unusual times, so please check that events are still happening.
Robert Rauschenberg (1925-2008) was a man of a million ideas. He managed to be at the forefront of pop, conceptualism, performance art, and any other important twentieth century movement you can think of – and he became one of the most important artists of the past hundred years in the process. Sure makes you think about how proud you were of yourself for filling in that budget spreadsheet on time this month, huh?
This show, the first in London since his 2016 Tate retrospective, concentrates on just one bit of his output: the sprawling canvases splodged in found imagery he called 'spreads', made between 1975 and 1983.
There's something great about being able to focus on a single series of his work. When you're confronted by a summary of his whole output, with its endless chopping and changing, it can be hard to grasp what he was all about. But here, you get to really dive in and make sense of his ideas.
'Spreads' is a good name for these works because they're sort of like endlessly unfurling quilts. There are printed images of boxers and planets from newspapers and magazines, planes of untouched colour and chunks of found objects. One canvas has two umbrellas jutting out like surprised cartoon eyeballs or enormous nipples, another has a pair of denim shorts glued on to it, another a washboard.
It sounds like a mess, but it isn't. Rauschenberg fuses these elements together into something that somehow ends up making sense: they're proper visual compositions, stealing from everywhere, including his own past. The six-metre long 'Clipper' – a panoramic vista of fabric, pink paint and blue nature images – reads like a short story. One work drapes down onto the floor, another folds in half like a cupboard.
Every piece is a universe of imagery and compositional ideas. He draws countless parallels between tyres and fruit, denim and canvas, human and machine. It's almost exhausting. God damn it, he was good. And I still haven't done that spreadsheet.
Details