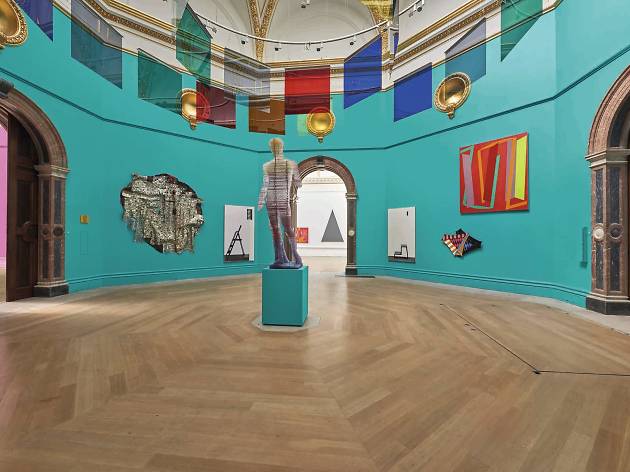 1/12
Royal Academy Summer Exhibition 2015, © The Royal Academy of Arts. Photo: John Bodkin
2/12
Royal Academy Summer Exhibition 2015, © The Royal Academy of Arts. Photo: Benedict Johnson
3/12
Royal Academy Summer Exhibition 2015, © The Royal Academy of Arts. Photo: Benedict Johnson
4/12
Royal Academy Summer Exhibition 2015, © The Royal Academy of Arts. Photo: Benedict Johnson
5/12
Royal Academy Summer Exhibition 2015, © The Royal Academy of Arts. Photo: Benedict Johnson
6/12
Royal Academy Summer Exhibition 2015, © The Royal Academy of Arts. Photo: Benjamin Norton
7/12
Royal Academy Summer Exhibition 2015, © The Royal Academy of Arts. Photo: Benedict Johnson
8/12
Royal Academy Summer Exhibition 2015, © The Royal Academy of Arts. Photo: Benedict Johnson
9/12
Royal Academy Summer Exhibition 2015, © The Royal Academy of Arts. Photo: Benedict Johnson
10/12
Royal Academy Summer Exhibition 2015, © The Royal Academy of Arts. Photo: Benedict Johnson
11/12
Royal Academy Summer Exhibition 2015, © The Royal Academy of Arts.
12/12
Royal Academy Summer Exhibition 2015, © The Royal Academy of Arts
The world's largest open-submission exhibition has a colourful makeover for 2015.
The year is 1769: James Cook lands in Tahiti, Napoleon Bonaparte is born in France and, in London, the newly-founded Royal Academy of Arts invites 'artists of merit' to submit paintings to its first annual open exhibition. If you've seen Timothy Spall's 'Mr Turner' pimp his seascape to piss off John Constable in Mike Leigh's 2014 film, you'll have a sense of how lively this monster of a show has been over the centuries. These days you're unlikely to witness fisticuffs over the framed prints but a spirit of competition still wafts through the oldest open-submission show in the world, now in its 247th year.
This year's Summer Exhibition overlord, Michael Craig-Martin, rings what feel like the biggest changes of recent times by letting rip with the colour scheme. He's got Jim Lambie to do one of his op-ish stripy tape numbers up the grand staircase. There's deep turquoise for the walls of the scene-setting Central Hall and pale blue for the Lecture Room, where much of the sculpture is on display. In the vast Gallery III, where Royal Academicians young and old including Wolfgang Tillmans and Richard Long get to show of their latest, he's landed on a shade of pink strident enough to function as aversion therapy for any six year-old going through a Barbie phase.
You'd think these hues would make hideous backdrops for art, but they don't. In fact, Craig-Martin proves to be a miracle worker in lots of ways. The show, as ever, includes more than 1100 works. But 'where's he hid 'em all?' you'll find yourself musing as you wander through rooms that simultaneously feel red hot and unusually airy. There's new blood in the form of Londoner Matthew Darbyshire and his vast polycarbonate figure. Yet, for every young gun, there's someone still painting like its 1895. And that's the beauty of the Summer Exhibition. You'll find genuinely great stuff along with plenty of guilty pleasures. Prices start at £50 and profits go to keep places at the Royal Academy Schools free for students. The show may be ancient, but in 2015 that seems more radical than ever.
Martin Coomer
Average User Rating
1.5 / 5
Rating Breakdown
5 star:

0

4 star:

0

3 star:

0

2 star:

1

1 star:

1
I loved this year´s show and for that matter, every year I have been. There is such a large number of pieces that everyone can find at least 100 pieces they love, 100 they hate and probably everything in between. The presentation is great. It´s also interesting for the viewer to find out about the prices, which is rarely ever the case with exhibitions at museum level.
Definitely something I look forward to every summer!
I'm an Australian living in London and I go and see a lot of world class art in this city. But I have to say the Summer Exhibition was so disappointing! This exhibition has been going for 247 years! That is astounding. But it isn't worth the money to get in. It's a hyped up jumble sale! There were a few moments of brilliance such as Anish Kapoor work otherwise it didn't do the artists any justice. The Royal Academy does such great shows and the Summer Exhibition is a let down. I won't be seeing it next year.