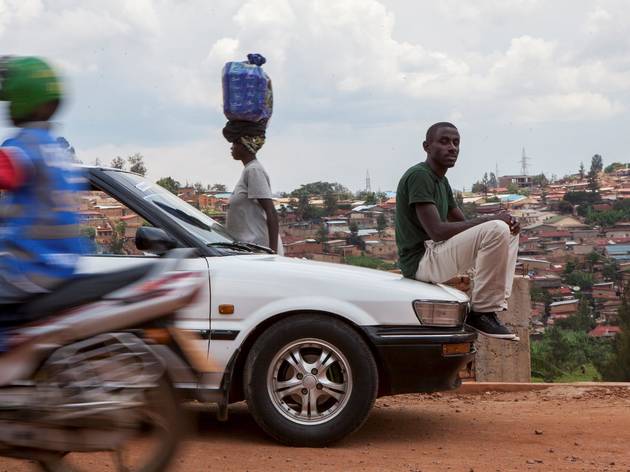 1/3
'Sam & His Taxi'
© the artist
2/3
'Kigali Streelife By Night'
© the artist
3/3
'Kigali Workshops 1'
© the artist
The exhibition starts with a question, and a telling one: 'When you imagine Rwanda, what do you see?' Twenty years after the 1994 genocide with which it has become synonymous, the country is eager to show that it is more than just a one-time bloodbath. To that end, this is the first show outside the country of images by professional Rwandan photographers (plus some outside contributions). There are great pictures here, especially John Mbanda's portraits of craftsmen in a Gakinjiro workshop and Nigerian Andrew Esiebo's shots of prismatic barbershops. Painter Yves Manzi focuses on the change to the country's appearance through new building, and can snap a long-horn cow like nobody's business, while Uganda-born photojournalist Timothy Chester's shots of a clothes distribution at a refugee camp are world-class.
That's all well and good, but the show's rather laborious title pretty accurately nails its shortcomings. We aren't allowed to accept these pictures for what they are, but have to see them as markers of change. A similar problem affects the way they are hung. You feel bombarded at the beginning with saturated colour, before the dark notes well up again: muddy images of crushing poverty, Jean Bizimana's shot of a lone, hooded child among tumbledown shacks. A better edit of this mass of images – many of them understandably on similar themes and similarly composed – would have given it a lot more dynamism.
Ending on a monochrome quilt of portraits of genocide survivors by Jenny Matthews feels like a retrograde step towards a very Western, conceptual sensibility of how we expect art and artists to deal with horror. The best work here would make for a five-star show, no problem, but clearly Rwanda is now no different to the rest of the world when it comes to group shows: too many artists, too much work, too little focus. It's come a long way.
Chris Waywell
Rating Breakdown
5 star:

0

4 star:

1

3 star:

0

2 star:

0

1 star:

0
Twenty years after the genocide comes this diverse and accomplished collection of photographs of a nation on the up. The first international exhibition by Rwandan photographers, this group show documents the realities of life for everyday Rwandans.
The exhibition is the result of a workshop run by two international photographers, the aim of which was to help Rwandans consider how they wanted to be perceived. Too often, the country has been viewed through the prism of the atrocities. While many scars have yet to heal, and there is still poverty and inequality, the pervasive mood of these images is dignity, cooperation and opportunity.
For more art in plain English, check out http://www.curatedlondon.co.uk