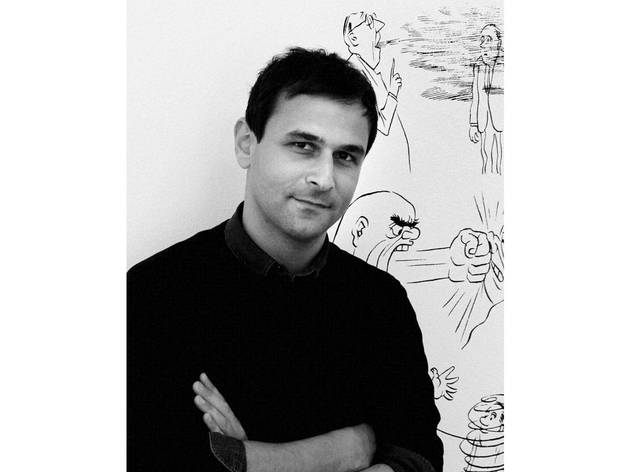 1/10
Portrait of Sanya Kantarovsky. © the artist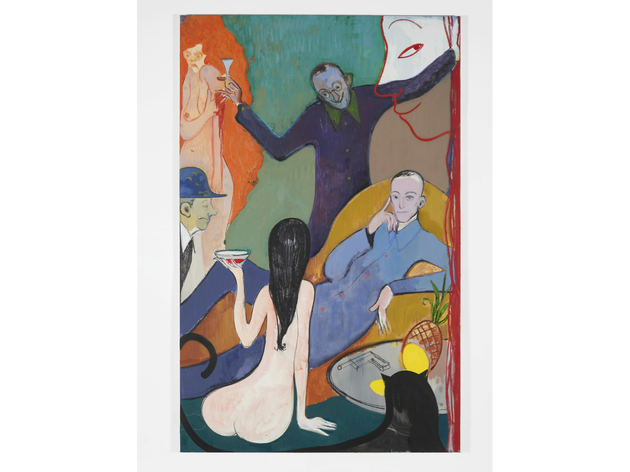 2/10
Sanya Kantarovsky: 'The Master is Released: Behemoth cut himself a slice of pineapple…', © the artist, courtesy Studio Voltaire, photo: Andy Keate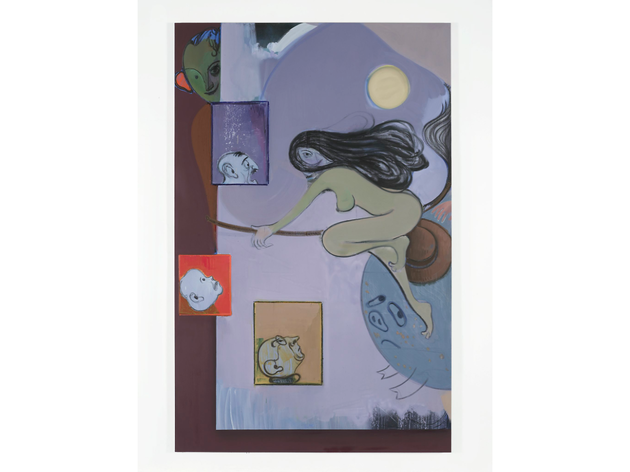 3/10
Sanya Kantarovsky: 'The Flight: Margarita floated out of the window', © the artist, courtesy Studio Voltaire, photo: Andy Keate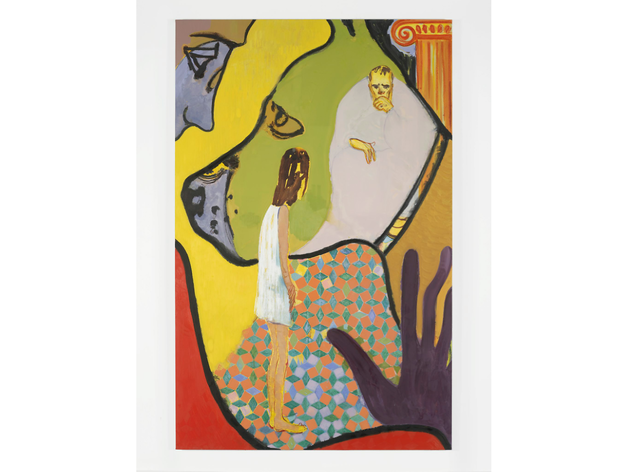 4/10
Sanya Kantarovsky: 'Pontius Pilate: You cannot even think and you can only long for your dog', © the artist, courtesy Studio Voltaire, photo: Andy Keate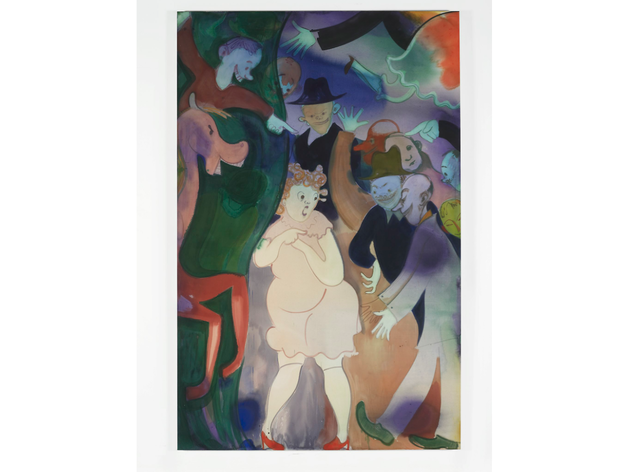 5/10
Sanya Kantarovsky: 'Hail to the Rooster!:... the wretched victim of her own rashness and van- ity', © the artist, courtesy Studio Voltaire, photo: Andy Keate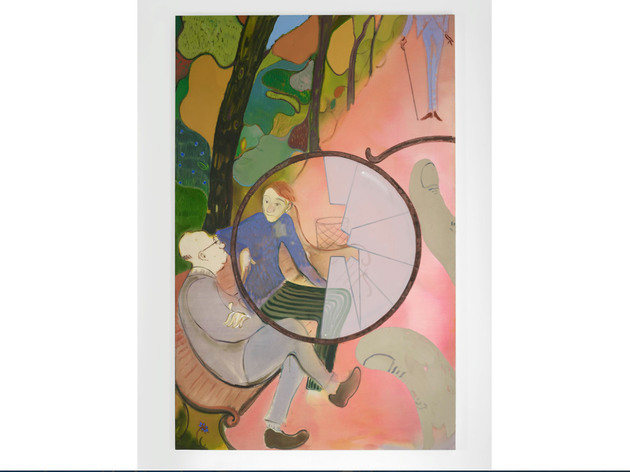 6/10
Sanya Kantarovsky: 'Never Talk to Strangers: At the very moment when Mikhail Alexandrovich was telling the poet', © the artist, courtesy Studio Voltaire, photo: Andy Keate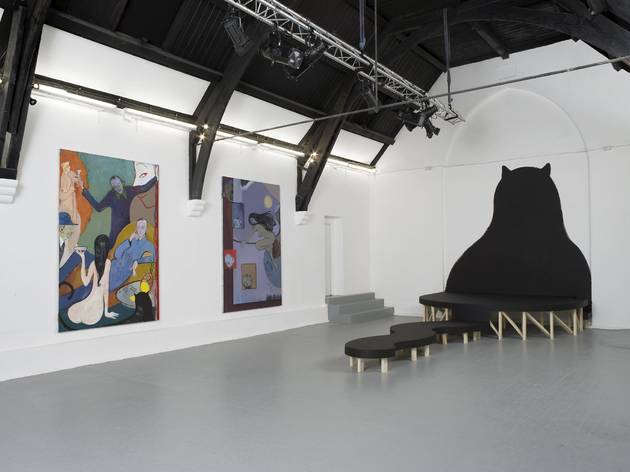 7/10
Sanya Kantarovsky: 'Apricot Juice' installation shot. © the artist, courtesy Studio Voltaire. Photo: Andy Keate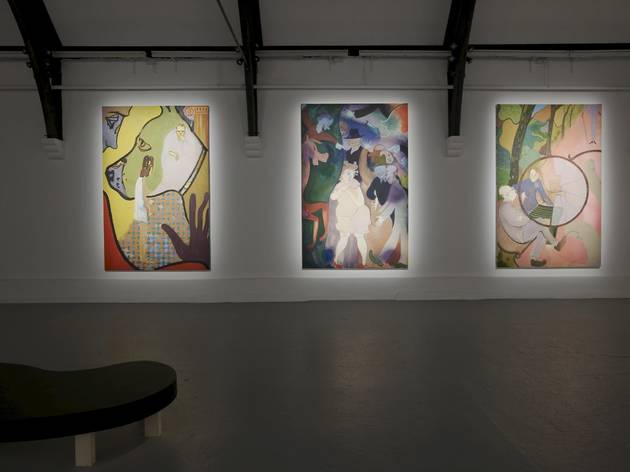 8/10
Sanya Kantarovsky: 'Apricot Juice' installation shot. © the artist, courtesy Studio Voltaire. Photo: Andy Keate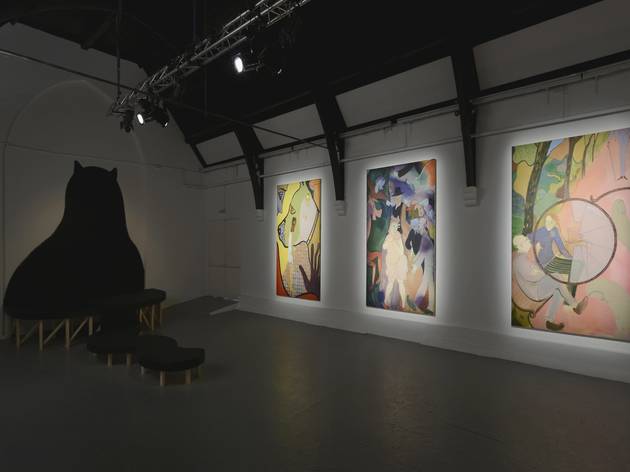 9/10
Sanya Kantarovsky: 'Apricot Juice' installation shot. © the artist, courtesy Studio Voltaire. Photo: Andy Keate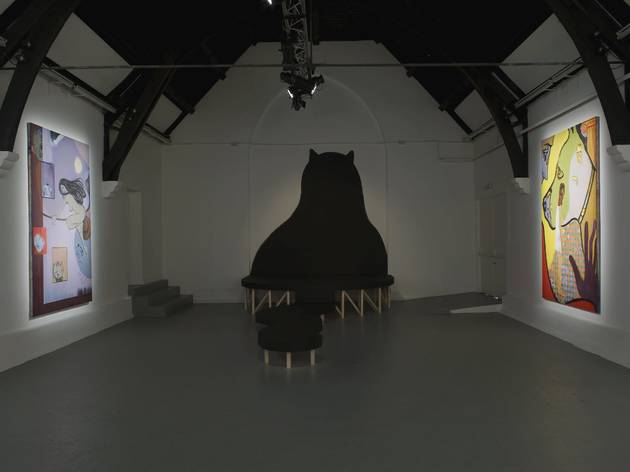 10/10
Sanya Kantarovsky: 'Apricot Juice' installation shot. © the artist, courtesy Studio Voltaire. Photo: Andy Keate
Sanya Kantarovsky interview
The New York-based artist tells us about making paintings inspired by Mikhail Bulgakov's novel 'The Master and Margarita' and installing a big black cat in Studio Voltaire
Moscow-born, New York-based painter Sanya Kantarovsky has teamed up with performance artist Ieva Misevičiūtė for his show at Studio Voltaire, which is inspired by Mikhail Bulgakov's surreal, satirical novel about the Devil's visit to Moscow, 'The Master and Margarita'. On the opening night, Misevičiūtė performed on a stage shaped like 'Behemoth' – the book's diabolical black cat. A film of the performance is on show in the gallery foyer, while the cat remains as a sculpture-cum-bench from which you can admire Kantarovsky's spellbinding paintings. Time Out caught up with him.
How did the show come about?
'The show came out of a collaborative process with performance artist Ieva Misevičiūtė. Most of the figures in the paintings are based on a series of gesture studies I made of her movements in my studio. When she performs in the gallery space there's an indexical relationship between her body and the gestures in the paintings.'
How conscious were you of making work for a former church?
'I was responding to the history of the space as a church, which made sense with the novel's Christian meta-narrative. I approached this as a site-specific installation rather than a straightforward painting show. There was an internal debate about how the space would exist after Ieva's performance because her presence throws the status of the paintings into question. When Ieva is on stage, they comprise an environment for her performance and become contingent on her body.'
It's very dramatically lit for a painting show.
'I worked with a theatre lighting designer to achieve an effect that would evoke the way religious paintings are lit in churches – high drama'
Have you and Ieva worked together before?
'We'd never worked together before but we're friends and I really love her work. I saw a performance that she did last summer in Biel, Switzerland (for Le Mouvement), and I had this uncanny feeling that she was a figure emerging from one of my paintings. The aesthetic of her movement felt kindred to the vocabulary of affected gestures I use in my own work. She seemed to embody a similar sort of mannered physical expression. Particularly her facial expressions reminded me of a person I would imagine and try to paint.'
But you don't ordinarily paint from life.
'No, I usually don't paint from life. The show is an experiment in a lot of ways – it's also the first time when I chose to work with such specific, pre-existing subject matter – the narrative of "The Master and Margarita". Usually when there is a narrative in the paintings it's invented and non-linear — there are no specific people or characters, but rather figures that serve as proxies for certain conditions or behaviours, whereas the figures in "Apricot Juice" are characters. This body of work is the closest I've come to approaching the notion of illustration per se, or questioning how illustration functions in the literary realm. Yet, these paintings, I would like to think, still fall apart in a way that only a painting can.'
Was the book important to you growing up?
'The book is one of my longtime favourites. I read it for the first time when I was around 12 and it completely blew my mind. I kept re-reading it every few years and, this might sound trite, but I honestly feel rewarded with something new every time I read it. I really aspire to the position the book exemplifies: its balance of humour, banality and near-abject darkness. The novel is such a vehemently critical, lucid and biting socio-political commentary, yet the message is delivered through satire and magical realism.'
Does it matter if people are unfamiliar with the story?
'These paintings are meant to survive without legs, but familiarity with the novel can enrich them. Perhaps the ideal scenario is that this work will pique interest in the novel with a new audience'.
What episodes in particular have you tried to capture?
'It's more of an ethos or an atmosphere of the novel that I wanted to try to embody with the work. That was the most important part for me. Maybe that's why I don't look at them as illustrations: there are many inconsistencies between image and text. Some of the paintings are of specific scenes, while others are hybrids of separate moments.'
How have the book's themes inspired you?
'The novel deals with a period of turbulent transition. Russia went from being a very religious place under imperial rule, to a militantly secular one during the Sovietregime. One of the central themes of Bulgakov's novel is that tension between belief and scepticism, and the pros and cons of each of those states, so to speak. I think that painting can really epitomise that tension – in order to really enjoy a painting one must, at least for a moment, suspend scepticism.'
You have a very stylised aesthetic, where does that come from?
'I look to the language of cartoons because I love how many liberties you can take with a cartoon body. A cartoon body can really turn into more of an idea, and its correlation to the real world can become unstable and interesting, offering possibility. But I usually look to a broad range of visual material - everything from devotional Tibetan painting to German Neue Sachlichkeit painting, to the Russian realist nineteenth-century Wanderers (Peredvizhniki). I also use sources outside of art. For example in this painting Margarita is flying past the windows of these literary union bureaucrats who had a part in destroying the life of Master, her novelist lover. When I was thinking about how to paint their faces I looked at a lot of Soviet political caricatures from the 1930s, the time during which the novel was written.'
Let's talk about the stage. Does it become a sculpture when Ieva isn't performing on it?
'When it stops operating as a stage, it becomes more of a sculpture. Though it is sculptural to begin with because of its specific feline form. I'm interested in exploiting the architecture of art exhibition spaces. In previous projects I've tried to choreograph the movement of viewers in idiosyncratic ways that somewhat complicate the act of looking at paintings. This thing [the cat stage] is an interesting device for viewers to sit on while talking, looking and periodically remembering the absurd fact that they're sitting on the tail of an enormous cat. When Ieva performs on it, an interesting optical effect occurs: the cat sort of shrinks as she moves along the tail toward the audience. In the book, there's an analogous scene in which a man is desperately running, chasing the cat, while the cat casually strolls a few metres ahead of him. Despite the disparity in their speed, the distance between them never closes. The demonic cat is a perpetually receding spectre.'
How would you describe your work to somebody who had never seen it?
'I wouldn't. I think it's pretty self-explanatory for the most part. I'm actually more curious to hear how somebody else would explain my work after seeing it.'
Do you have any studio rituals?
'I listen to a lot of music, I drink a lot of coffee and often have friends over to hear their thoughts. I space out when I'm working and lose track of time. It's a lot of alone time, suffering and wrangling with the paintings and relishing little successes here and there.'
Are there any famous works you wished you owned?
'I would never want to take my favourite artworks away from the public! I think it's crucial that they're available for everyone to see. As far as what I grew up looking at, some of the paintings in the Pushkin Museum in Moscow are my bread and butter. There's a Van Gogh painting there, which he based on a Dore drawing called "Prisoners' Round". It's a really claustrophobic image of prisoners trudging around in a confined circular yard of a brick prison. It's simultaneously a painting-as-stage and a painting-as-jail. It's fantastically affected and impossible to wrap your head around. But moving that painting into my home would be the equivalent of taking it away from my younger self. And, besides, I don't even know what I would do with it in my house. I'd just sit there paralysed in front of it all the time.'
Support Time Out
We see you're using an ad-blocker. Ad revenue is Time Out's main source of income. The content you're reading is made by independent, expert local journalists.
Support Time Out directly today and help us champion the people and places which make the city tick. Cheers!
Donate now