Heads up! We're working hard to be accurate – but these are unusual times, so please always check before heading out.
13 snowy paintings in London
Forget the crowds of Hyde Park, discover winter wonderlands at London's museums and galleries instead
We can't guarantee a white Christmas, but we have donned woolly hats and gloves to dig
out the most seasonal paintings in London and rated them in snowflakes for festive mood and that all-important X-mas factor. Go grab yourself a mulled wine, it's time to brave the chilliest paintings in town.
Find more festive fun with our guide to Christmas in London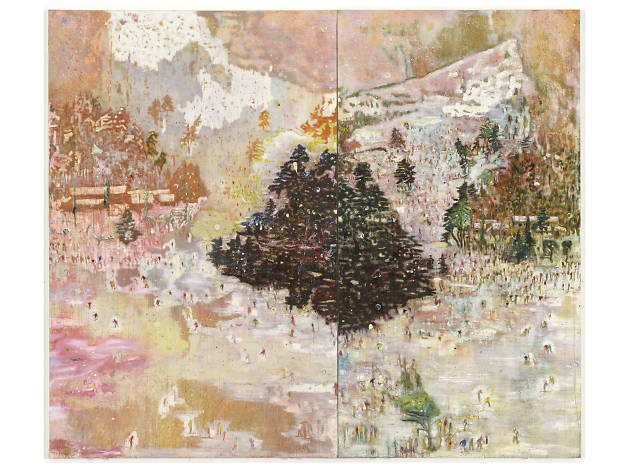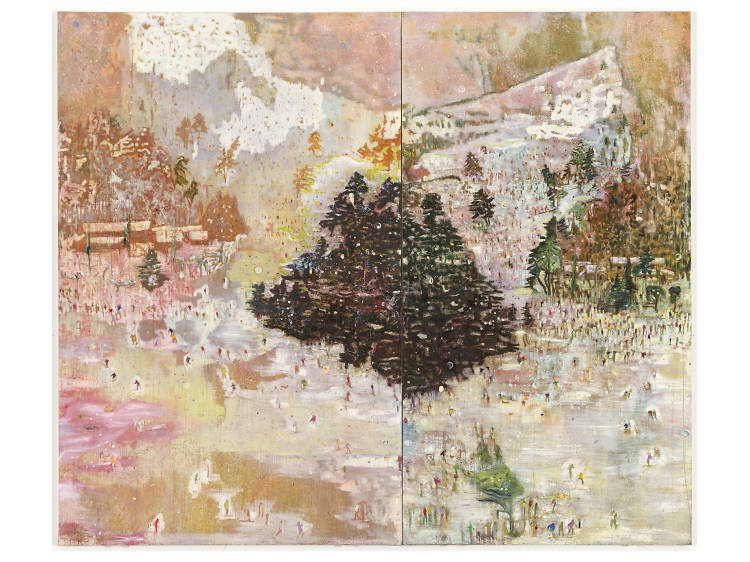 1. Peter Doig, 'Ski Jacket', 1994
© Peter Doig / DACS 2016
You'd imagine that Peter Doig, being a Scotsman who grew up in Canada, would know a thing or two about the white stuff, and you'd be right. Lots of his early paintings are little frozen, ice-bound moments in time. 'Ski Jacket' is based on a photo of people learning to ski in Japan, and features a swirl of stumbling, falling, awkward mountain amateurs. The cloud of white that drips down the canvas turns the whole thing into a blurred haze, a kind of washed-out, fading memory captured in paint – a childhood ski trip you can barely remember, maybe. That clash of nostalgia and slipperiness is what makes this so much more than just a painting of snow, or of skiers, it makes it into a proper, beautiful, metaphorical work of art. See it in Room 11 at
Tate Modern
.
Snow rating: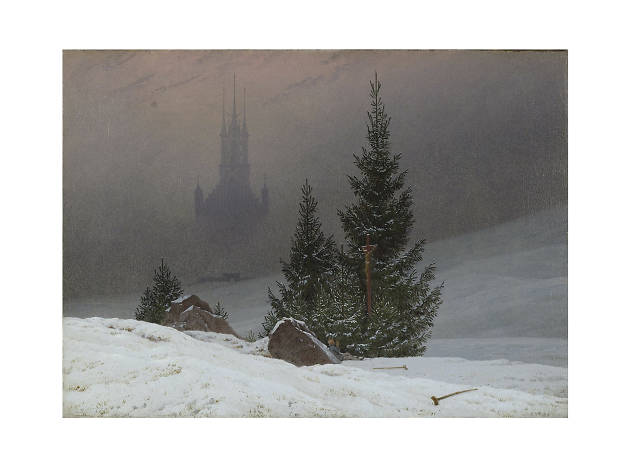 © The National Gallery, London
2. Casper David Friedrich, 'Winter Landscape', 1811
This famous allegorical scene in Room 41 of the National Gallery is among the most breathtaking of the German romantic's existential landscapes. It features a gothic church looming over the horizon and a forlorn Tiny Tim figure sat on a rock, having abandoned his crutches to pray for salvation. Despite the snow-covered fir tree in the centre, this image is both a harsh lump of coal and a hope-filled cracker in equal measure.
Snow rating: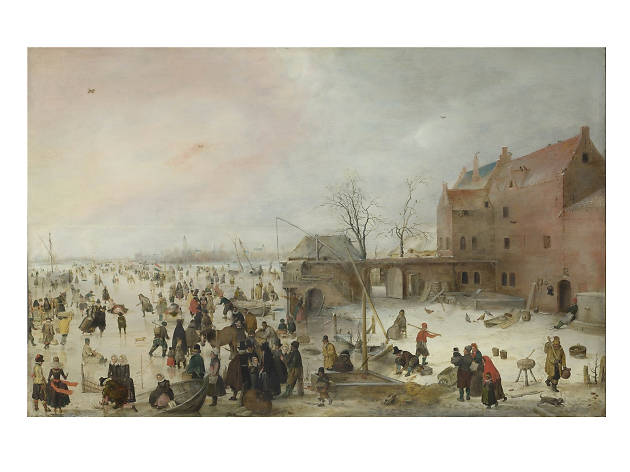 © The National Gallery, London
3. Hendrick Avercamp, 'A Scene on the Ice Near a Town', 1615
Avercamp 'the mute', who was most probably deaf, painted little else in his career than lively wintry compositions of groups of figures going about their lives in the iciest of surroundings. But cutting through the Scrooge-like Medieval chill of this picture (also in Room 26 of the National Gallery) are the slapstick delights of Dutch townsfolk variously skating, chatting, shopping, slipping over and playing kolf, an early form of golf.
Snow rating: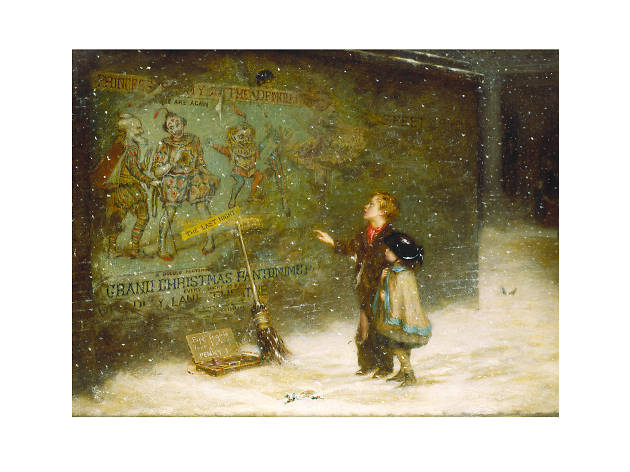 © Guildhall Art Gallery
4. 'Remembering Joys That Have Passed Away' by Augustus Edwin Mulready, 1873
Aww bless. Victorian painter Augustus Edwin Mulready (1844-1905) specialised in depictions of London's urban poor, in particular the poverty experienced by children – such as the street crossing sweeper and match seller shown here shivering in the snow while staring wistfully at a panto poster that signals (perhaps never experienced) happier times. If you like your Christmas-themed art socially-conscious with a streak of cloying sentimentalism, head to the Guildhall Art Gallery.
Snow rating: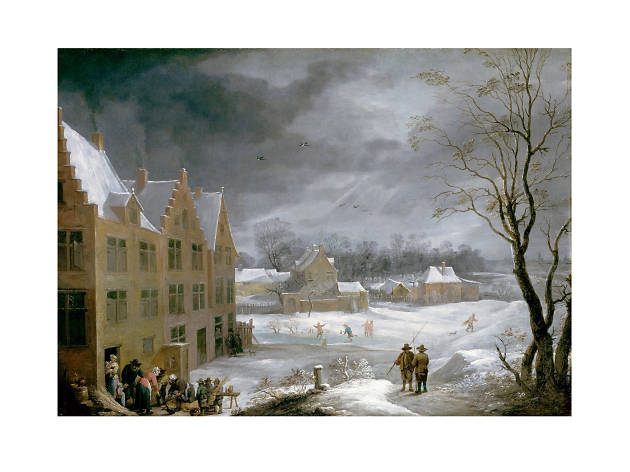 5. David Teniers the Younger, 'Winter Scene with a Man Killing a Pig', 1650
By Permission of the Trustees of Dulwich Picture Gallery
Teniers's painting (which is reminiscent of his grandfather-in-law Pieter Bruegel the Elder's famous 'Hunters in the Snow') reveals more than just the slaughter of a boar; his rich and vivid colours depict everyday pastoral life. It's a world where the butchering of a pig provides not only meat but a football made of bladder for the elfin peasants to hoof around. It seems there's nothing like pools of porcine blood to get seventeenth-century festivities going. You can see it at Dulwich Picture Gallery.
Snow rating: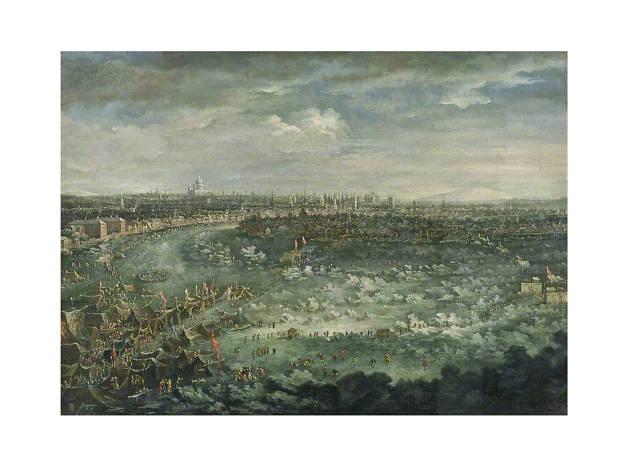 © Guildhall Art Gallery
6. 'Frost Fair' by Jan Griffier, about 1739
Skating on the Thames was a regular winter scene until 1832, when someone demolished Old London Bridge and freed the flow of the Thames. One such winter was 1739/1740 when, according to the Gentleman's Magazine, 'The Thames floated with rocks and shoals of Ice; rising everywhere in hillocks and huge Rocks of Ice and Snow; of which Scene several Painters took Sketches. Booths, Stalls and Printing-Presses were erected, and a Frost-Fair held on it'. One of those painters, Jan Griffier, captures the peaky ice to perfection in this painting at the Guildhall Art Gallery. He misses the carnage, though. According to the Gentleman's Mag: 'Multitudes walk'd over it, and some were lost by their Rashness'.
Snow rating: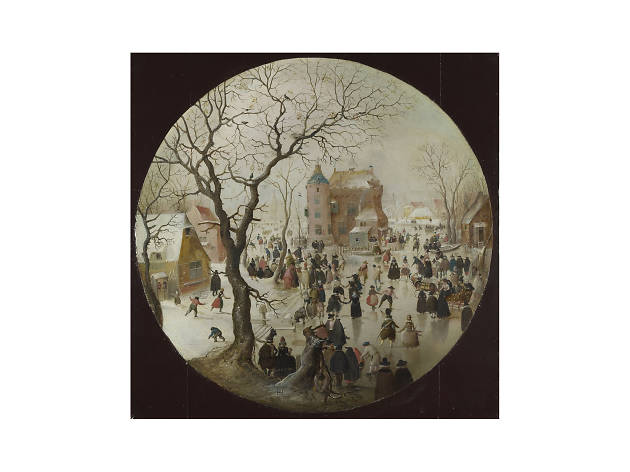 © The National Gallery, London
7. Hendrick Avercamp, 'A Winter Scene with Skaters', 1609
Painted on a Christmas bauble-shaped canvas by Amsterdam-born Hendrick Avercamp, this busy, Bruegelesque scene, located in Room 26 of the National Gallery, is the perfect cockle-warming Christmas card. After all, it boasts an imaginary castle (perhaps inhabited by a princess), a horse-drawn sleigh, dancing on ice and 17th-century kids lobbing snowballs.
Snow rating: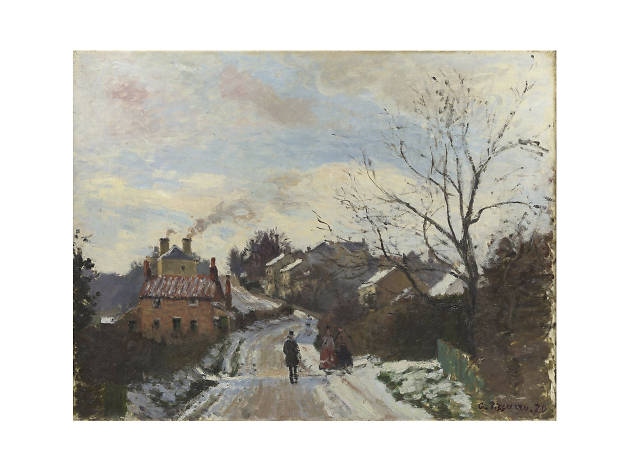 © The National Gallery, London
8. Camille Pissarro, 'Fox Hill, Upper Norwood', 1870
Painted at the beginning of Pissarro's temporary stint as a South Londoner (fleeing the Franco-Prussian war), this slushy scene, in Room 44 of the National Gallery, looks towards Crystal Palace, just out of view over the hill. The amount of snow in Sydenham may not trouble Val d'Isere or Lapland, but Pissarro perfectly captures the post-feast family walk and a view largely unchanged today.
Snow rating: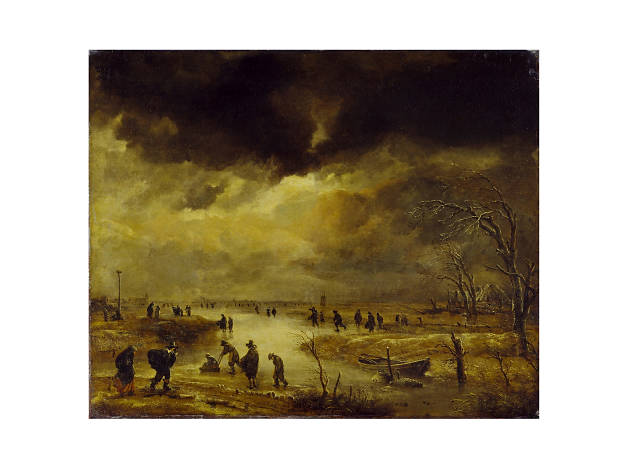 9. Aert van der Neer, 'A Winter Scene', mid-1650s
By kind permission of the Trustees of the Wallace Collection
Aert van der Neer's characters seem to have as little luck as the Dutch painter himself (he was declared bankrupt in 1662). This landscape, on show at the Wallace Collection, calls to mind the depression-era America described in John Steinbeck's novel 'The Grapes of Wrath'; perhaps it even reminds you of your own depression-era commute. In a bare environment, only sparsely decorated with contorted trees, people either amble with slumped shoulders, or dash at a panic-stricken pace.
Snow rating: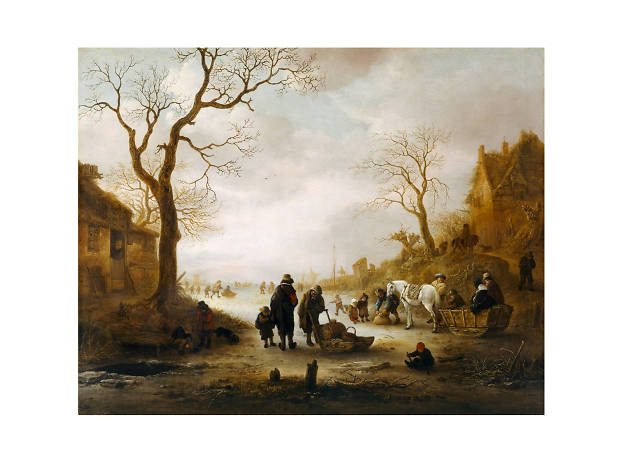 © English Heritage
10. Isack van Ostade, 'A Canal in Winter', 1645
Despite being named with Scrooge-like frugality, this baroque style painting (on display at Kenwood House) celebrates the joy of a crisp winter's day. Children play on rickety sleighs and a horse and cart with curious abandon, while naked, yet majestic trees seem to gate our entrance to a mystical wonderland. Tragically, Ostade died at the age of 28, before the height of his fame. So, God Rest Ye Merry, Gentleman.
Snow rating: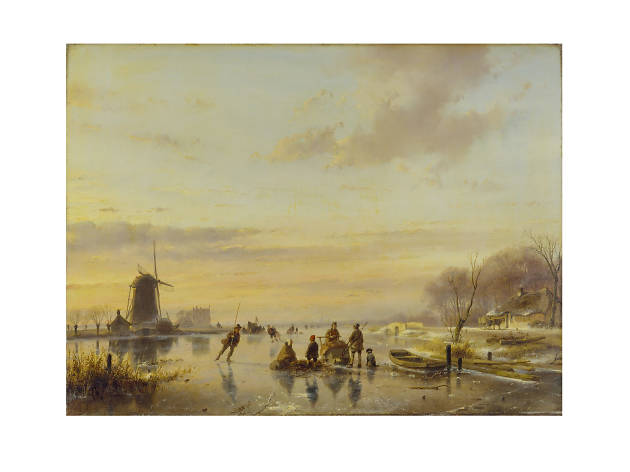 11. Andreas Schelfhout, 'Winter in Holland', 1843
By kind permission of the Trustees of the Wallace Collection
A former pupil of the decorative painter Joannes Breckenheijmer, Schelfhout made this painting in homage to 17th-century scenes of Holland. The brilliantly detailed brushwork enlivens the iconic Dutch windmill; it is surrounded by a natural ice rink and, despite the sombre palette, a sky that begrudgingly smiles. This draughtsman's obvious love for his subject matter really warms the cockles. Ah, Weenter een Hollund.
Snow rating: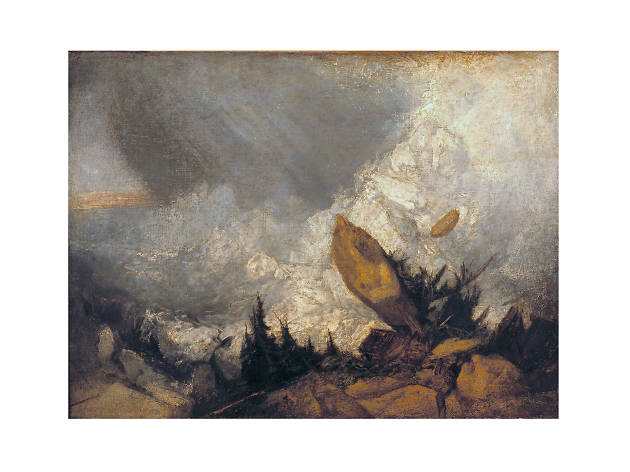 © Tate
12. Joseph Mallord William Turner, 'The Fall of an Avalanche in the Grisons', 1810
Possibly based on an avalanche in the Grisons that killed 25 people in 1808, Turner's painting (on show at Tate Britain) is a classic of sublime landscape painting. It is a style that evokes darkness, vastness and magnificence, causing us to react with a sort of pleasurable terror. The canvas is stripped of humanity, leaving the brutal, elemental image of the Swiss Graubünden. It's a real nutcracker, and shepherds would surely quake at the sight – but it's not really Christmas card material.
Snow rating: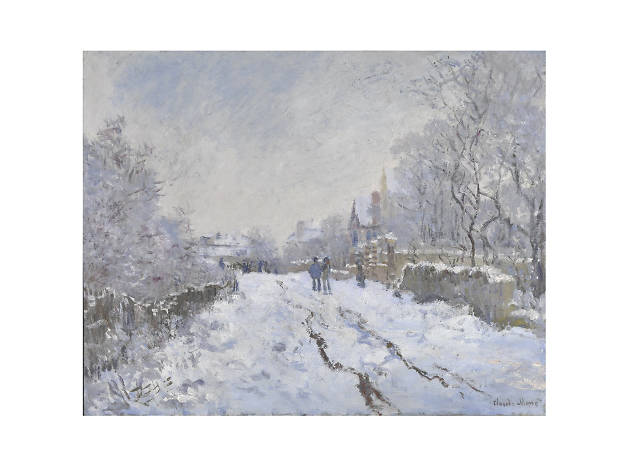 © The National Gallery, London
13. Claude Monet, 'Snow Scene at Argenteuil', 1875
Capturing a particularly frosty French winter, this view towards the Seine (Room 43 of the National Gallery) is the largest of 18 snowy paintings Monet made of the impressionists' hub of Argenteuil, the suburban commune of the Parisian avant-garde. The tracks of the two figures out for a meandering stroll add some much-needed life and perhaps even some evidence of drunken camaraderie, to this otherwise deserted boulevard.
Snow rating: