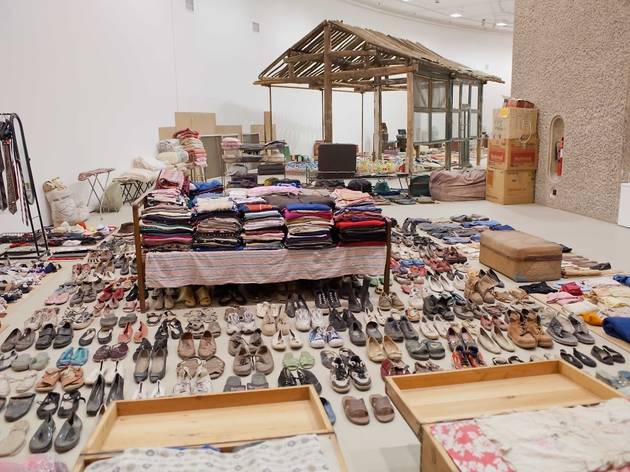 'Waste Not', the 10,000-object strong result of the five-decade hoarding habit of Song Dong's late mother, Zhao Xiangyuan, fills the Barbican's Curve Gallery, having been shown previously in Beijing and New York. The installation is infinitely photogenic, endlessly distracting. It comes with a gripping backstory – a tale of privation and personal loss that invites interpretations of the Chinese adage wu jin qi yong ('waste not') against a shifting political and economic backdrop.
The objects are resolutely ordinary, domestic things – from squeezed-out tubes of toothpaste to kitchen utensils to items of furniture, along with a section of the family's wooden house. These have been laid out and stacked, sometimes artlessly, sometimes with a nod to sculptural modes of display.
There are passing resemblances to the orchestrated arrangements of Sarah Sze and Tomoko Takahashi. At times the angry culture-of-excess installations of Thomas Hirschhorn or Jason Rhoades spring to mind, as do Christian Boltanski's morbid accumulations of personal effects, with their attendant sentimentality. If you want to cry buckets, there are plenty to choose from here.
The hybrid manner of the presentation underlines the installation's ambiguous status. The difficulty is in accommodating ideas about contemporary practice while contemplating stuff which, accumulated through degrees of trauma – the fear of being without and, later, compulsion – was never intended as art. Song's point might be that we use art to try to fill the void, just as his mother attempted to do so with bottle tops and plastic bags. All that changes are the materials and methods. Song, of course, is best known for works that, composed of the artist's breath or drawn with water, leave barely any trace at all.