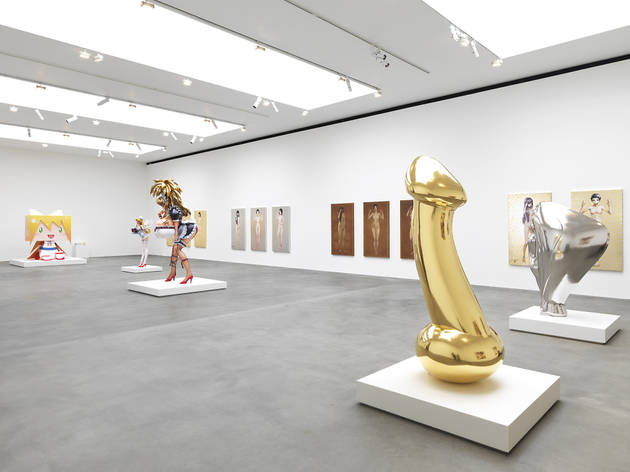 A giant woman in fishnets and suspenders buckles under the weight of her own pendulous breasts. The pneumatic bimbo looks perplexed at her backbreaking position, as if this sudden mammary inflation had caught her by surprise. Next to her, a saucily clad nurse holds out a hypodermic because, quite clearly, you're in need of your medication. Before she has time to administer the dosage – or perhaps your last rites, as her other hand clutches a Bible – you notice a giant gold phallus and smiling silver vulva, called Mr Big Mushroom and Miss Clam, also staring back at you.
Part teenage fantasy, part manga nightmare, Takashi Murakami's superinflated resin, fibreglass and aluminium monsters are altogether too slick to cause any real panic, or even embarrassment, in most viewers. Instead, the concern should be that these infantilised images of sexuality, including another fold-up toy nursemaid in a skimpy outfit, might be considered acceptable at all. Of course, in Japan they wouldn't blink at such kawaii (cutesy) erotica, having none of our Christian guilt associated with sex or seedy thoughts. Yet still they fail to trouble me.
Murakami's boundless 'super-flat' world – in which surface two-dimensionality decorates and enlivens an otherwise colourless, buttoned-up existence – also reduces his own potentially disturbing artistic message to a wafer-thin coating of unease. His four new triptychs of vulnerable, hairless nudes are also devoid of titillating thrill or danger. They briefly make a point about the different styles used to depict naked girls in Western and Eastern traditions – one's high art, the other pulp fiction – but they also present us with our own profound misunderstandings of the complexities of Japanese culture.
Nowadays, many major artists producing art on such stratospheric scales and budgets command nothing more than our ever-lowering expectations. Until Murakami (who was recently handed the lead graphic on Google's homepage) can enlighten and enrich, rather than perpetuate the status quo (commercial pressures and his own indifference might balk at such change), he'll remain an artist in cosplay, dressing up his work in the silly guises we expect of him. Only two paintings of tumbling cartoon skulls here hint that there's a darker impetus he won't yet reveal.