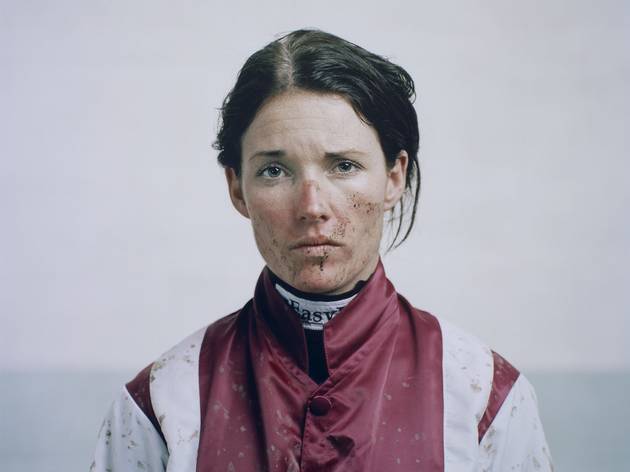 1/10
'Katie Walsh', 2013
This year's winner of the £12,000 Taylor Wessing Photographic Portrait Prize.
© Spencer Murphy
2/10
'Kumbh Mela Pilgrim - Mamta Dubey and infant', 2013
This yer's winner of the £3,000 second prize.
© Giles Price. Courtesy National Portrait Gallery London
3/10
'Kofi Annan', 2013
This year's winner of the £2,000 third prize.
© Anoush Abrar. Courtesy National Portrait Gallery.
4/10
'The twins', 2013
This year's winner of the £1,000 fourth prize.
© Dorothee Deiss. Courtesy National Portrait Gallery.
5/10
'Fabio', 2012
© Andy Massaccesi. Courtesy National Portrait Gallery
6/10
'Harajuka, Tokyo', 2013
© Julia Fullerton-Batten. Courtesy National Portrait Gallery
7/10
'Untitled (Citizens of Porto-Novo)', 2012
© Leonce Raphael Agbodjelou. Courtesy National Portrait Gallery
8/10
'Holy Mother', 2012
© Erik Almas. Courtesy National Portrait Gallery.
9/10
'Cat & Phil – Painting of Love', 2013
© Richard Alexander Pilnick. Courtesy National Portrait Gallery.
10/10
'Martyn, Sean and Jacob', 2013
© William Lakin. Courtesy National Portrait Gallery.
Like any good portrait show, the Taylor Wessing Prize leaves you wondering about the ways we judge beauty, whether it's a beautiful face or a prizeworthy image. In Carmen Ballvé's lovely 'Girls in Barracón', Dominicana stands pensively beneath a washing line, her dark skin dappled (through injury? Disease?) in much the same way as the stained stone in the background.
A photograph like this pleases because fragility and grace pervade the entire composition. The beauty in this picture is so much more interesting than the inevitable photos of models whose blank visages decorate other parts of the show. Looking at two fully made-up ten-year-old Irish Traveller girls (in Paul Wenham-Clarke's 'Cindy & Shirley') tells you more about our society's fetishisation and sexualisation of female youthfulness than a hundred shots of clothes horses like Lily Cole could. Not because the girls are Travellers, but because their artificially enhanced, plump-cheeked loveliness is supposed to be what the rest of us are aiming for.
Distractions from the thorny issue of women as object include a Nazi war criminal's aged son (Horst von Wachter, taken by Jill Edelstein), a fantastic Antoine de Ras shot of Paralympic star Oscar Pistorius in the dock and George, a watchman at a soon-to-be-shut-down factory who, as photographed by Miri Mor, seems imprisoned by fate, economic catastrophe and even the structure of the image.
Eventually, though, it's back to the endless assessment of female beauty. Spencer Murphy won this year's £12,000 prize for his picture of jockey Katie Walsh, her conventional loveliness both enhanced and made problematic by a spattering of mud. Portraits aren't supposed to include dirt, in part because women aren't supposed to be dirty. Or are they?
Nina Caplan
Average User Rating
4.7 / 5
Rating Breakdown
5 star:

2

4 star:

1

3 star:

0

2 star:

0

1 star:

0
I am unwilling and unable to rate this portrait by Spencer Murphy of jockey Katie Walsh, because it's so fabulous. Are you asking me to examine it, then on a scale of 1 to 10 tell the world how good or bad it is? this picture bears the Mona Lisa hands down, and offered a choice of taking home this portrait, or the famous American painting of the Gothic farm couple with pitchfork, which would I choose, an impossible decision because they are both equally as good, so I'm left then with comparing it to the American Farm Administration Dust bowl photographs, showing the Okies trek west, and amongst that magnificent group it belongs. So, it is a depression era portrait of real life being played out before the lens, and using that group of farm portraits has my rating guide I'd rate this photo 10, and call it "Female Adversity At Aintree". Magnificent.
London's premier photographic portrait exhibition returns with another brilliant collection. More than 5,000 entries were submitted this year, and it's clear from the sixty photographs on display the judges were spoilt for choice. The featured works comprise commissioned editorial and advertising images, personal projects, travel journalism and intimate shots of friends and family. While the prize winners are highly-deserving, all the images featured demonstrate a high standard of technical ability and artistic composition. Highly recommended for everyone, not just photography buffs. For more of the latest arts reviews, check out www.curatedlondon.co.uk
What a fantastic collection of absolutely stunning photographs this exhibition has, I just loved it! The winning photograph of the female Jockey is beautifully contained whilst messy, a contradiction in terms, stunning. The photograph by Erik Almas 'Holy Mother' is hauntingly stark and the subject could have stepped out of a Bronte novel. My favourite though has to be 'Hombres de Mar' - (Fishermen), if you want fun, fun, fun then here it is in bucket loads. The photograph of happy smiling people set on a beach is like a scene out of the 'Mad Hatters Tea Party', there are pelicans intermingling with the crowd, fish falling from the sky (yes really)! a man on a guitar, one holding a painting of his parents, all very bizarre but it works and it makes you smile. I kept on going back to it just to delve and relish in the sense of fun, joy and energy that springs out from the scene. Definitely my number one favourite!