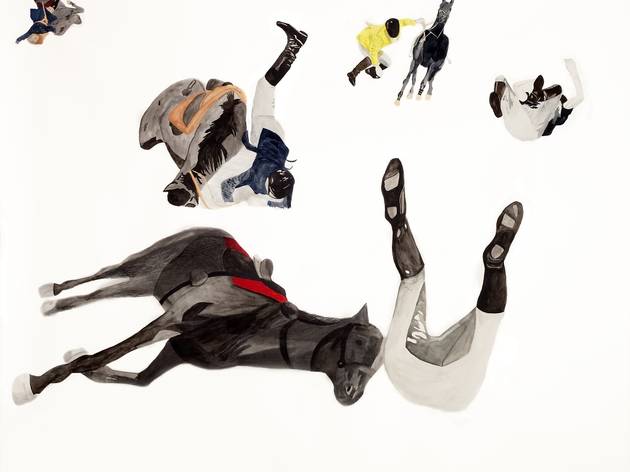 The verbose curatorial padding that accompanies this selection of recent works by Sanam Khatibi, Daniel Medina and Jamie Shovlin suggests that within this exhibition, 'artists, the viewers and the characters trade their places'. This is a baffling proposition and no such dramatics occur. While the conflation of these works makes sense, it is their visual connections that do the graft, the jargon-fuelled text only succeeding to unfairly lock down the roguish pleasures of the works themselves.
Fallen horses, toppled jockeys and decapitated, round-bellied bodies populate Khatibi's canvases. The artist's unassuming paintings witness a series of domestic traumas – a faceless couple writhes as if mid-strangulation and bodies roll on the floor, their heads replaced with crustacean forms. Similarly agitated, Medina's sculpture 'Espejo (Mirror)', a vibrating hand-mirror mounted on a massage machine, only reflects a blur. And with collage work 'New Order', the artist fuses the ill-fitting pieces of a Middle Eastern puzzle map, charting a deviant geography of the region.
Colour prints from Life Magazine and a collection of drawings of newspaper clippings comprise Shovlin's offering, 'Secondaries'. This archival group pits the magazine's nostalgic 'good life' photographs – picturing a tranquil farm, a rodeo and men on parade – against drawings detailing hazily recognisable events such as OJ Simpson's trial. As expected with Shovlin, doubts emerge as to the reliability of the artist's sources, and what at first appears objective, soon unravels.
As suggested by the accompanying literature, these works concern themselves with rather complex questions regarding information and authority. But seen together here, it is their playful approach that presides.