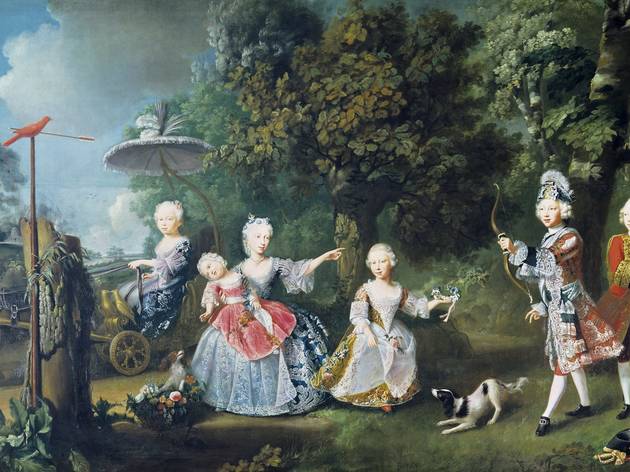 1/8
'The Children of Frederick, Prince of Wales (The future George III is second from the right, with bow), 1746
Royal Collection Trust/© Her Majesty Queen Elizabeth II 2014
2/8
The Neptune Centrepiece, 1741-2
Royal Collection Trust/© Her Majesty Queen Elizabeth II 2014
3/8
'The Thames from Somerset House Terrace towards Westminster', c1750
Royal Collection Trust/© Her Majesty Queen Elizabeth II 2014
4/8
'George I', 1726
Royal Collection Trust/© Her Majesty Queen Elizabeth II 2014
5/8
'The Music Party, Frederick Prince of Wales with his Three Eldest Sisters', 1733
Royal Collection Trust/© Her Majesty Queen Elizabeth II 2014
6/8
'The Cupola Room, Kensington Palace', c1817
Royal Collection Trust/© Her Majesty Queen Elizabeth II 2014
7/8
'George II as Prince of Wales', 1716
Royal Collection Trust/© Her Majesty Queen Elizabeth II 2014
8/8
'David Garrick and his Wife, Eva-Maria Veigel', 1757-64
Royal Collection Trust/© Her Majesty Queen Elizabeth II 2014
There are two Georgian eras. There's the one that's full of complicated political-religious factionalism, where a non-English-speaking German king, George I, is plonked on the throne just because he's protestant, leading to bloody wars in Scotland, sabre-rattling from catholic France, and the beginnings of Britain's insatiable empire building. And there's the one which is all booze and prozzies and blokes in tricorn hats having their pockets picked as they stand around Italianate piazzas, while Hogarth does an etching of it.
The modest Queen's Gallery, with its dutiful coach parties and sussurating audio guides is a rather polite place to get to grips with either, but on the whole this show does a decent job of putting the more interesting bits of Georgian art and society within the context of the less interesting.
The Royal collection is understandably rich in works from this period: despite its bloodiness in other respects, the eighteenth century was a time when royalty and the well-heeled who aped them and toadied to them showed off their arty enlightenment through practice, patronage and collecting. There's a portrait of Frederick, Prince of Wales grimly sawing away at a cello, and a fine array of the works he and his mother Queen Caroline added to the Royal collection. This means the second half of the show loses its shape: cabinets of renaissance miniatures and superb works by Holbein are well worth seeing, just maybe not alongside guns, teapots, chairs, botanical illustrations, etc etc. The sheer scope of the enlightenment makes getting a handle (or Handel) on it tough, and there's probably material here for two or three more focused shows.
But, in the year that marks the 300th anniversary of the Hanoverian succession, and arguably the beginning of modern London and Britain, go. Go for Hogarth's brilliance and flair, and for a royal court which would stump up a hundred guineas for a painting attributed to him that a short-sighted child could see is not. Go for Canaletto doing his best with the turd-coloured Thames, and the stuff that the growing middle-classes stuck in their homes, while ignoring the stench outside. You've got to love the Georgians, they loved themselves so much; you don't have to like them.
Chris Waywell